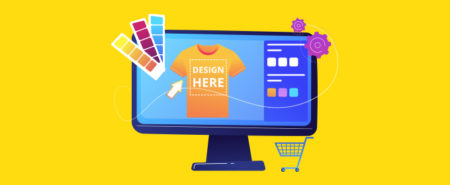 As designers, we are often frustrated in our work because it doesn't always give us enough room to express our creativity and artistic talents. This is especially true if you work in a heavily-ruled environment, such as a bank or law-firm, with plenty of boring corporate rules regarding the brand. Thanks to the Internet, you can already share your artistic creations on social media platforms such as Twitter, Instagram, or Pinterest, among so many others. However, these platforms can sometimes feel a bit too « virtual » and not provide the satisfaction that a physical product can provide. Using print-on-demand services, this becomes possible, and even easy.
Who should start their own brand ?
The answer is simple : anyone that wants to ! The Internet is open, so if you have ideas, you should go for it. However, you need to keep in mind that, due to the openness of the Internet, the competition is global and it can be hard to make your own place in the sun. If you are a talented designer, you are surely already starting with a pretty big advantage over your non-designer competition.
What is print-on-demand ?
Print-on-demand, often referred to as POD, is the possibility to deliver products like mugs, posters, or t-shirts, by printing it only when an order was placed. This way of producing goods has a big advantage, there is no stock needed and it gives you much less constraint than the traditional production techniques. There are plenty of companies that offer this service and even handle the delivery and returns for you, making it the perfect business for dropshipping.
Tips to start a brand using print-on-demand
Use the right partners and tools. As you can guess, starting your own brand will be a lot of work, so you should ensure that the tools you chose are not interferring in your working progress. For example, Shopify is the best-known and most user-friendly e-commerce store creation tool, so it would make perfect sense to use a print on demand Shopify solution for your brand.
Find a purpose for your brand. It will be hard to promote a brand that is just there for the aesthetics, so make sure you find a purpose for your brand. For example, if you have a Youtube channel or another activity, a t-shirt brand or branded mugs could be a pretty good addition.
Chose the right products. This should be obvious, but too many people apply their brand on pretty much any products without giving it a second thought. Do a little research about your desired audience and go for the products that will appeal to them the most. For example, don't try to sell beach products to a hiking community (OK, this example is a bit extreme).
Promote your brand heavily. There is a simple rule in any business : if you don't promote, you will not sell. This doesn't mean that you should invest a lot of money on advertising, although it could be an option, but that you should get the word out about your brand. This can be on social media, by opening accounts on relevant platforms and connecting with the right people, but also by blogging, creating videos or anything that can help with the brand recognition.
Conclusion
Never in history has it been so simple to create a brand and the products that go along with it. If you are creative and feel that you have a message to send out to the world, you should get started and work on achieving just that.