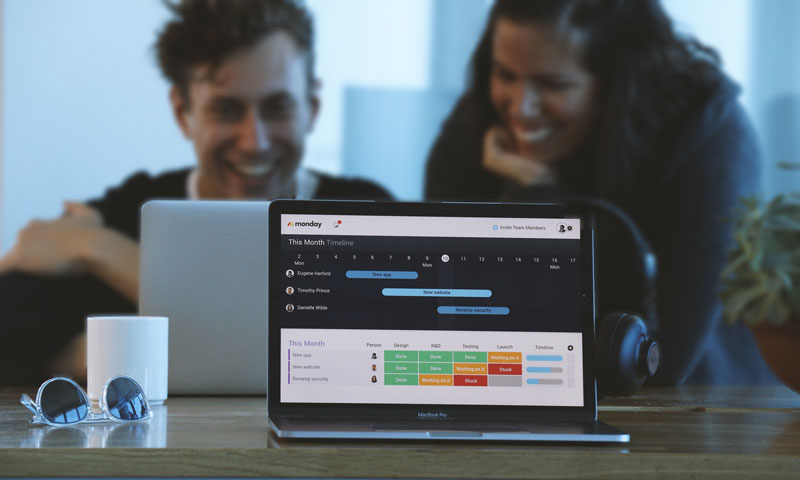 Project management is tough, it requires to keep a clear overview of many parameters and tasks to do. It gets even tougher when teams are involved, as it makes it more complex and usually means that it's a larger project. To handle this type of project and manage all the tasks pending, having the right team management tool will be a lifesaver.
There are countless project management tools, but they are often too complicated and involve a steep learning curve that means less productivity. Thus, simplicity is key to better team management, which is exactly what monday.com managed to achieve with their team management app. monday.com aims to make every user feel empowered and part of something bigger than their own individual tasks, and as a result, to boost collective productivity and transparency.
A visual approach to project management
All features are very important in a project management tool: timelines, communication, checklists,… but one thing can make or break your app: the user interface. If the interface is not properly designed, the features will not be used properly.
monday.com focused on good design and made a very user-friendly interface with a visual approach. It works very well and makes it quick to get started. A quick overview gives you an idea of what is going on in an intuitive way and directs you on the right path. Here are a couple of screenshots to give you an idea of the user interface.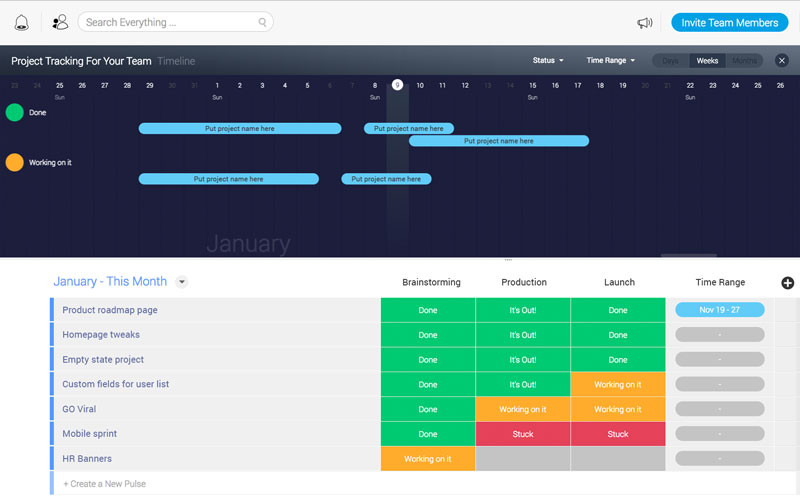 Above: the timeline makes it simple to have a quick overview, while the to-do list is well-organized with a clever color scheme to know what is done and what is not.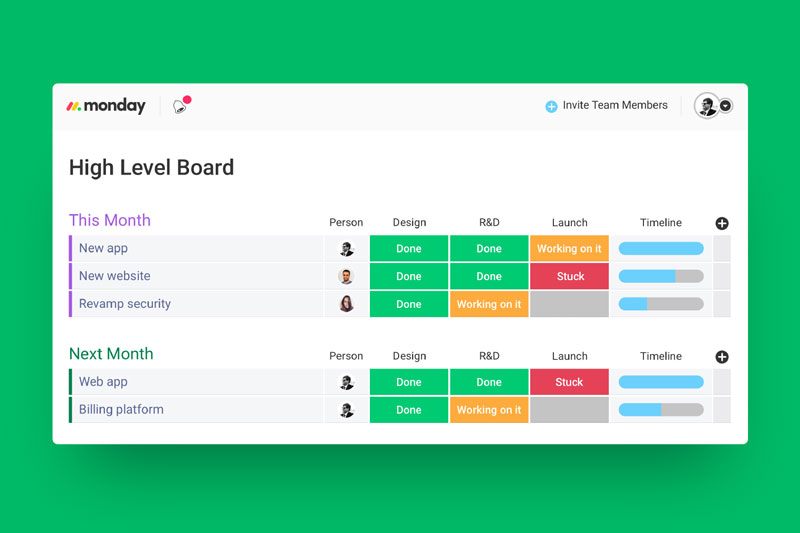 A quick overview of current tasks and upcoming ones, organized by month.
Your project management hub
One common issue in projects is that some people can just not keep track of their emails or other messages. Using monday.com, this type of people has no excuses, all communication is centralized, which means that messages will not be lost.
Integration with Google Drive tools or Microsoft Excel also means that you can work with your favorite tools, it will be accessible from your interface. This feature gives your team great incentives to use this team management tool right away.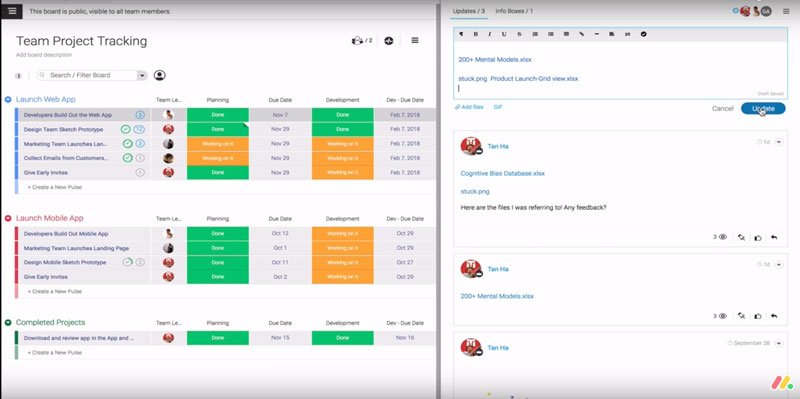 Easily add files from Dropbox or Google Drive.
On top of that, a powerful built-in search tool allows you to search everything, giving you a productivity boost from quick file access.
Manage your project from anywhere
As it should for any flexible worker, you don't have to stay at your desk to manage your team. The team management tool created by monday.com makes it easy to access all its features from your mobile. Who said you shouldn't be productive on the road? Obviously, everything is cloud-based so you don't have to worry about backups or using the right device to access the app.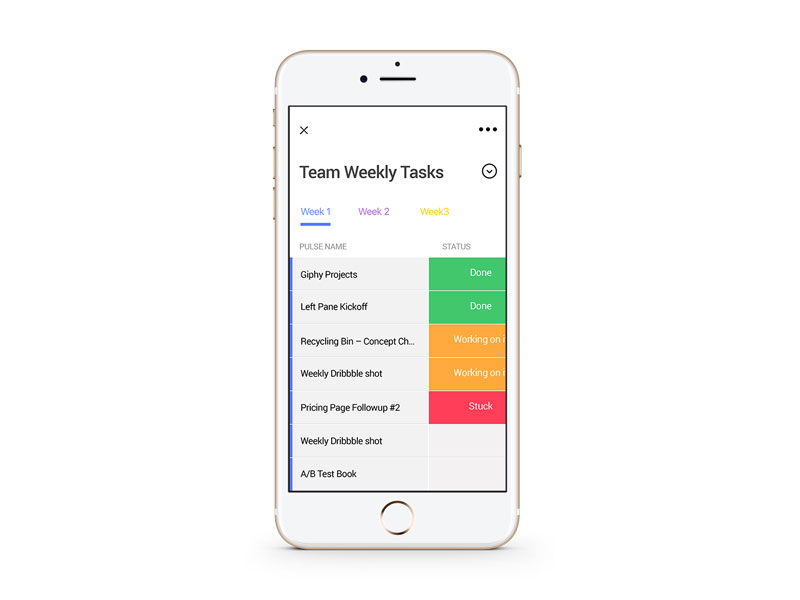 The app's user interface on a smartphone.
About monday.com
monday.com is a centralized platform for teams to manage every detail of their work, from high-level roadmap planning to the specifics of day-to-day tasks, while building a culture of transparency.
The platform they built is suitable for any team, no matter the size or nature of the team. It can help a few freelancers to work together or large teams to collaborate across the world, and it doesn't require a high-level of technical skills. In fact, it is very popular amongst non-tech teams.
The popularity of monday.com is already largely established, with over 22000 teams working with it, from startups to Fortune 500 companies, including WeWork, Samsung, Discovery Channel, Wix, NBC, General Assembly, McDonald's, Uber, Wix, AOL, and Adidas.