If Black Friday is the year's premier shopping event, Cyber Monday is a strong second. Cyber Monday may in fact be the more "Covid-proof" of the two for designers since a many of the offerings can be downloaded.
Cyber Monday is an ideal time to be thinking ahead to the Christmas holidays. There is of course, nothing wrong with purchasing, at a bargain price, an early digital Christmas present for yourself.
Here's 11 top-tier digital products to get your juices flowing.
1. Amelia WordPress Booking Plugin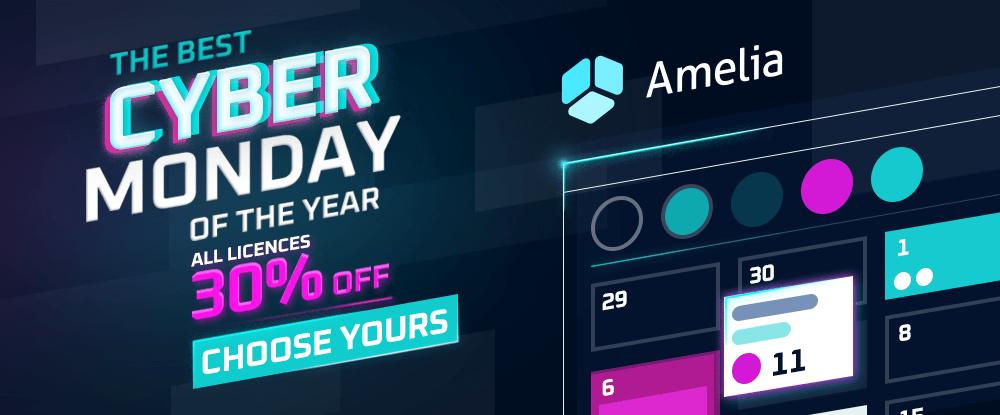 This is for businesses serving large numbers of clients that may be struggling to keep appointment bookings under control. When they reach a point at which manual booking management can no longer hack it, or booking errors or omissions are beginning to affect their bottom line, automation is an obvious solution.
Amelia offers an ideal solution.
The Amelia plugin is the number one selling WordPress plugin of its type
Amelia offers a convenient and error free way to manage appointments and events and match employee availability with customer needs
Amelia allows clients to book appointments 24/7 and provides both clients and employees with front-end booking management capabilities.
Amelia integrates seamlessly with Google and Outlook calendars, WooCommerce, and Zoom
Payments can be accepted online, and email reminders for appointments and payments due can automatically be sent to clients
Amelia is ideal for health and beauty, educational, and sports-oriented businesses, and for other industries as well. It is currently used by 30,000+ businesses worldwide
Click on the banner to learn more and to take advantage of the 30%-off Cyber Monday sale.
2. wpDataTables 3.0 WordPress Table and Chart Description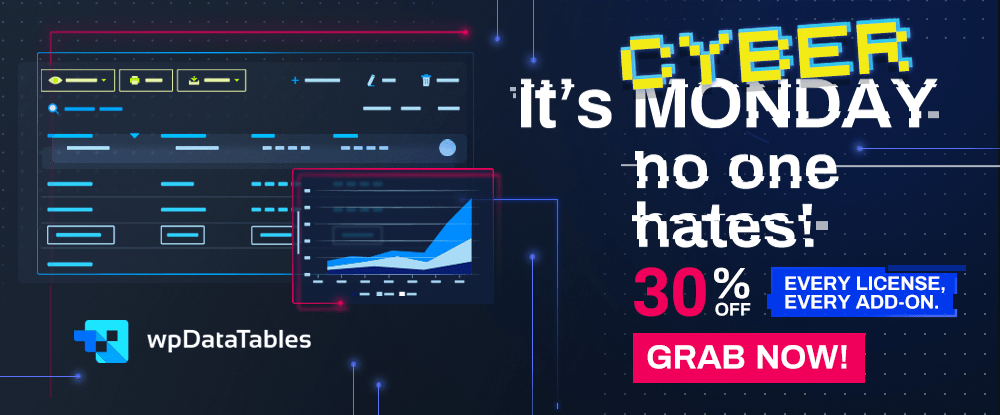 Creating a reasonably simple table or chart for a page, post, or presentation can often take more time than you expect. When the amount of data becomes massive, a project can take hours, or even days. If your table or chart is to be responsive, interactive, and editable, it's probably time to look for a better way.
wpDataTables 3.0 is not just a better way. For WordPress users it's the best.
Easy-to-follow detailed documentation will lead you through this plugin's multiplicity of features and capabilities
wpDataTables can manage truly massive amounts of data from a variety of sources and formats and produce results in minutes
Key data in tables and charts can be highlighted, and data categories can be color coded, you can merge cells or insert styling easily
A brand new user interface makes using this powerful application more straightforward than ever
Licenses for various plans and addons are available at a 30% discount on Cyber Monday.
3. Kalium – Creative theme for multiple uses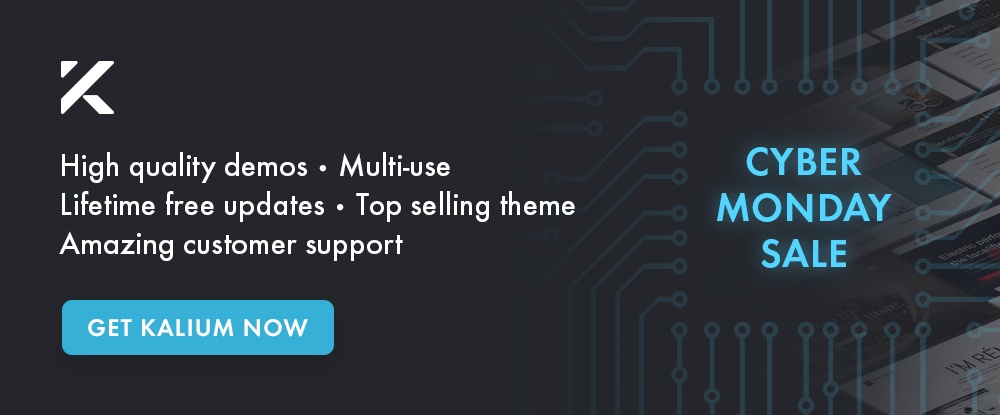 This top-selling creative theme's popularity is due in part to the fact that it is easy to use for beginners and advanced WordPress users alike, and also due to the eye-catching demos that guarantee its users will meet or exceed their wildest expectations.
Kalium is super-fast, it's SEO optimized, totally responsive, and GDPR compliant
36,000 customers can vouch for this top-selling theme's first-class customer support
A selection of premium plugins come with the package including Elementor, WPBakery, and WooCommerce. Kalium supports all the most popular and widely-used WordPress plugins
It is a great choice for anyone wanting to create a portfolio or an eCommerce site
To help make your day and to celebrate Cyber Monday, Kalium, which normally sells for $59, can be yours for only $29.
4. Total Theme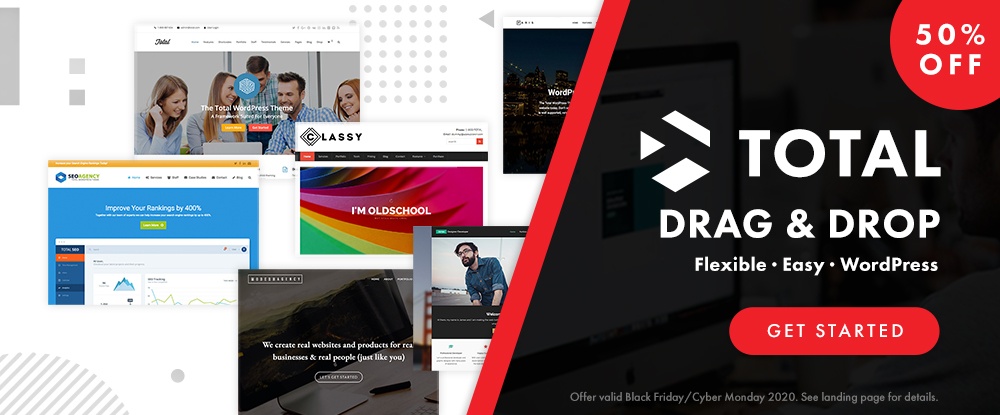 This is an ideal WordPress theme for creating a website for any business and any website type.
Total is fast, features a user-friendly page builder, and is WooCommerce ready and SEO optimized
The selection of professionally-crafted themes and theme cards are designed to get projects off to a quick start
Premium plugins including WPBakery and Slider Revolution are bundled with the theme
Total's Cyber Week Special is valid November 24, 2020 at 1am (UTC) through December 2, 2020 1am (UTC). Discount already applied.
5. TheGem – Creative Multi-Purpose High-Performance WordPress Theme
TheGem's Cyber Monday special gives you an opportunity to get the most impressive collection of WordPress website-building tools on the market.
This multipurpose WordPress theme includes a rich collection of 400+ premium pre-built websites and templates plus a huge library of pre-built page sections which you can mix & match to create your own unique website
You can choose between Elementor or WPBakery – best page builders on the market
TheGem includes awesome WooCommerce demos, features & tools for making
It is a highly customizable and performant WordPress theme, perfect for professionals and beginners
Click on the banner to view the demo website and to take advantage of the 50% discount special.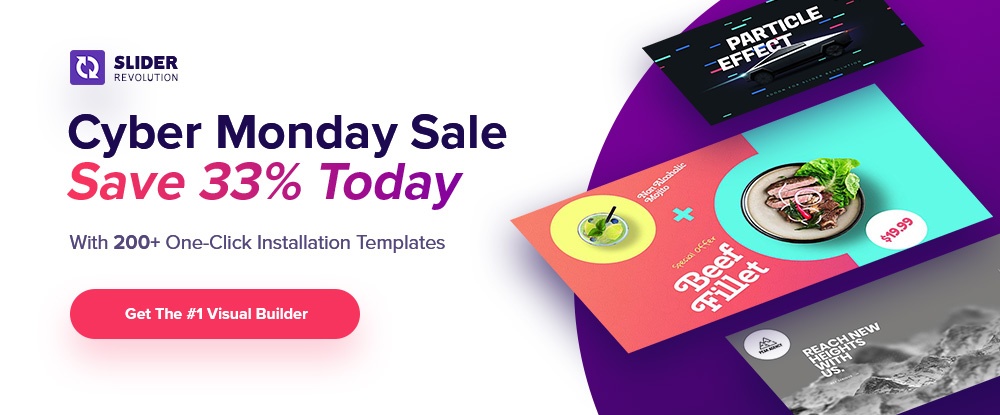 A web design product that has over 7 million users obviously has a lot going for it. That's the case with the Slider Revolution WordPress plugin.
With Revolution Slider you can create almost anything you can visualize
You get one-click access to a cool assortment of carousels, sliders, and web page templates
Revolution Slider's collection of more than 25 addons lets you create truly mind-blowing visual effects
For Cyber Monday, subscription/payment plans are discounted 33%.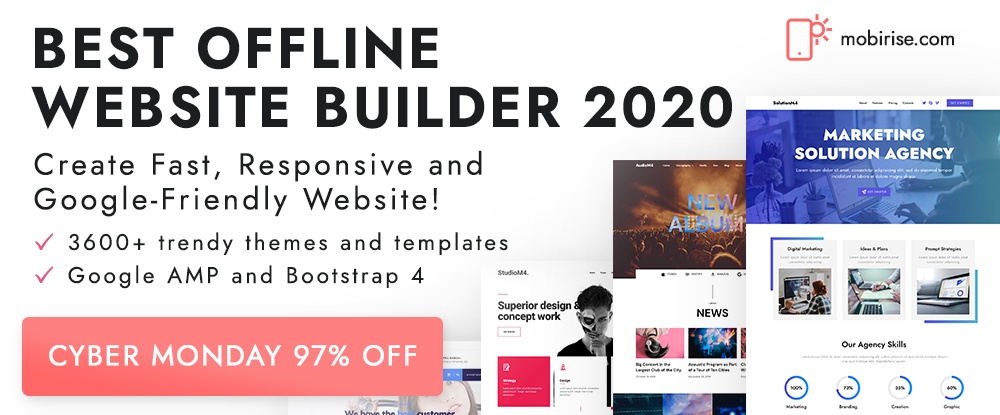 It would be a shame to let Mobirise's Cyber Monday offer pass you by. It's your chance to get 2020's top offline website builder at a whopping 97% discount.
Features include over 3,500 trendy website templates
Google AMP and Bootstrap 4 ensure virtually instant mobile page loading
Sliders, galleries, forms, and eCommerce tools are also featured
Click on the banner to learn more about the Mobirise builder.
8. XStore | Responsive Multi-Purpose WooCommerce WordPress Theme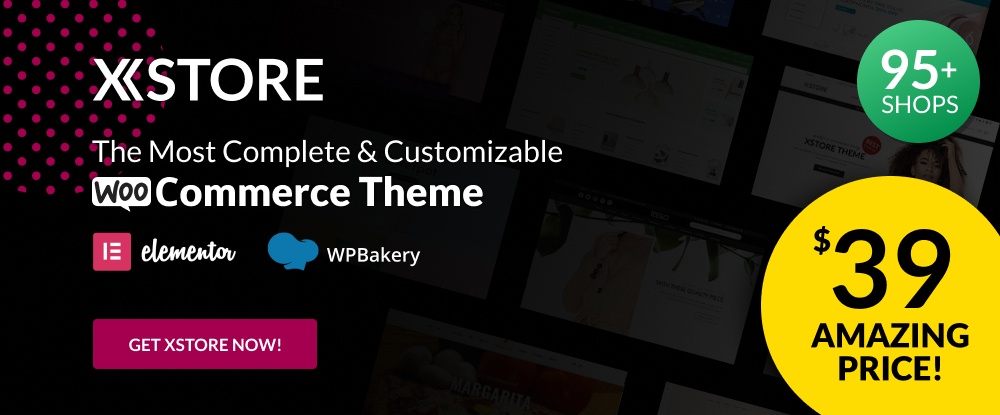 One easy way to set up a high-quality online store would be to customize a high-quality good-to-go shop to meet your needs.
The WooCommerce-based XStore theme features a selection of 95+ of these good-to-go shops
A single product page builder and the WPBakery and Elementor page builders are also included
$510 worth of plugins are also included to help you along
The Cyber Monday special price for all the above is $39.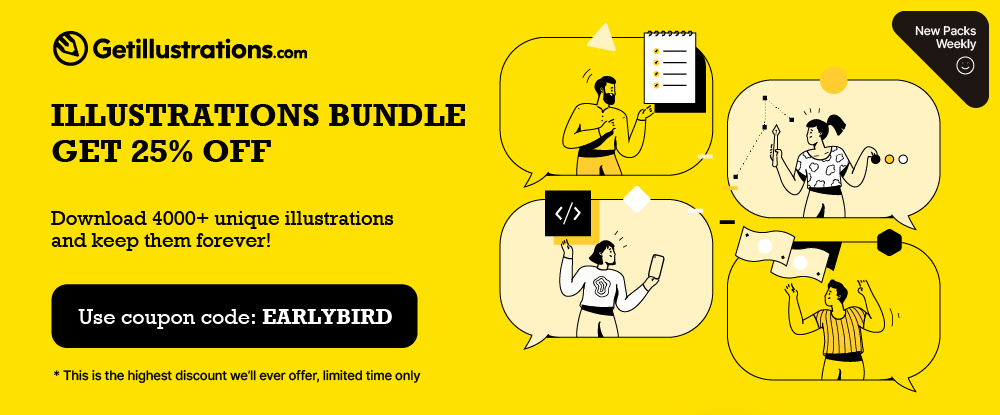 While photos have their place, they can't always tell the story you want to tell, which is why there's a trend towards using more illustrations in web design.
Get Illustrations' collection of 4,000+ unique illustrations is yours to download when you subscribe
Your subscription includes a commercial license to use these royalty-free illustrations
They are available in a range of widely used formats
Use the EARLYBIRD code to claim the Cyber Monday 25% discount.
10. Ads Pro Plugin – Multi-Purpose WordPress Advertising Manager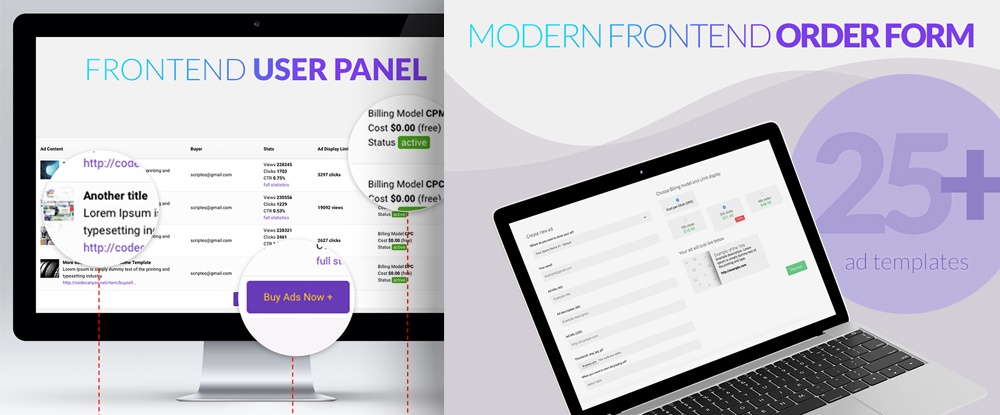 Ads Pro provides versatility that is lacking in most website ad management systems.
It features a front-end order form designed to make ad management easy and efficient
Clients can manage their ads from the front end, while the site manager does so at the back-end
Users can choose among 25+ ad templates, 20+ display types, and 4 payment methods
Click on the banner to find out more about Ads Pro and their Cyber Monday Special.
11. Heroic Inbox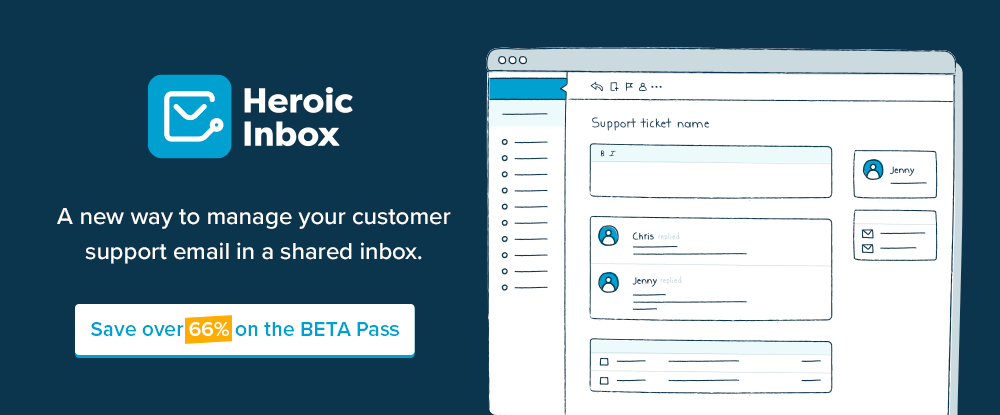 If sorting through your customer emails seems to be taking much more time that it should, this might be a good time to look for a better way.
Heroic Inbox's UI features smart workflows designed to rapidly process and respond to emails
This email management tool encourages and supports collaboration among your staff
Key metrics are recorded to track team performance
Use the Cyber Monday BETA code to save 66% on your purchase.
*****  
You can begin your search for a gift for a friend, a fellow web designer, client, or for yourself!
Amelia would be a great choice for any business that serves a medium to large clientele.  At first glance, Mobirise's generous Cyber Monday special appears to be a typo. wpDataTables could save you immense amounts of time; and the list goes on and on.
The best piece of advice of all might simply be not to let any of these specials you could likely profit from pass you by.
Happy Shopping!