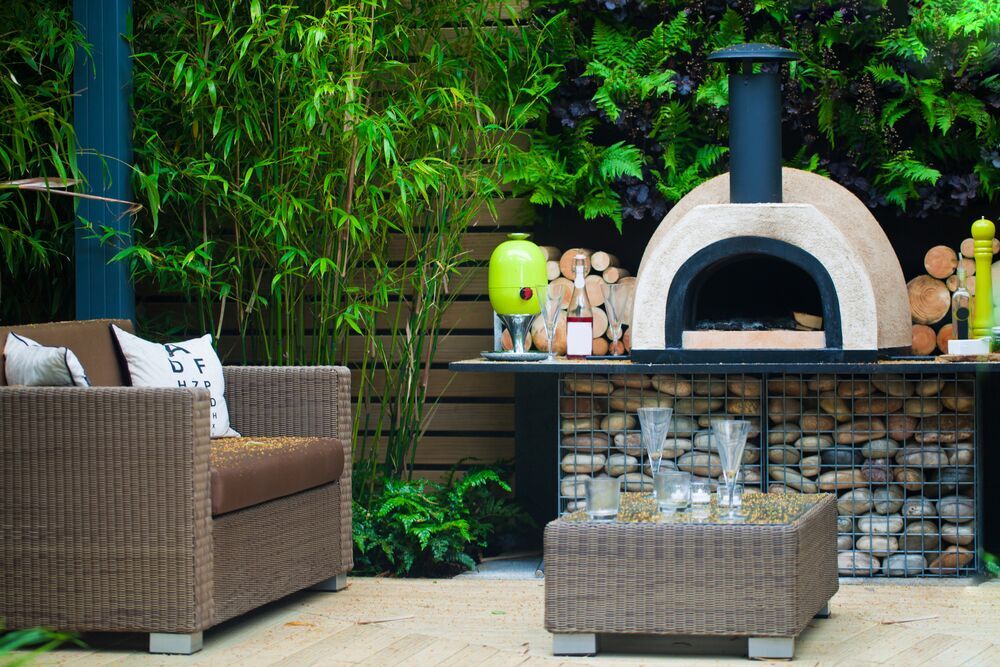 It is not really far from the truth that many people consider exterior of their house the face of a home. But in reality, your garden is the first thing that leaves an impression, good or bad, and sometimes this is the only thing your neighbors know about you.
It might sound odd but designing your exterior is as equally important as the interior, although many people are not really interested in that. If you maybe feel bored or unhappy with your current home design, you should definitely consider redesigning your garden or backyard, especially if you've never really given it too much importance.
It's not just the aesthetics that matter, but the fact that you could actually open up the space you have at your disposal and use it much more efficiently, like for example from growing your own vegetables to adding patio furniture that helps you relax or even organizing your own diner and enjoying all those fancy meals in comfort of your home.
There's plenty of positive effect on your body and mind when you spend time outdoors in your garden, especially if you spent your time and love arranging it, or if you maybe decided to hire a professional to craft your ideas into reality, doesn't really matter, the end result will always be satisfying.
Scandinavian touch
Scandinavian rather simplistic and minimalistic interior design with a lot of natural light translates rather will do justice to the exterior as well. Light colors are prevalent, especially white, which accommodates your wooden furniture or fences in a very pretty and natural way. Because of the recognizable style and the very beauty of it, you can never really go wrong. Nicely trimmed and precise cut grass genuinely enriches your backyard at almost any time of the year, it looks clean, calm, natural and sophisticated.
Playful colors
Whenever you think of the garden, the first image that comes to your mind probably is this green grass with touches of brown from the wooden doors and fences. A rather traditional picture don't you agree? Well, this is the right time to be innovative and crazy! Latest trends strongly support vivid imagination and you free to be as colorful as you want.
Strong and bright colors always break that rather monotonous view and bring a breath of fresh air into your garden. This can also apply to plants you want to use. For example, you can use chameleon plants if that is to your taste. What is particularly interesting about them is that they change colors depending on the temperature, so you can have green or even purple plants spread across.
The next thing we can add to the list are natural dye gardens. These are very interesting as they not just bring something completely new to your garden aesthetic-wise, but you could also extract natural dyes and use them to paint different things in your home. There really is nothing more eye-pleasing than a natural dye. This also sparks ideas for new hobbies and activities in your garden.
Indigenous plants
We are all know how important it is to be ecologically conscious and aware in this day and age. This global trend suits your garden just as well. Yes, it is considered fashionable having your plants all natural, free and asymmetrical, and most importantly, you do no harm to the ecosystem.
Cozy Exterior Furniture
Isn't that awesome? You can both feel comfortable and be modern at the same time. Time is right to think about furniture in your garden, especially the furniture you use to sit and rest, or where you like to gather with your friends. You can now get rid of those tall, wonky chairs and get something new, cozy and more spacious. A very common trend is to enrich the patio with typical interior living room furniture pieces. That really helps create a zone of comfort you can enjoy throughout the summer.
Statement plants
It's all about individualism and uniqueness, right? You can easily apply this rule to your garden and give it the personal touch which no other garden in the world will have. An asset which complements this tendency is a statement plant. These types of plants have striking shapes and they are used to make new, original garden accents. It is also worth noting that they require less effort to maintain in comparison to your regular plants. They come in different shape or form and some of them are Bromeliads, Cacti and succulents, Cordylines, Cycads, and Grass trees.
Something Old, Something New
This is probably an idea that lets you be most creative. People do not usually mix two different and opposing styles from various reasons, but recently this mash up has seen a lot of acceptance because it actually brings something new and interesting to the table. This is where your taste comes to play because you literally can do whatever you want, just as long as you are careful and do not cross that line of good taste. You can basically pick any style you like and then choose how you want to mix them, options are endless but not everything will work together and you need to know when and what is enough.
Build a Playground
This is a suggestion no one will probably complain about. To have your own playground in your backyard for you, your kids and pets to enjoy is probably the most fun and active trend you can go with. It is also a nice place to gather your friends and rekindle all those special emotions you had as a child.
A new year is the right time for new ideas and fresh starts, why not give your garden some reshaping and refreshing, make this awesome place even more awesome with all these new, emerging styles.