From text editing to keeping your calendar up-to-date, pretty much anything that you did on your desktop before can be done online now. Design stuff starts to get bigger online too and I've just tried out an online vectorizing tool: VectorMagic.
I didn't use vectorizing software for a very long time (I was using Adobe Streamline back in 2003) because I don't think they are either necessary nor satisfactory. Still I decided to give a shot to VectorMagic.
The process:
Upload your image.
After the upload you are asked to confirm if the image type detected by VectorMagic is right, if not you can chose manually between photograph, logo with blending at color boundaries (anti-aliased) or logo without blending at color boundaries (not anti-aliased).
Pick the level of details you want in your vectorized picture: high, medium or low. Images with more details look more like the original, but they are harder to edit. The image is easy to reprocess with more or less details afterward.
Vectorize it.
You can see the results with two different image types under here, so you can judge by yourself.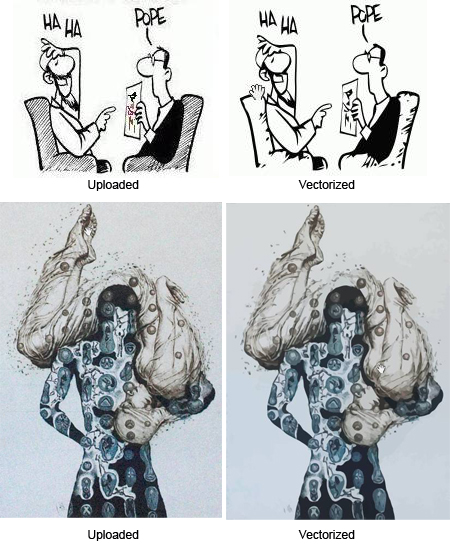 The first image is a line-art cartoon that has been vectorized with medium level of details. The result is pretty good, even though all the lines in the chair have been lost. However I could probably get it much better with better parameters.
The second image is an artwork with many details. It has been vectorized with the most details, but still is not good enough for any professional use.
Anyway I don't think that this kind of software is really useful: online or offline. This is supposed to help you getting images that can be resized to any extent, but all the defaults of the conversion would be overexposed on a big image. I won't use it, but the technology is still pretty impressive.