Many applications and platforms tried to achieve code-free web design in the past years but most of them turned out just a limiting selection of templates. Mainly to help amateurs build personal websites, and unsuitable for professional web design.
Webydo is the exception. With it, designers can create professional pixel perfect websites for clients without writing code. You can focus on the creative side, while Webydo's code generator takes care the rest.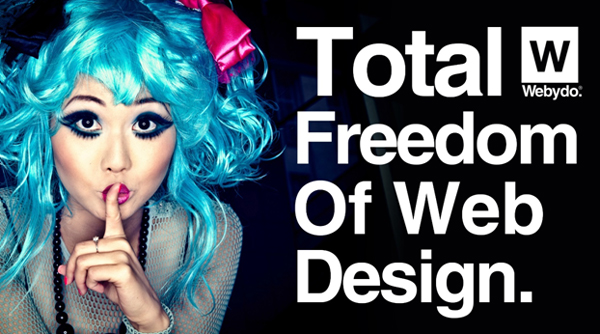 Design professionally & Code-free
With Webydo you can create a website from scratch and provide your clients a truly custom design. In your disposal are all the design elements you need. Like videos, images, text, flash, forms, menus etc. There is also a widget element which can extend a site's functionality by adding code snippets.
You can also create repetitive based elements such as blog posts, product collections, news feeds & much more. Each element can be dragged around in the canvas, resized, and positioned exactly as you need with pixel perfect accuracy.
Webydo offers many advanced design features to help you. Such a grid generator, smart guides and snapping, layers window, text caption for images and galleries, the ability to design sophisticated forms, set corner radiuses and other elements' properties such as fill, shadow and stroke.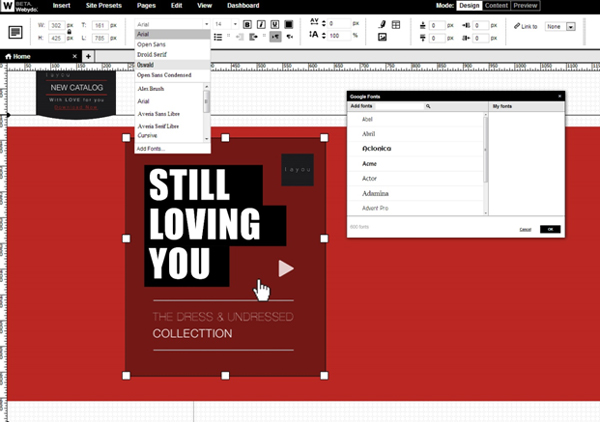 It also provides solid control of the website's typography. Not only can we use a magnitude of web fonts, but additionally get many options to format text professionally. After finish designing the website we can just hit publish and all the code will automatically generated.
Intuitive Content Management System (CMS)
Webydo is more than a website builder. Through its dashboard you can manage all the websites you create with it and their contents. You can create CMS users and let your clients or other members of the team manage and update the websites.
CMS users can replace texts, add graphics, change images or videos and affect every element that the designer hasn't marked as "non-editable". Similar to your design canvas, your integrated CMS editor is truly WYSIWYG. Any changes made on the CMS canvas, reflect exactly how the content will look to your site users. And since they can only update the content you can rest assured that they won't mess with the layout!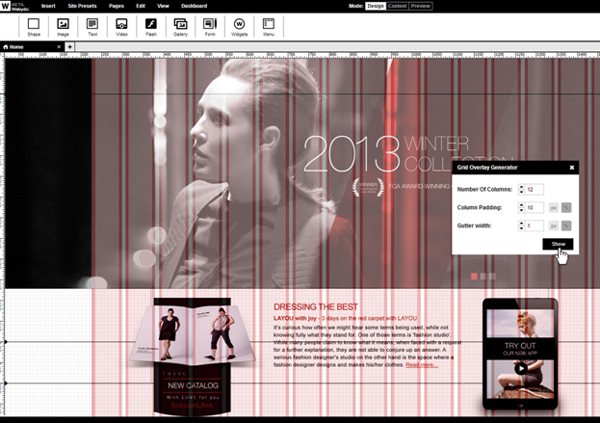 Ecommerce
Webydo integrates the popular E-Commerce solution Ecwid, thus providing a total creative freedom to design online stores for your clients.
Ecwid E-Commerce widget is dynamic and mobile friendly and accepts a wide variety of payment solutions, has great stock control, media rich category and product description.
Manage your websites
At your dashboard you have options to change your websites' settings, setup SEO, analytics, duplicate or delete sites and more!
You can fully rebrand the Webydo system and put your brand identity front and center; add your logo to your client's login screen, your dashboard, your online design studio and your client's CMS. You can even bill your clients directly from there!
Advanced Cloud hosting & Flexible Pricing Plans
You no longer have to look for new host for every client, or go through tedious registrations. You have all your websites in your dashboard & hosted in Webydo's advanced cloud hosting infrastructure, which is monitored 24/7, and your website will be live and secure even during the biggest traffic storms.
Enterprise-level database security measures across the entire hosting network prevent hackers from disrupting your clients' website services, and Akamai's CDN servers ensures that your website will run as quickly as possible anywhere in the world.
When your client's site is ready for publishing on an external domain, you can then choose a premium plan to take full advantage of Webydo's advanced hosting and management tools.
According to your needs and business size you can choose among the "One-Site Plan" or the "Professional Plans".
"One Site" Plan is for managing a single website, whereas the 3 Professional Plans Pro, Team, and Agency, are for managing 10,50 & 250 websites respectively. Each plan also offers additional advantages than the previous one.
Essentially the more websites you design and manage, the more cost-efficient and convenient Webydo will be for you.

Community Driven Development
Participate in the Webydo community and suggest new features, report bugs, and vote to prioritize which features will be developed first.
Your voice has power and you lead the development roadmap. Webydo is truly made by designers for designers!
Conclusion
With Webydo designers can finally see their design in action and be in charge of their creative vision from start to finish. Create a site on Webydo and feel the joy of unleashing your creative freedom today.
Presented by Webydo's community of Professional designers.