If you're a chubby man, buying clothing is hard. Trust us; we know the struggle.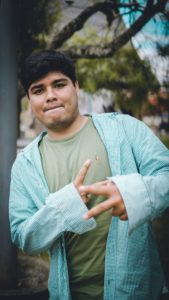 When buying clothes for larger men, it's important to pay very close attention to the neck design or the neckline. The neckline is a huge difference-maker and is arguably the most important part of any shirt.
This is because necklines can help people look larger or slimmer, depending on their needs. And in this article, we'll be looking at the different necklines that are best for chubby men.
These are the necklines that can help you look slimmer in your clothing and create a more elevated look. We'll also talk about some of the neck designs to avoid so you won't have a hard time buying the right clothes.
How Necklines Make a Difference
Necklines are one of the most important features of any top. When buying clothes, the first consideration should always be the size, as you will never look good in clothes that don't fit you right. However, the second most important characteristic is probably the neckline, as this is the part of the shirt that frames your face and body.
So, certain necklines can make you appear larger or smaller. If you're a chubby man looking to buy clothes that slim you down, it's important to look at the neckline. Buying a shirt with the wrong neck design may make you appear rounder and larger than you are, but buying the right neckline can actually slim you down and make a huge difference in your appearance.
Types of Necklines
There are many types of necklines on the market. But men usually have to choose between rounded, crew, and v-neck designs when shopping for clothes. All of these necklines are great, but they are definitely designed for different people.
The rounded neckline is the most common neck design you'll find. This is a very neutral design that works for just about any body type, which is why you can find a rounded neckline on most t-shirts on the market.
Another common neck design is the v-neck. As the name suggests, the neckline of these tops has a "v" design. This means the neckline dips into the chest a bit, exposing more of the neck and chest, which helps people appear slimmer.
Lastly, there are crew necks. A black crew neck, for example, sits closer to the neck than other shirts and helps people appear a bit larger than usual. Due to this, we don't recommend this neckline for chubby men that want to buy clothes that slim them down.
Which Neckline Is Best for Chubby Men?
One of the best neck design options for chubby men is the v-neck. This is because the v-neck exposes more of the chest and neck, which helps your face and neck appear slimmer. These necklines have the largest slimming effects, but we have to advise people to be cautious as they don't want to overdo the v-neck and buy shirts that plunge too low.
Another great option is the classic rounded neckline. These shirts don't exactly slim you down, but they don't make you appear larger, either. So, they are a very neutral type of shirt that will go well with almost any outfit. If you want a versatile neck design that's good for chubby men, the rounded neckline is the best option for you.
Conclusion
Neck designs make a huge difference when buying shirts for chubby men. We highly recommend getting either v-necks or rounded necklines while avoiding crew necks if you want to appear slimmer in your clothing.
And if you want to further enhance the slimming effects, you can also research colors and patterns that do that to the wearer so you can look for shirts with that specific design!