The autumn brings with it many warm hues that are perfect for use in your living room. Its golden, rustic appeal is something that would be interesting to introduce to your home decor to perfectly match the time of year. As the days get longer and colder, warm colours can help you welcome the autumnal season into your home to create a cosy and peaceful living space. Here are just some trendy colours that you can use in your home to get ready for the autumn season.
Deep oranges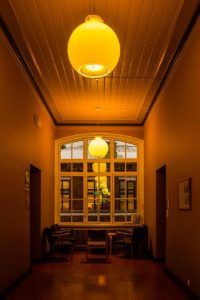 Deep oranges are the most prevalent colour during the autumn season. It reminds us of the beautiful sunsets, the crisp leaves, pumpkin-spice lattes, and Halloween. It also invokes feelings of warmth in home interiors. Your home design and layout, your budget, and timescale, are just some of the important factors to consider before designing your home. So, while you might think painting your walls orange is a good idea for now, you might want to consider how long you are going to like it for, or if you are selling your house in the future. Unfortunately, orange walls are not to everyone's taste. Instead, you could use deep orange for your curtains, pillow covers and linens in your living room.
Deep reds
Red is a fun, warm colour that will elevate your spirits during the autumn season. Mahogany, berry, and wine, are just some deep shades of red that can help create a cosy autumnal look in your living space. These shades can look great on a small accent wall, particularly where your mantelpiece or fireplace is to help create a statement look for the room. You can also use the colour to emphasise a particular piece, such as your autumn table decor, your curtains, and soft furnishings. It is said that red draws people together for a conversation so for this reason it is the perfect colour for your lounge.
Earthy browns
Brown is a prevalent colour to use in interior design in the autumn months as it represents crisp leaves and a woodland forest. While light browns are good to use all year round in your home decor, there are several hues of deep earthy brown that look perfect for autumn. For your living room, a walnut, mocha, or cinnamon shade will look perfect in your home. These shades can help create a rustic and earthy living room look and look especially great in a leather sofa or hardwood flooring. You can also blend brown with other autumn colours such as yellows and oranges to create a true authentic autumn feeling.
Warm yellows
Yellow is described as the colour that represents energy. Like red, it draws attention to a particular object in your living room. Most people whose living rooms do not have enough natural light use this colour to create a warm, bright atmosphere in their living rooms. In most cases, the colour is blended with deep orange to reflect the actual variations of the autumn season. House Beautiful has some great accent wall ideas to use in your home. They suggest that a pop of sunshine on an accent wall can help your room feel brighter and a bright hue is also the easiest way to make a big design statement in a small room.
Hazy purples
Not every shade of purple can create a cosy autumnal look in your home. Lavender, amethyst, and lilac, are lighter shades that would look better in springtime. However, much like other colours, darker shades of purple will look better in the cold autumn months. Using plum, mauve, and mulberry shades look great in living rooms for cushions, curtains, and rugs. In the living room, this colour symbolises power and passion. When combined with neutral colours like brown and grey, this colour palette will be the definition of an autumnal style room.
Forest greens
You will still find some green during the autumn season and using it in your home decor brings relaxation and a feeling of freshness. When you buy paints online, ensure that you pick a shade that best represents the outdoors. Buypaintsonline.co.uk have a variety of Crown Trade paints that you can use for your living room in a wide selection of gorgeous green shades. Their Opal Silk, Soft Khaki, and Promenade paints, are just some luscious greens that can add a touch of autumnal nature to your home. You can easily pair forest green shades together with earthly tones such as brown and grey. Using green in focal walls, living room rugs, and fluffy throws can help to increase the sense of nature in your room.
Pastel greys
Grey is a neutral colour that can work with any other colour you can think of. It is a timeless and practical colour that can help to create a modern, contemporary, rustic, or industrial look to your living room. There are various shades of grey such as smoke, iron, and charcoal, that can recreate a grey autumnal morning. It can be used in multiple areas in your living room, including the walls, floor, upholstery and draping. However, be sure to mix it with other colours in any of these applications to add a bit of life to your home and help create the authentic feel of autumn.