There are just 10 days left to enter the creative ring and submit the entries to one of the leading festivals of creativity in Eastern Europe – IX White Square International Advertising Festival.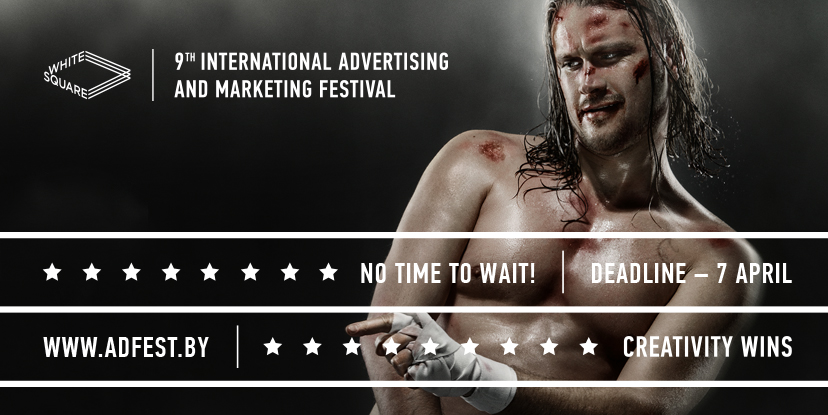 Call for entries runs out on April 7!
Obviously, it's high time to hurry up! But if you consider yourself worthy of awards and are ready to fight for victory, you still have some time to prepare your best cases, video and radio clips, logos, packages and all the rest advertising and marketing projects.
The process of entry submission is simple. You should just sign up on official website adfest.by and upload your entry into an appropriate contest in your personal account. White Square includes five contests: creativity, branding, marketing, digital, social advertising.
If your professional activity is related to advertising, marketing, branding, design, digital you are welcome to participate and to show everyone the power of your advertising talent!
The judging at White Square is based on the Regulation of Jury work, where the rules, criteria and process of judging are stated. The Regulation is determined by principles of impartiality, objectivity and professionalism. The main criteria for entries evaluation are originality, novelty of idea and quality of its implementation.
In 2016 White Square was recognized as one of the largest creative festivals in Easter Europe with high level of its organization, entries and jury cast according to The Gunn Report.
Prize winning entries of White Square will be published on more than 30 industrial media-resources of Europe and the CIS.
One of the best entries of White Square will be awarded with a special prize of industrial press Epica White Square Award and will be able to take part in Epica Awards 2017 free of charge and another 20 entries will be provided with 100 EUR discount for participation in Epica 2017.
Upload your entries on adfest.by straight away and win!
Detailed information regarding participation in White Square is provided on official website adfest.by.