On the contrary to the newbie-oriented online builders, Novi gives you much more design opportunities and caters the ability to access the full source code.
Today, I'll introduce this builder to those who're unfamiliar with it. I'll look into its features and explain its draws.
Let's see what Novi has to offer!
What's Novi Builder?
Novi is an all-the-rage HTML editor software that will take your coding experience to a whole new level.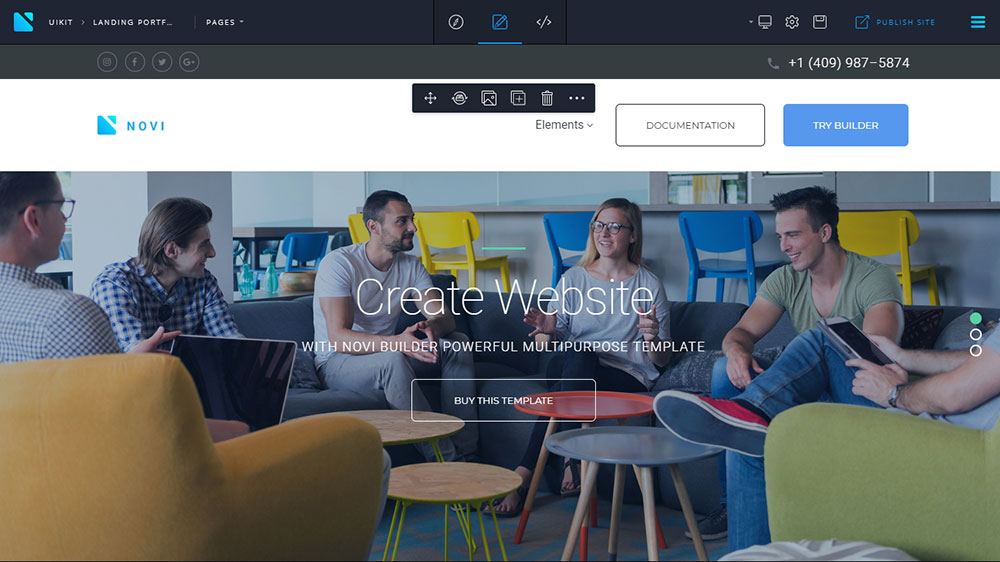 Novi was launched by the coders' team back in 2016. Since then, it's been enjoying increasing popularity and saw a number of updates to improve its functionality.
Novi has the reputation of being a go-to editor to jumpstart the developing process. It has a highly adjustable drag-n-drop system and themes to help you finalize your projects quicker.
Get a pre-taste of Novi Builder's interface by watching this video:
Novi HTML Visual Editor Features
You'll get a clearer picture of what Novi builder is all about when I tell you about its main features. Here you go:
#1: Drag-n-drop Editing
If you're a developer you perhaps talk CSS and JS. However, doesn't it all just work out faster with a WYSIWYG tool? To let you choose, Novi combines WYSIWYG and code editing. Choose the mode you like most, or switch between the two in an instant.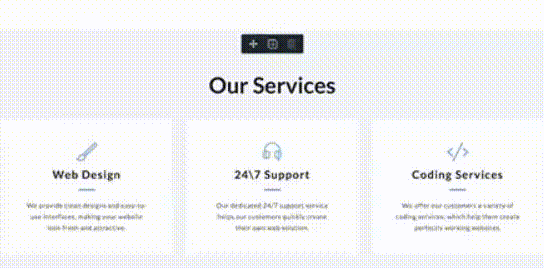 #2: Convenient Text Editor
Customizing text should be done in seconds. With this in mind, Novi delivers you a convenient and intuitive text editor. Just click the area where you'd like to add your text, enter the content, apply styling and customize the style of your text with ease.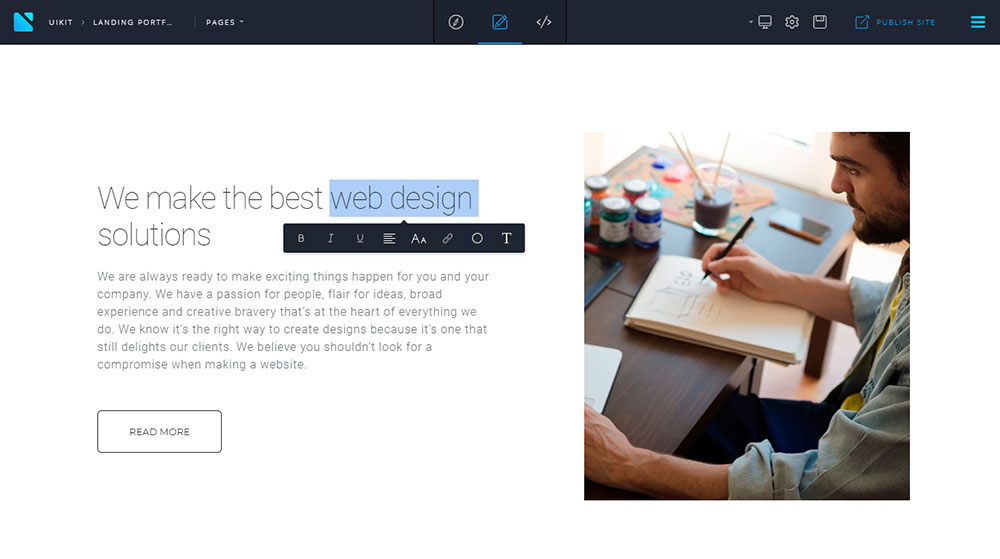 #3: Code Editor That You're Used To
Edit the coding of your website/theme using the traditional code editor. You can employ the standard HTML5, CSS3 and JS code. The code editing interface highlights the code and is available in the eye-friendly dark mode. What's more, Novi will promptly highlight your coding mistakes, ensuring that your site's code remains 100% valid.
#4: Built-in Context Menu
There's a certain set of the most-needed tools that you always want to keep at your fingertips working on your project. That's why Novi visual HTML editor includes a context menu that displays a set of frequent operations. It appears when you hover an element. This menu assists you in quickly copying, cutting, removing, pasting, or even duplicating elements in WYSIWYG mode.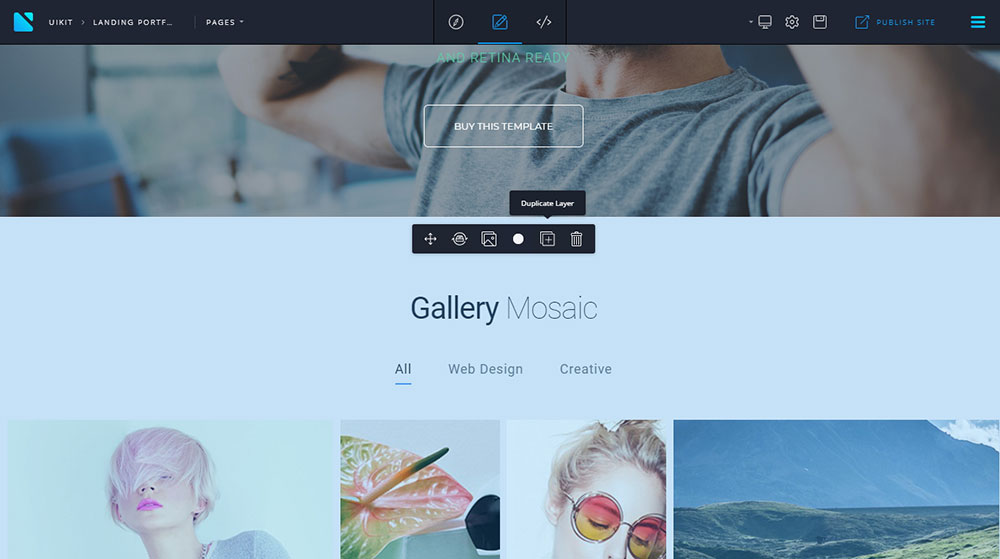 #5: Media Library
With Novi, it's simple to add imagery to your website. You can reach all your imagery in one place using the pre-built Media Library. Within the library, you can control different aspects of imagery display.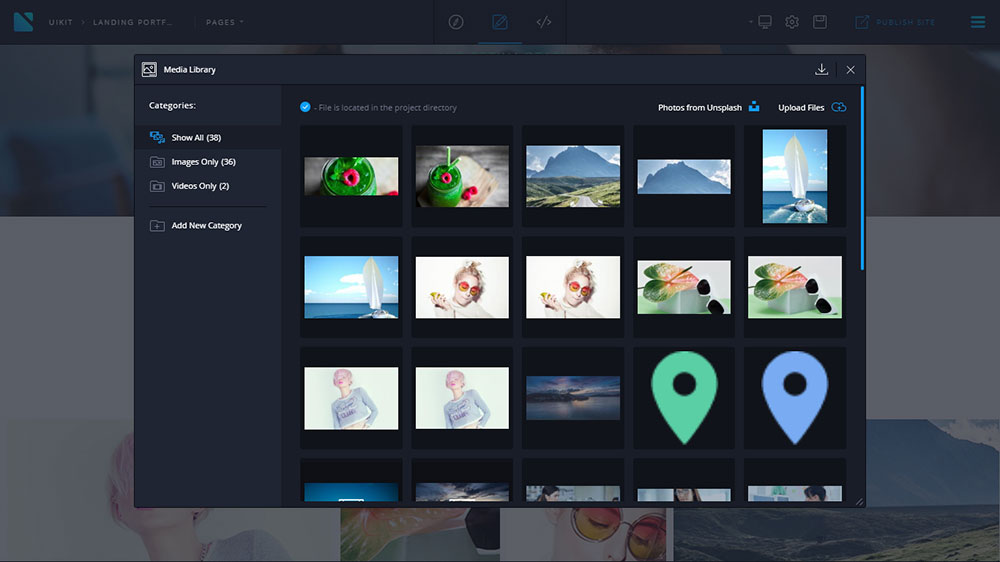 #6: Icons and Fonts Manager
Moreover, Novi lets you work with icons and fonts within a custom tool designed for this purpose. With this tool, you'll always have the trendiest icon sets and fonts at your fingertips.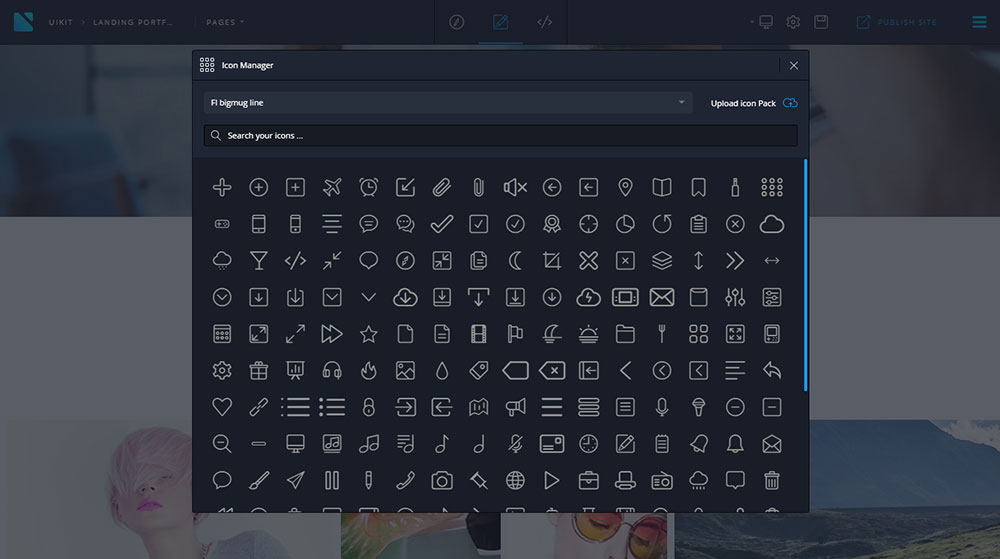 #7: Presets
Once you switch to visual editing mode, you can use the premade blocks stored within the presets' library. Using ready-made block presets, you save time on creating professional layouts yourself. Of course, you can customize each pre-made element both in the visual and coding mode.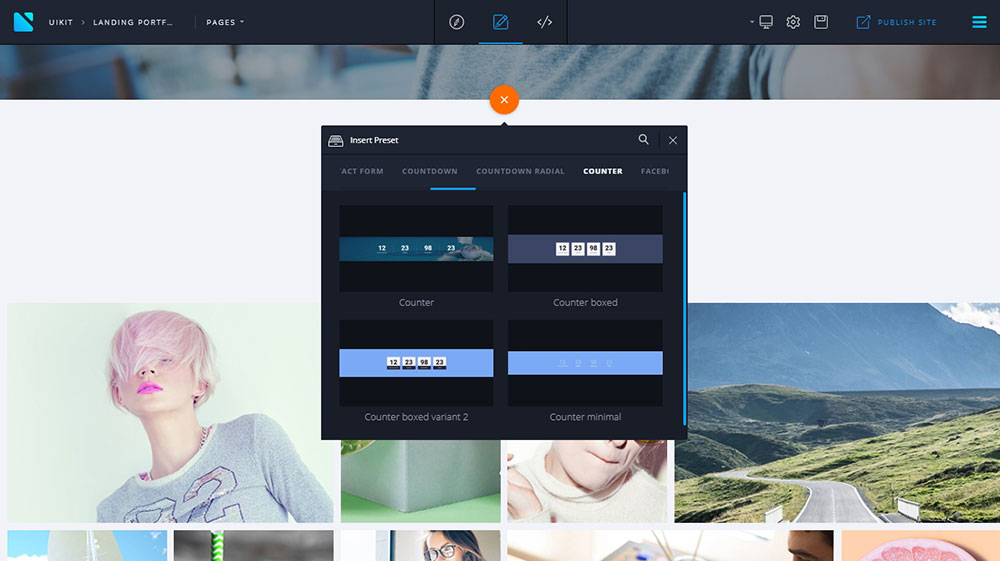 #8: Comprehensive Page Management
Creating a website hierarchy with just HTML is not the most favorite thing for many. Luckily, Novi visual HTML editor takes it to a new level of convenience. You get an interactive panel, where working with pages and site hierarchy is a piece of cake.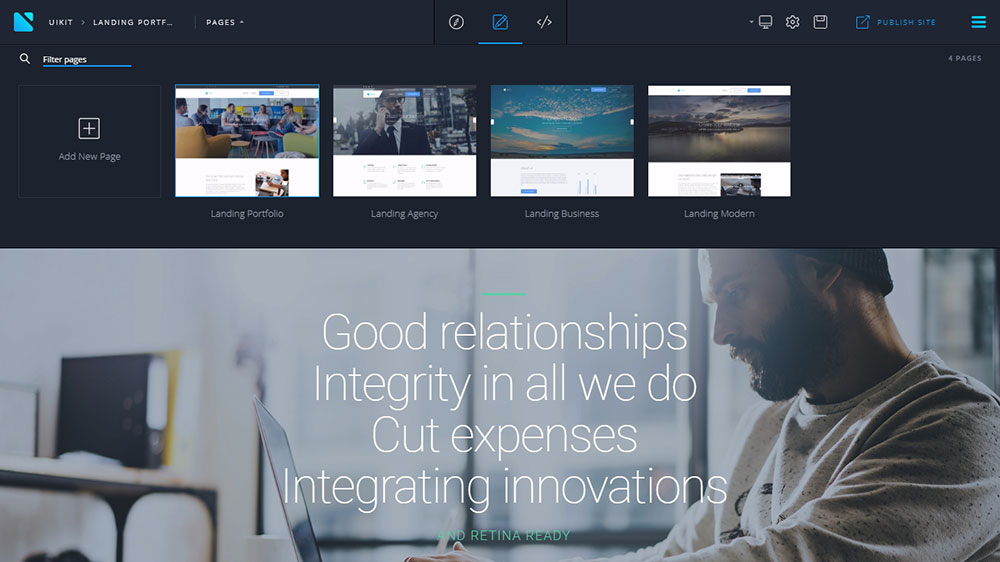 #9: Preview In 7 Resolutions
Novi lets you preview what you create in a number of resolutions. This is crucial for maintaining the responsiveness of your project. You can check each project in 7 different popular screen resolutions to ensure that your website or theme looks and functions well on any device.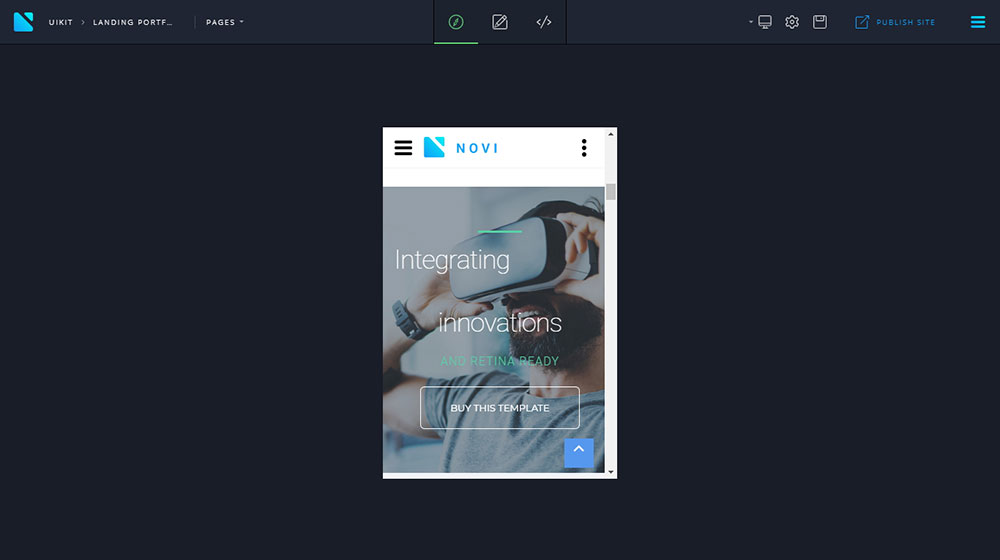 #10: Integration with Third-Party Applications
There's a number of third-party applications that are compatible with Novi HTML visual editor by default. For example, you can easily integrate Google Analytics and Google Search Console. If you're after email marketing, you can also take advantage of trouble-free MailChimp integration. Even more, you can integrate Novi with the custom plugins that you've created yourself.
What's the Price of Novi?
Among different builders, Novi Builder is relatively cheap. There are three different pricing plans available, such as: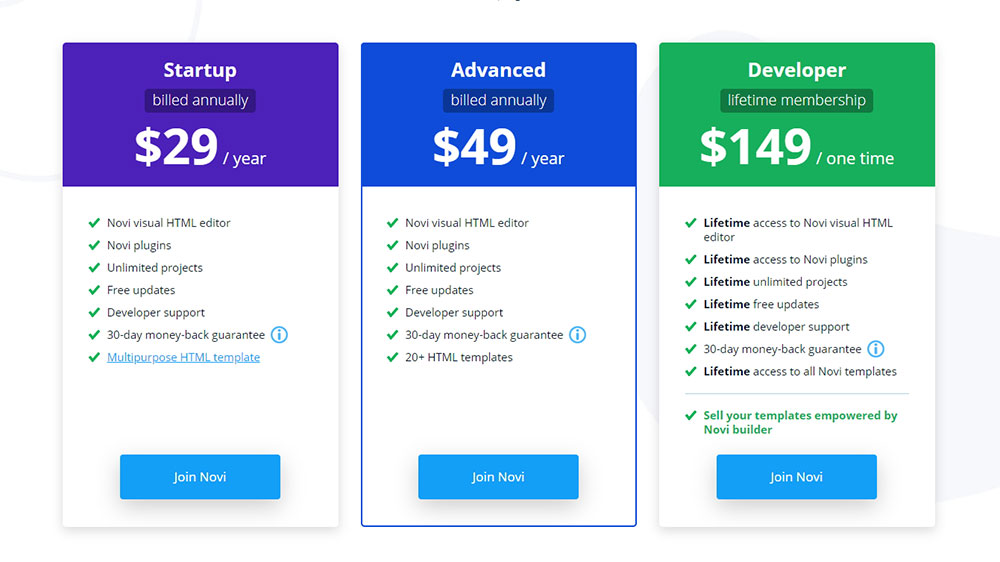 Do Novi Team Provide Support?
To help you get started with Novi builder, check out its documentation. There you can learn the basics of Novi experience.
With Novi HTML drag-n-drop builder, you also get developer support. It's implemented in the form of a traditional ticket system. And there's also a lively Novi community on Facebook.
Final Verdict
Novi Buildеr lives up to the developers' & designer's expectations and delivers you a streamlined coding/visual editing experience. This builder is more complex and advanced as online website builders. That's why it lets you take full advantage both of visual tools and your coding expertise. Moreover, if you get the builder with premade themes, creating websites and landing pages will be faster than ever.
Have you ever tried Novi Buildеr?
What alternative tools do you currently use? Speak up in the comments.