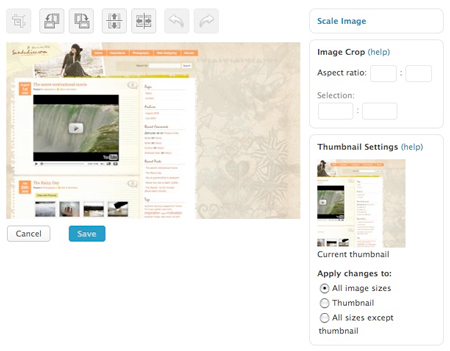 Carmen, the 2.9 version of WordPress has launched today. I've already upgraded most of my blogs using the automatic function and everything went fine (but you should still backup before upgrading). The most spectacular new features are targetting end-users, for example the built-in image editor, batch plugin update or the trash feature for posts.
For designers, these are the news that should be of interest (copy-pasted from the original announcement):
Themes can register "post thumbnails" which allow them to attach an image to the post, especially useful for magazine-style themes.
A new commentmeta table that allows arbitrary key/value pairs to be attached to comments, just like posts, so you can now expand greatly what you can do in the comment framework.
Custom post types have been upgraded with better API support so you can juggle more types than just post, page, and attachment. (More of this planned for 3.0.)
You can set custom theme directories, so a plugin can register a theme to be bundled with it or you can have multiple shared theme directories on your server.
Specify category templates not just by ID, like before, but by slug, which will make it easier for theme developers to do custom things with categories — like post types!
Registration and profiles are now extensible to allow you to collect things more easily, like a user's Twitter account or any other fields you can imagine.