You may have a general vision for your dream kitchen, but lack the specifics to describe it to a contractor. Perhaps you're still searching for ideas to flesh it out. We've searched for the best ideas out there to offer you help in choosing kitchen amenities, creating a basic design to hand to a contractor and to get started building or remodeling. Let's work.
Finding a Contractor
To build your dream kitchen, you'll need a licensed contractor who can translate your descriptions and basic design into reality. Finding the right contractor is a mix of checking credentials, matching personalities and finished work examples you love. Contact your local Chamber of Commerce for appropriate area business, then check their licenses with the state, and check their Better Business Bureau listing. Although choosing your contractor will be, your last step, vetting them properly takes a while. Start early in your process so by the time you have a basic design and list of items to remodel or add, you have a few contractors to discuss the project with and obtain bids.
Designing Your Kitchen
You're likely not an architect or a contractor yourself, but you don't need to be. The world of virtual reality and Internet have enabled the creation of innovative kitchen visualizer tools that let you point and click, point and delete, and drag and drop to create a virtual example of your dream kitchen. Your contractor can see not just lines and measurements, but photos of the finished design. This gives the contractor's team a mathematical and visual representation of your desired space. It also gives you both a mutual virtual room to work from to tweak the design.
Kitchen Ideas
Before we discuss what's hot in kitchen design, let us discuss you. Your personality and needs matter more than the fact that big center islands are all the rage. If your kitchen doesn't work for you, if you don't enjoy time spent there, then the re-model failed. Rather than implementing everything "in style," think about your needs and wants. If your grandmother's roomy, airy kitchen represents your epitome of comfort, then a galley kitchen with an island won't make you feel at home. That's what the kitchen represents in most households – the center of the home and of activity. Talking about kitchen ideas, you should check out these kitchen gadgets and tools here on Craftsmanprotools. They're a real time-saver when you have a lot of cooking to do in the kitchen.
Color schemes
In the United Kingdom, the new trend in color and texture departs from tradition. Rather than a single popular color combination or two, homeowners began bucking the notion of cookie-cutter kitchens. This trend began its movement across the pond this year making personalization the new thing in US kitchen design, too. Bold, bright colors, contrasting colors, and metallics have taken over from neutrals. Homeowners began choosing to paint the kitchen in their favorite color instead of relying on neutrals with a predictable resale appeal. You can always repaint it beige just before selling.
Kitchen Islands
Choose an island only if you like islands. They continue to trend, but that does not make them right for everyone. Smaller kitchens may not accommodate one well. The latest design aspect of a two-island kitchen only works in cavernous spaces. The second island generally provides a dining space, such as a breakfasting area or bar. The first, inner island that sits closest to the appliances and sink remains the secondary food preparation area. You can still have one with a smaller kitchen. Choose a mobile mini-island that lets you move it into position as a food prep area while cooking, then push it to a wall while not in use.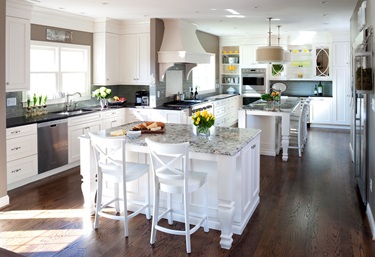 Shelve It
Create an eye-catching display of china, pottery or silver pieces by installing shelving. It makes a larger statement than a backsplash and presents your favorite treasures. You'll still use cabinets to store bulky, large items or everyday dishes. Install shelves above your sink, an area that commonly gets wasted if there's no window present. Use it for commonly needed items. You can still work shelves in above a sink with a window but utilize the space instead for a small herb garden. Your kitchen will smell divine, and you'll always have fresh herbs for your meals. You can pick up mini-herb garden kits that nearly guarantee success even for those with no green thumb.
Hang Your Pots and Pans
Chefs smartly display their high-end cookware while making it easily accessible. A brass or copper hanger above your island or preparation table provides attractive storage. You'll never lose time searching for your big soup pot or the ladle to serve your masterpiece.
Ultimately, you decide your dream kitchen must-haves. Let these suggestions spur your own ideas. Maybe the new trend of multiple ovens works for you, maybe not. It's up to you. It is your dream kitchen.