You dream about having a good website, but you aren't ready for big investments at the start?
The best way is to create your website for free using the site builder. But how to choose a good offer among dozens of modern solutions?
We'll tell you a secret: there's no perfect website builder out there. But there is one that will suit you most!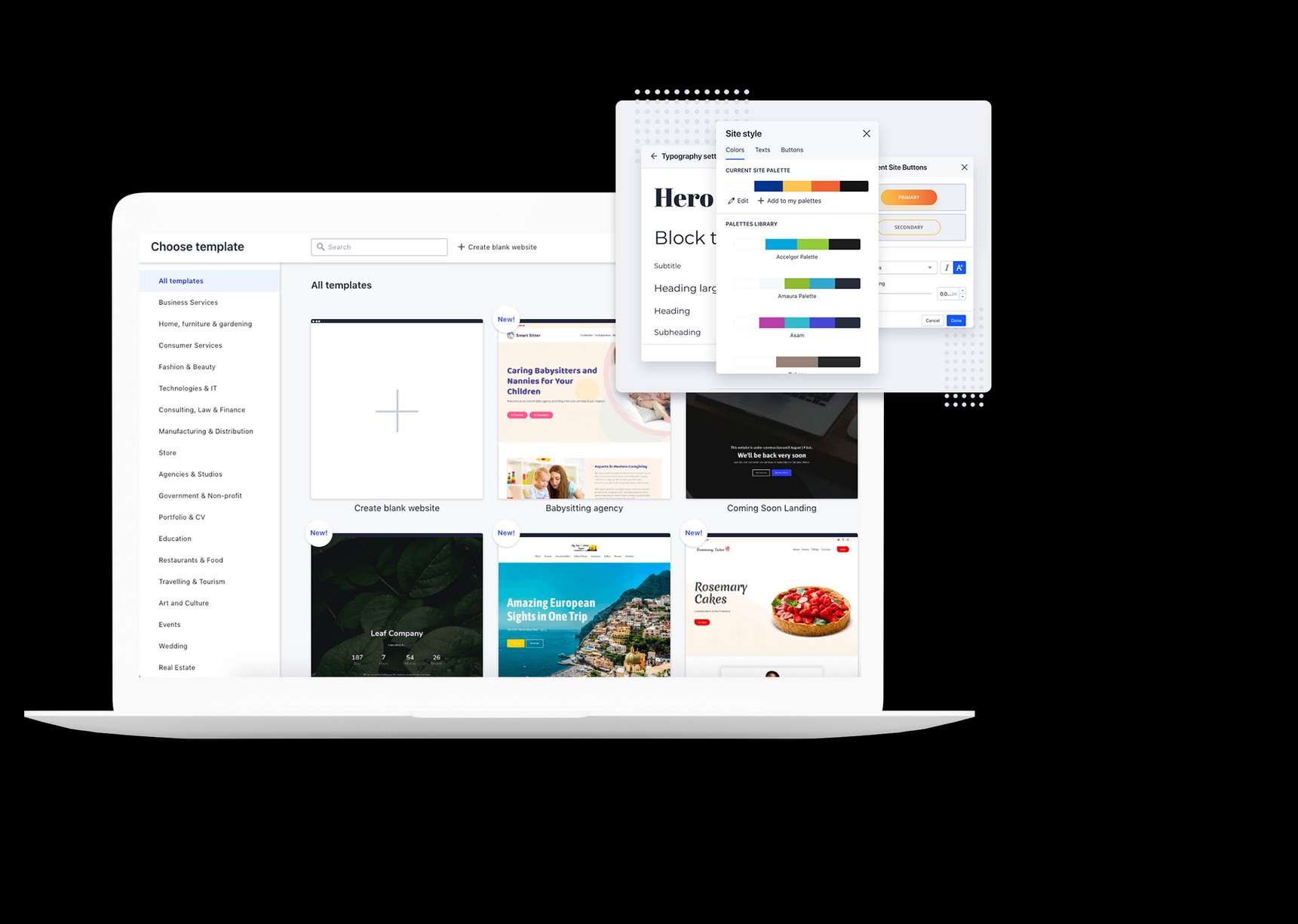 Here's your list of 12 important things that you need to pay attention to when choosing a site builder, and some of the pitfalls that you can face!
Modern AI website builder that is designed to meet all possible requirements of customers will help you to avoid many problems like wasting your, money and losing your customers!
1. Simplicity and ease
The system should be simple and clear for you. Today, many services offer visual drag-n-drop editors in which you can use the mouse and keyboard to place different blocks on the website pages.
Also, in such an editor, you can easily see what your website will look like and make some corrections, if necessary.
2. Plugins and modules
It's impossible to add any third-party plug-in or add-on to a site, created with a website builder. Developers won't let you use third-party code.
Besides, there are still some exceptions for certain cases. For example, you can connect an online support chat, organize advance customer registration, connect payment systems and other similar solutions. Usually, the choice is very limited.
3. CMS
CMS allows you to quickly and comfortably work with a large number of similar information blocks.
If you plan to add content to the site constantly, then the presence of CMS will be important for you. And if you create a business card website where the new information rarely appears, then the absence of CMS won't be critical for you
4. Number and quality of templates, customization options
You are rarely able to create your own unique website template using the website builder, and the platform will hardly allow you to upload your own templates. Therefore, it is very important to understand whether you will be able to find a ready-made solution you need.
The good news is that website templates are customizable. Some templates will allow you to place your logo and the name of the company in a beautiful font in the website header, the other templates will be more flexible, and allow you to move elements around the screen, change color and font in the menu, etc.
5. The functionality
Website builders offer a minimum of services for free – important functions are available only on paid accounts.
That is, for example, you cannot disable third-party advertising, get much storage space, or organize a fully-functional online store.
Another important problem of the free plan is that you can get only a third-level domain for free. Such a domain name looks cheap and may be hard to remember, and these websites are always ranking lower in search results which means that it will be hard to beat the competitors.
6. Making changes to the site
Website builder developers have the right to change templates and plugins as they see fit. One day you will visit your website and you won't recognize it. Even if you don't like the update, you won't be able to get back to the previous version of the website.
7. SEO options
Almost all website builders promise perfect search engine optimization and fast promotion. Actually, the site builder simply helps to do part of the work on the site without the programmer's help.
As a user, you still can't determine the quality of the work of programmers. And not all website builders will be able to provide suitable tools for SEO.
Some site builders allow you to add SEO data for the whole site, and tags are added automatically to pages, which is not always good. Other platforms allow you to work with each page, but, for example, you will not always be able to add any analytics tool you like or to manually modify the robot.txt file, etc.
8. Social Media tools
Sometimes developers of website builders pay insufficient attention to social networks. Make sure that the site builder has the option of interacting with the social networks you are interested in – for example, Facebook or Instagram.
Also, check out how the share button and other tools really work. Sometimes, when an article is being reposted, too little or too much text is sent to the social network. Another problem is the image scaling (will it look beautiful in the post, or it will turn out, for example, to be too small).
9. Responsive web design
The responsive layout allows the site to change the location of the blocks depending on the screen size, the control elements become proportionally larger so that the user can easily see them and interact with them, and some blocks that do not contain important information move down the page, etc.
Firstly, you are interested in getting mobile visitors – today, mobile accounts for approximately half of the Web traffic worldwide. Besides, search engines are much more favorable to websites with responsive layout.
You can use the visual editor to check out how your website will look on mobile.
10. Page load speed
Usually, the websites made using website builders take a longer time to load. As a result, the customer leaves the website without exploring it. Such high bounce rates affect not only the sales themselves but also the site's position in search results.
11. There's always free cheese… in the mouse traps!
It is very important to understand what kinds of services are offered for free, otherwise, you run the risk of having problems when launching the site.
For example, it may turn out that the website builder offers only 400 MB of storage for free. And if you want to have more space, you'll have to pay for it or switch to a paid plan.
12. Customer support
Of course, if you have a problem, you can always contact customer support, but… In fact, these guys do not always respond and help!
So check out the reviews on the Web before choosing a site builder!