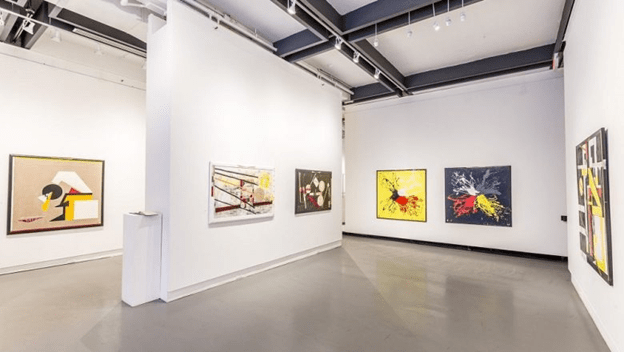 Los Angeles is not only an entertainment hub but also a centre for contemporary art. From museums to galleries you can't run short of places to see artistic creations. Artists in this city showcase their work in galleries. An ideal gallery space for rent will usually have large windows, natural light with no walls or windows that restrict movement. Thus, the process of finding and renting art galleries will depend on knowing where look. The rental prices for art gallery space in Los Angeles depend on the location, size and duration of the lease. There are small and big art spaces so you can be sure to find one that fits your needs and budget.
In neighbourhoods like the Arts District, art gallery spaces rent for about $3000 per month for smaller spaces to the upwards of $36,000 per month for extensive galleries. The new developments relating to the Covid-19 pandemic could see a significant change in the rates in the coming months given that more gallery space is becoming available due to the tough economic times.
Why should you Rent Art Gallery for Rent Los Angeles?
Los Angeles continues to experience an explosion of its contemporary art scene. This is complemented by the enthusiasm of art lovers who are eager to discover new art. As an artist, there is no better time to take your work from your backyard to the masses. Showcasing your creativity at a gallery means capturing the attention and imagination of hundreds of art lovers who are looking for something fresh.
Taking up art gallery space is also a good move if you're looking to detach your work from your personal space. You can only have so many people come to your home yet there is no limit to the number of people that can come by the gallery to see your work and interact with you. Galleries are characterized by white space that makes it perfect for any creative artistic showcase. Most importantly, showcasing your work in a gallery will strategically boost your marketing efforts if you are looking to sell some of your work.
Top 5 Tips to Help you Operate Art Gallery Space in Los Angeles
Finding an art gallery space in Los Angeles is not enough. The biggest challenge is in making sure the gallery is fully operational while maximizing the time and space to sell your work and stay in business.
Here are 5 tips to help you run the art gallery in Los Angeles successfully:
Know the market
Before you set out to look for art gallery space, you need to research in the local market. Know what is available in your neighbourhood of interest, engage members of the art community for assistance. This is important as you will be able to determine the scope, size and vision of your gallery. While at it, keep in mind the purpose of your gallery.
Decide on your mode of operation
You need to know how your art gallery will conduct business before you open it to the public. This may involve having a business plan in place outlining how you will conduct business and your growth plan. The big question here is 'how will your art gallery make money'? Keep in mind that art galleries must also adhere to tax laws.
Design your space
Once you have found the right gallery for rent Los Angeles. Take time to design the space before opening the doors to the public. You need to consider the flow of people in and out of the gallery keeping in mind social distance. The space should be enough for people to move around and socialize. You also need to set aside a holding space where you can put collections that are not on display.
Create an online presence
Although you will mostly be banking on one-on-one experiences from the art gallery, you can leverage the online space to promote your gallery. You need to let art lovers know about the gallery. You could also create a website where you provide information about the gallery and allow people to buy your works on the website. The online space is also great if you want to build your community of followers as you can engage them and share with them information about the gallery and some of the latest works.
Although you can find affordable art gallery for rent Los Angeles, you must have a solid plan on how to run it to make sure it is a profitable venture.