Rolling out your very first brand campaign can be scary and overwhelming, even for experienced marketers. In addition to the creativity and marketing efforts needed to launch a successful first-time brand campaign, marketers also need to focus on including unique advertising and marketing tactics –and all this needs to be timed perfectly. Another important consideration is the massive budget associated with researching your market and creating a campaign message that captures the true essence of your brand. However, not every start up can rely on large marketing budgets for differentiating their brand and launching a campaign that can resonate with customers.
Here, we have compiled 6 tips in which you can successfully kick-start your first brand campaign without spending thousands of pounds on a marketing budget.
1. Hire professional branding agencies
Building a successful brand is not easy. Brands are more than just names and symbols – these days, a brand is much more than the total of its products and services. It is what and how you communicate with your target audience, and what your customers think about you. A single mistake in branding especially for start-ups can irreparably damage their reputation and chances of success in the market.
To avoid this, you can hire a professional branding agency whom can define, create, and manage your brand successfully. One successful branding company whom uniquely design all the visual elements of your brand are called Design by Pelling (a Surrey web and design company). They are digital experts and branding specialists who work very closely with you with aims of helping you to achieve all your objectives through creative elements. They will further help you to gain visibility amongst your competition in the future.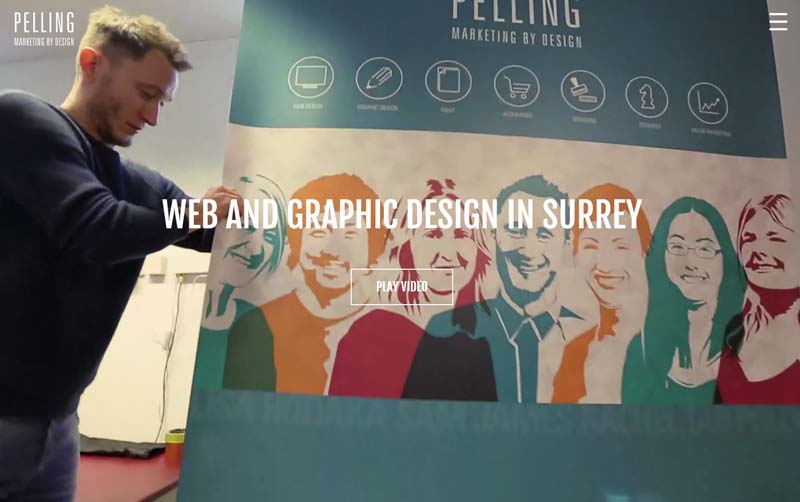 By hiring out a professional branding agency, it can not only help you create a unique brand voice which adequately reflects your personality, but they create important brand ware such as your website, logo design, print and digital campaigns to make them unique and professional looking.
2. Know your target audience
Audiences today are continuously inundated with numerous marketing messages and new brands, and businesses. In this environment, launching a first-time brand campaign for a start-up business can be extremely tough, especially if you don't have a clearly defined target audience. Spending thousands of pounds on an ad campaign without having any idea of who your target audience is means that you have wasted precious funds. To create a campaign which can successfully establish your brand in the market and differentiate your offering from that of your competitors, marketers first should correctly identify their target audience. This entails developing detailed buyer personas before beginning the brand campaign. Include all factors such as age, gender, location, income, industry, job title, etc. to ensure that your brand campaign is geared towards the right target audience.
3. Create multiple 'touch-points'
For first time brand campaigns, focusing on a single medium means limited exposure to potential customers. Synergy is key to ensuring a successful campaign – expose your target audience to multiple touch points or different media vehicles such as digital, social, print, television, etc. This can not only ensure that your message is being heard and understood by consumers, but you can also lessen the risk of hitting a point of saturation with a single media type.
However, it is also important to not advertise everywhere – for example, if your target market is on social media, specifically on Facebook then advertising on other platforms such as Snapchat or Pinterest can be a waste of money, resources and time.
4. Attempt to engage customers through conversation
Gone are the days, when simply presenting your audience with a problem-solving product would ensure success of your brand. With many competitive products easily available and increasing tech/research savvy consumers, it is difficult for marketers to gain and hold the attention of their target audience. This is where customer engagement comes in – using peer powered visuals and top brand agency who can talk about your services and products can ensure increased visibility/exposure of your campaign. Additionally, this will allow you to engage customers through conversation which in turn can build trust in your brand and spread your campaign message to a larger group.
5. Do not be subtle or have too many messages
Designing a brand campaign with too many messages can confuse customers. At best, your customers will walk away with only the primary message and fail to make the connection between your brand and an abstract concept. To successfully kick-start your first brand campaign, it is important to 'connect the dots' for your target audience. Focus on a message which makes it easy for consumers to know that there is a new and better offering currently in the market.
6. Make your brand story relevant to the specific community
Creating a campaign which resonates well with your target audience is also not enough – you should personalise your brand story to make it as relevant as possible to the specific community you are targeting. This can lend a personal touch to your campaign and message which can generate trust among your target audience.
Overall, kick-starting your first brand campaign is not an easy task. It requires you to invest time, money and numerous sleepless nights to create a campaign and message which can capture the attention of your target market and gain their trust.