They say that first impressions make a lasting impression and that how you greet someone can set the groundwork for your relationship. The same is true to blogging. How are you greeting your blog visitors? Are you friendly? Overwhelming? Trustworthy? Are you someone that they want to be friends with? These are all the things that the greeting on your blog helps your visitors decide.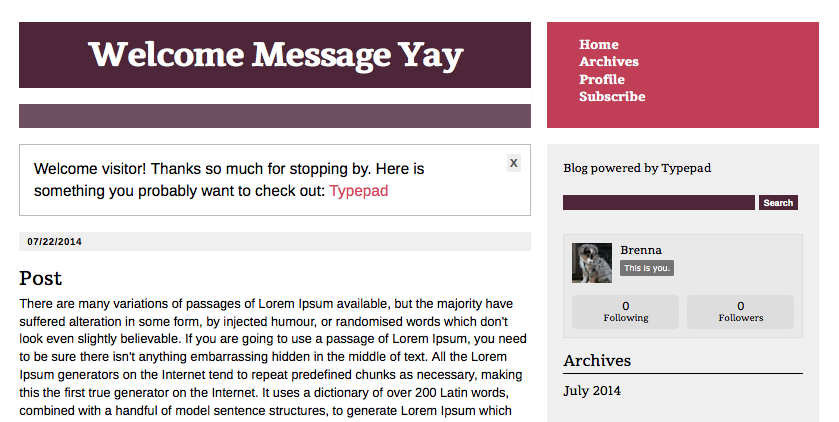 It's not just about the wording either; the way you present your greeting to your visitors is just as important.
Here we break down the seven best messages to greet new visitors on your blog, so your blog can make a favourable first impression.
Salutations
Firstly, you'll need to greet your visitors. This can be presented as a casual "hi," "hello," or "hey there." If your blog is about a more formal topic you could choose a word such as "greetings." For a blog about French cuisine, a blogger could use "Bonjour!" in their greeting. The salutation will set the tone for your website, especially since your blog's popup greeting will be the first thing your visitors see. If you don't know what popups are if you don't understand the importance of them I would strongly advise you to check out the site http://optinmonster.com/. They allow you to display well-timed and designed popups that are proven to work at converting abandoning visitors into customers!
Whether you use a casual or more professional greeting, be sure that you are choosing words that work with your blog's style and that they sound like you, if you're writing a personal blog.
Tell Them Who You Are
If it's a personal blog, tell them your name as an individual. If it's a business blog, tell them the name of your business. These are things that you want your first-time visitors to remember so they can find you again. A good example of this is by using a greeting such as "Welcome to Created by Grace Designs."
How will they find your blog again if they don't know who you are in the first place? By letting your name be the first part of the blog that your visitors see, you are telling them how they can find you again. Even if they forget your web address, all they have to do is Google search or type into any web browser, "Created by Grace Designs."  All good introductions include a name. It's just proper etiquette and lets your visitors know that you're real and not just a spambot.
Tell Them What You Do
You have to tell your readers what your blog is about, so they're not expecting one thing and then become disappointed when they read something completely different. No one likes being misled. If your blog is about a type of business, then share in less than four words that you're a business blog in a certain niche, such as finances. A blog about personal finance could say something similar to, "Hi! We're glad you decided to visit Frugally Functionality, where we'll show you how to save for your next financial goal."
What Makes You Different
Another way you can greet your blog visitors is by telling them what sets you apart from others in your niche. It doesn't have to be presented as a blaringly obvious statement either. You can simply use a couple of adjectives when describing yourself or your blog. For example, for a mommy blogger, a great way to do this would be by saying, "Hi there! Welcome to Mum Life Happens, where this mum shares everyday adventures and lessons." This tells your readers that this is a personal blog, where she provides an uncensored look at what a mum's life is really like.
Share Your Purpose
Why do you or your business have a blog? Is it to educate professionals in your arena? Is it a means of breaking down information for a consumer? You can share this very briefly in your blog greeting. For Shanda Sews, a blog about sewing, Shanda uses this as her greeting: "Welcome to Shanda Sews, where sewing is made simple." Shanda wants to make sewing easier for new crafters with a series of tutorials, but all she needs to tell her visitors is that she can make sewing simpler for them. They'll then be curious enough to find out how she does this on her blog. Shanda wants to let her readers know why her blog exists, but she wants them to look past the greeting to read her posts so that they'll want to learn more.
Display Your Slogan
Your company motto or slogan pretty much sums up all that you do, and your blog greeting is a great place to display this. This may be the only thing that you choose to display on your blog's greeting. A company that writes about educating young children might choose to display a slogan along the lines of "Seedling Solutions, helping young minds grow and blossom" on their greeting. This catchy phrasing will help blog visitors remember the place they're visiting on the web. Pictures of you or your business in action are also great pieces of visual information to display in your blog's greeting. You can easily display these images by using a slider plugin such as Soliloquy which is available to WordPress users.
Tell a Story
Obviously, trying to write a novel for your blog greeting would come across as overwhelming, but just a sentence or two about your business' founding will leave visitors wanting to know more. This is a great option for a non-profit blog. An organization called Paws for People could say as their blog greeting, "Welcome to Paws for People, where furry friends have been helping people since 2010." By just giving generalities, this non-profit's blog is inviting their visitors to learn more, but they're still clear in what their purpose is: using puppies to help people.
This will help people understand how this particular blog came into being, the reason being because this non-profit wanted to share the story of how their therapy dogs have made the quality of life better for so many humans. The story of this blog immediately connects with the reader on an emotional level and makes them want to read more of the story.
A blog greeting can help you as the blogger set your tone, style, and your sense of creativity or humour. Keeping it simple will help you grab your reader's attention while inviting them to learn more. Thinking of several words that describe your business or the image you'd like to present to your audience will help you create a great greeting for your blog. Short and sweet greetings allow your readers to meet your blog but still move on quickly to the main course – your blog posts.
So, focus on the essentials and showcasing just a hint of your personality and you're sure to have a blog greeting that will turn your visitors into readers every time!