The dining room may be one of the most overlooked spaces in the home – but then again, most apartment dwellers are lucky to have room for a kitchen table, never mind a formal dining room. For those lucky enough to have a dining room for entertaining, though, how do you make the move from stuffy and traditional to truly modern? It's 2019, which means it's time to ditch the heavy linens and dark wood that weigh down classic dining rooms and give the space a stylish upgrade.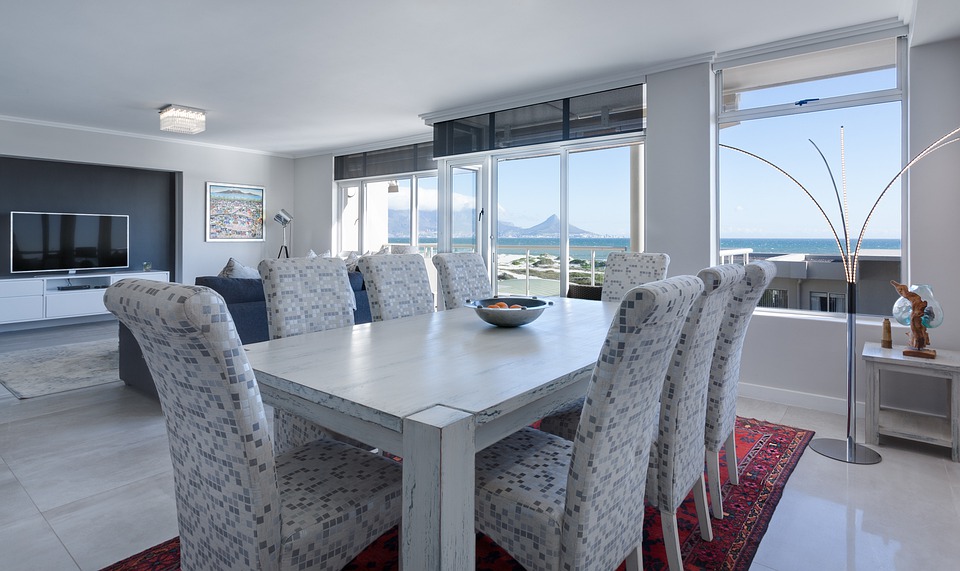 Ditch The Dark Wood
Dark wood dining room tables and chairs are hopelessly old-fashioned, and the same goes for traditional engraving and ornamentation. In its place, more modern dining rooms can make use of anything from modern glass and marble tables to a more rustic, light wood design. Depending on the overall home style, some might even opt for an industrial metal style.
Consider Carpeting
You'll never go wrong with hardwood flooring, but the right rug can create an intimate dining space. Look for something light and textured with accent colors that play off other elements of the room. There's just one major rule for using a modern rug in a dining room setting: no baroque or heavy oriental designs. Those styles are reserved for dining rooms of decades past. In this day and age, rug choices need to break the mold, even if that means worrying about stains.
Light It Bright
Part of what has historically made dining rooms so dark in past years is poor lighting and while there's nothing wrong with an elegant chandelier, it's hard to have a pleasant dinner party when you can't see the guests. Modern dining rooms need smart lighting as their focal point, whether that's modern, efficient LED lighting, plenty of natural light, or a bright, farmhouse-inspired look. You can also accent the tabletop space with cool, flameless candles rather than traditional ones for a contemporary take on candlesticks.
Go Wild With Wallpaper
There are two ways to use wallpaper; it can be heavy and stodgy, or it can be fun and modern. Right now, wallpaper is having a renaissance, in the most creative way. Look for something playful with mural wallpaper or a highly graphic design. These designs work well for creating an accent wall, either with more subdued colors or as a contrasting note to a brightly colored space. Plus, with the advent of temporary wallpaper, it's easy to update these looks – and even renters can get in on the game.
Use Color Creatively
Wall color is great and a bright bouquet of flowers is always welcome, but there are so many other ways to use color in a dining room setting. Colored chairs can accent a neutral table and matte art deco flatware, while a burst of colorful art will break up an otherwise monochrome room. Older dining rooms tend to use plenty of colors, but in heavy burgundy or green. Those colors are out in favor of jewel tones, pastels, and primary colors.
Dinner parties are more popular than they've been in decades, so it's time to get your dining room ready. But just because dinner parties have made a comeback doesn't mean old school dining room styles should too. Keep it smart and modern and wow your guests with your flawless style.