Your website's name and URL address are how customers remember you. Your website also has an IP address that anyone can find for free using WhoIs.com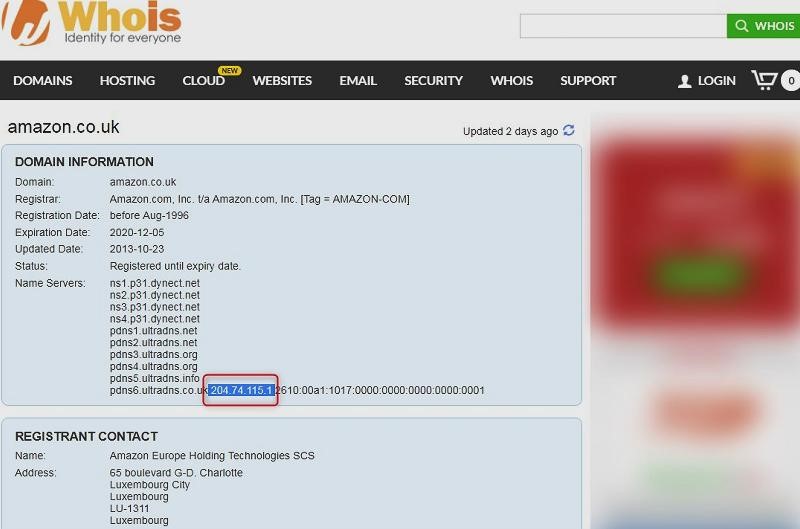 In the screenshot above, you can see the result of a WhoIs search for Amazon.co.uk. The IP address is highlighted. But who is going to remember the IP address of every site they visit? Site names make the Internet possible for ordinary people to use.
What Makes a Poor Site Name?
Users must be able to remember your site's name.
Avoid numbers (either written or numerical eg three or 3) – people have to say "number" or 'word' every time
Avoid dashes (-) – Sites with hyphens are often perceived as low quality
Avoid underscores (_) – Who is going to say "underscore" when they are talking about your site?
Avoid trademarks (eg Hoover, BBC) – That way you avoid expensive legal battles you will lose
Avoid mis-spellings (eg hoovver) – Their legal team has more clout than yours
Avoid triple letters (eg MissScunthorpe) – They are hard to remember
A good site name must be memorable, easy to say and have an unambiguous pronunciation.
Ideally, it will include what you do, be one word that you can trademark, eg, WordPress or two words run together, eg, InMotion or LinkedIn.
Where Should You Buy Your Domain Name?
Most web hosting companies give you a free domain name, but experts agree this is an unwise option to take up for your company name: Rather, you should buy your site address from a different company.
Trust is essential when searching for a domain name, and your searches must be private. Some name resellers sell your search data to unscrupulous domain "investors" who buy the domain you searched for and try to blackmail you into paying ten times what they paid.
LCN is one domain name seller you should look at.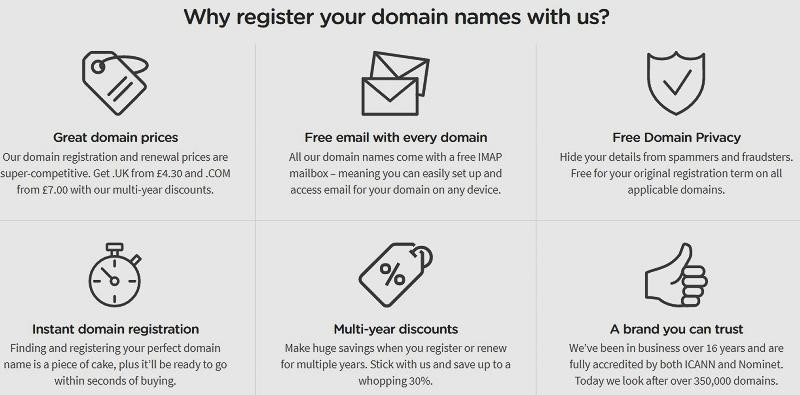 LCN offers free domain privacy so a simple WhoIs search won't reveal your name and address. They keep your searches private so that you can come back the next day and no domain sitting parasite will have 'stolen' your preferred URL.
Do .shop and Similar Domain Names Work?
You have a whole galaxy of domain name suffixes to choose from. Forget them all: Nothing works like .com or .co.uk.
Country-level domains work well within that country, but .com domains are essential for international businesses: Nothing else conveys the same authority.
Can You Use Your Business Name as Your Site Name?
Yes if someone hasn't already registered that URL.
Should you do so is another question.
If your website visitors come from Google and Bing, your URL should tell users about the services you offer. This is less important if yours is a high street business with mostly word-of-mouth custom.
BobJones.com will work for a company with mostly local trade where everyone knows who you are and what you do. If you are targeting a broader geographic area through search engines, BobJonesHardware.com will work better
Think about your business exit strategy before settling on a site name. The name would need to be attractive to anyone buying your business. If your preferred URL were HarrogateHardware.co.uk, that would only appeal to potential buyers of your business from North Yorkshire. Similarly, avoid local colloquialisms, eg, JonesButties.com, because 'butties' is meaningless to many outside the North. (If you are not a Northerner, it means sandwiches.)
Other Ideas for Your Site Name
If you are setting up your business and website simultaneously, then you must check any business name you think of to check if the .com domain name is available.
Think of adding an extra letter to a URL that is unavailable, eg, Cowws.com or Letterss.com. Another trick is to use homophones, eg, Lyft.com or Silli.com.
Long Story Short
Never search for a web address on an untrustworthy site, and that includes many web hosting company sites. Only search on a website that is entirely trustworthy and guarantees your search data will remain private.
Look for a .com site name that reflects what your business does and that will have a broad appeal to buyers. If possible, your URL should be similar to your 'trading as' business name, but it must not include numbers or dashes.
Once you have set up your site there is more to be done – Check out this TechDonut guide to improving it.