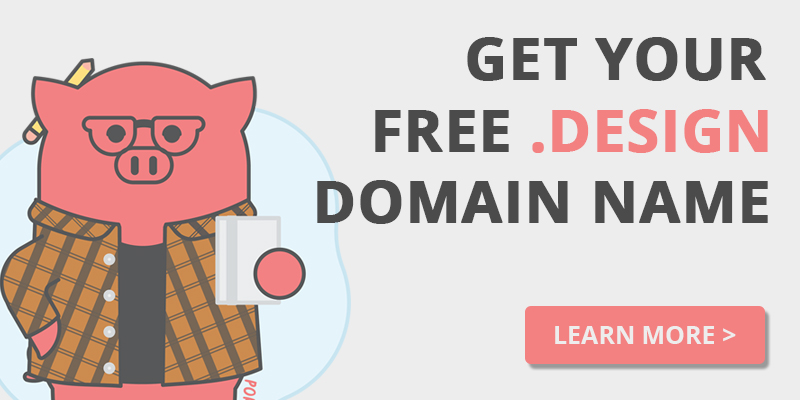 With a global competition producing great designs every day, it is getting harder to make yourself a name in the design world. Sometimes, help can come from unexpected places, and choosing the right domain name can give a real boost to your online branding effort.
The right domain needs to do at least one thing: make it very clear right away that you are a designer. To publish your portfolio online, a good way to make it obvious you are not a writer or a circus artist is to get a .design domain name.
You can get a FREE .design domain by clicking this link and searching for the name you want.
Additional services that come with your FREE .design domain
If you get your domain name from Porkbun, you get more than just a domain. You get the following cool perks, also free.
Email hosting
Nothing say "I'm not a professional" as a Gmail address does. With your domain name, get a custom free email address to let your clients know that you are a serious designer.
Free SSL certificates
On top of that, you will also be able to order very easily some free Let's Encrypt SSL certificates. As you may know already, security has become more and more important for websites, and Google even encourages websites with good security by using the use of an SSL certificate as a ranking factor.
Could it get any better? Well… it does! These certificates will be auto-renewed by Porkbun, so you don't even have to think about it.
Whois Privacy
Most registrars will charge you to keep your data private and not visible by a Whois search. If you get your .design domain with Porkbun, this is a free service.
Website builder included
If coding is not your thing, then you will have two options: hire an agency or use a website builder. As a designer, you will certainly love to use a website builder for your own website creation, as it gives you total control over the design of your site without writing a single line of code. Porkbun offers a free website builder powered by Weebly, which means you will not even need to pay for website hosting.
Domain connection
Maybe you will not use Porkbun's website builder because you are already using another one like Wix or Squarespace. In this case, you can very easily connect your domain name with your existing website for free, without any complicated technicalities to bother you on the way.
A .design domain for businesses all size
Everybody uses .design domains and loves them. Large companies get a .design domain name to share some design systems or corporate identity.
Smaller businesses, on the other hand, find a perfect use for it to create a resume website, publish a portfolio, or as a business card type of website. What about you? What will you use your .design domain for?