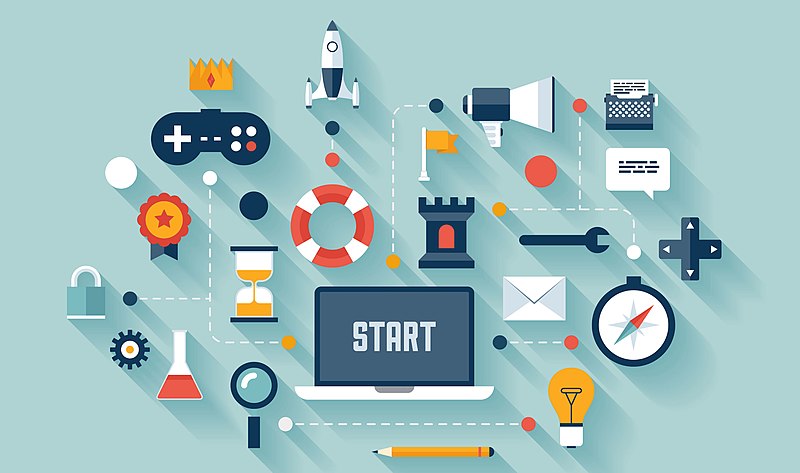 If you are a freelance designer or a studio owner, you should have noticed that getting recurring work is easier than constantly acquiring new customers. You get to know each other better, and everything becomes better after you know each other: starting new projects together, invoicing, communications,… One could say that the same goes for websites and their relationship to their visitors. Regular users of your website know how to get around and do what they want, they will be easier to sell to. Let's see what you can do in terms of web design to make your users want to come back.
Gamification: let the user play
Gamification is the use of game-design principles in non-gaming environments. The most simple example would be a sandwich-shop that gives a card that's stamped every time you buy a sandwich from them, then gives you a free sandwich once you fill out the card. In a web design context, it can take many aspects. For example, surveys, badges, or performance graphs, are all examples of gamification elements you can use to increase the addiction to your website. To get the best in class for this type of gamification, online casinos like PlayAmo are probably the best.
Target the right audience
Although this tip may sound a little too obvious, you should target the right audience for the users to come back. This means that you need to do your research first and adapt your design to the chosen audience. Adapting the design can take many forms, but it's mostly through the use of appropriate colors, fonts, and layout.
For example, if you are a business whose target audience falls in the 50+ age group, you would want a web design that is uncomplicated and understandable. Here the UI and UX needs to be simple and engaging for people to understand and work around. It is best that you first consult a guide on best web design practices to get the effectiveness of the target audience right. Younger audiences can be wooed by complex designs and engagements. The key is to knowing what your target audience likes and proceeding accordingly. 
Make subscribing easy
If you want returning visitors, running an active newsletter may be one of the most efficient ways to do it. For that reason, you should ensure that no visitor on your website can browse it and not notice the newsletter signup form. You'll get extra points if you give your users an incentive to subscribe, like a free ebook or some other freebies.
Don't ask too many questions to subscribers, their email should be enough to reach out to them, unless you are running an adult online store, you don't need their birth date, address, or whatever else, to send them emails regularly. Explain to the visitors what they will get out of subscribing, they will be more confident in signing up this way. Last but not least, make sure that the UI of the sign-up form is simple and efficient, you don't want to lose subscribers because they clicked on the wrong button.
Use infinite scrolling
If the goal is to keep the visitors longer on the site and you have a lot of content, infinite scrolling may be a great option to make them spend more time and bring new content to them. Be careful to not mess up the interface of your website because of infinite scrolling, though, so use with caution.
Evoke emotion
Whether it's in your choice of images, use of titles, or topics chosen for your website, you should help the visitors to connect through the use of emotion. Have a narrative for the content, so that the users can relate and not feel like they are on a website designed and written by a robot.