Our friend at logo123.com is giving away free logo design service for 2 lucky winners with each receiving 4 custom logo concepts. If you need a new logo for your blog or website, here is a great opportunity. Just tweet them @logo123designs #giveaway with your logo design need and we will pick the 2 lucky winners who we think deserve the most.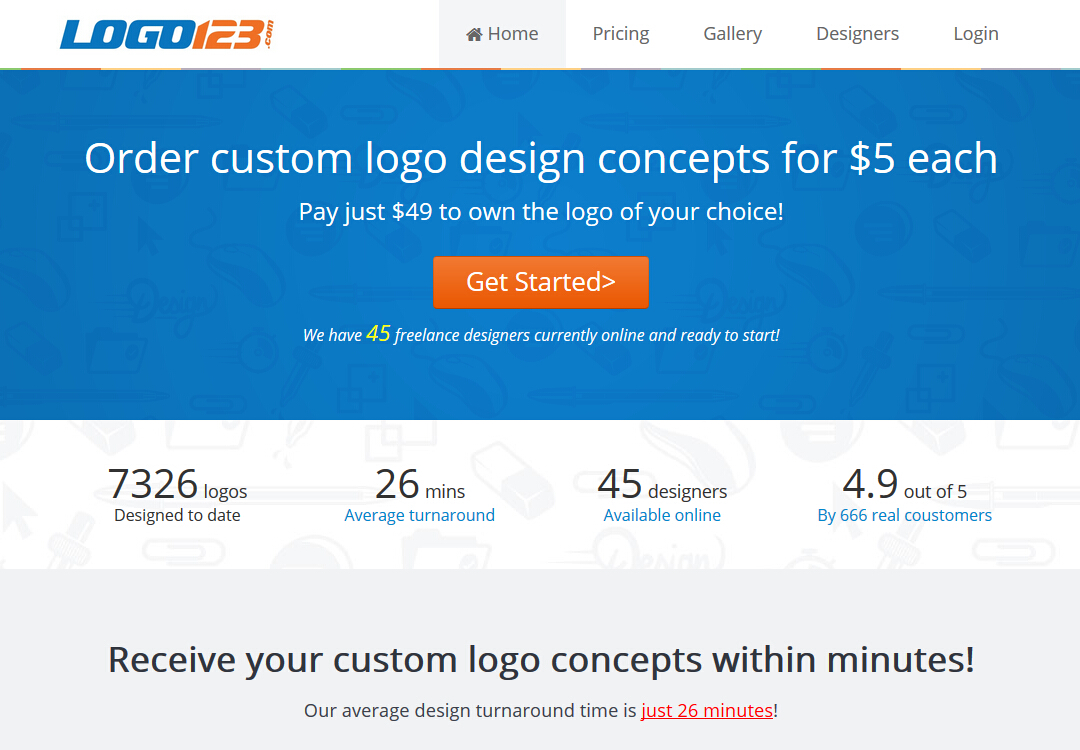 About LOGO123
Logo123 is an online logo generator powered by real designers. Utilizing the power of crowd, the site offers fastest custom logo service at unbelievable prices. Now, everyone can afford a custom logo.
Pay $5 each to get custom logo concepts
Ordering logo design at logo123 is pretty straight forward. First you must decide how many custom logo concepts you'd like to order for your project. At $5 each, ordering 3 custom concepts for your logo will only cost $15. Fill out a simply design brief, and choosing some sample designs you like from their logo gallery and your logo design project is ready to go.
Custom logo concepts in less than 30 minutes
What's truly amazing about logo123 is how fast they can deliver your custom logos. According to the website, their average design turnaround time is 27 minutes, and I received my first logo concept exactly 30 minutes after submitting my order. And within first hour I have received all 5 logo concepts by 5 different designers.
The quality of the logo concepts are not the best I've seen. But definitely worth the $5 I paid for each of them. And lucky for me I liked one of them very much so it was an easy decision.
Pay $49 (or $69) to own your final logo choice
The $5 you paid earlier is just for the development of the custom logo concept. If you want to use the logo, you must purchase the design copyright from them for an additional $49 ($69 if you need further design revisions). I really like the fact that logo123 offers this flat pricing for all of their custom logos. And $49 for an exclusive copyright of the logo is definitely a bargain in my opinion.
Summary
In the super-crowded logo design marketplace, logo123.com seems to offer something interesting – an online logo generator that's powered by real designers. So the idea is that for similar cost, instead of generic logo pieced together using clipart images, logo123 can offer real custom logos that one of a kind. So tell us what you think of this website below.
Comments
No comments yet