One of the most crucial elements of building a strong brand is the color selection for your logo. Every color evokes different emotions and associations. When you choose your logo's colors, your company will take on those associations and bring out certain feelings towards your brand. This is why choosing the right color combinations is vital to building a brand that communicates your values and mission efficiently.
How important is color in branding?
According to TruConversion, a CRO platform, up to 90 percent of a consumer's assessment is based solely on color. That makes your logo colors the most powerful influence you have over how consumers perceive your brand.
Large corporations around the world spend millions of dollars on researching and testing how consumers interact with their brand colors. This allows them to design branding material that produces the best return-on-investment possible. And while most of us don't have the budget to test our branding to that extent, there are some simple steps you can take to ensure that you choose the perfect colors for your logo.
Where to start?
Before developing any logo design concepts or playing with color palettes, it is important you understand the basics of color psychology. Different colors evoke different emotions and you need to ensure that the colors you choose communicate the right message. Every color has positive and negative connotations and it is important to understand what they are. For example, the color red conveys power and energy which is perfect for a fitness center but it also conveys aggression and danger which would be less suitable for a childcare service.
IgnyteBrands has put together a helpful color psychology infographic that will help you understand what colors are inline with your brand's mission.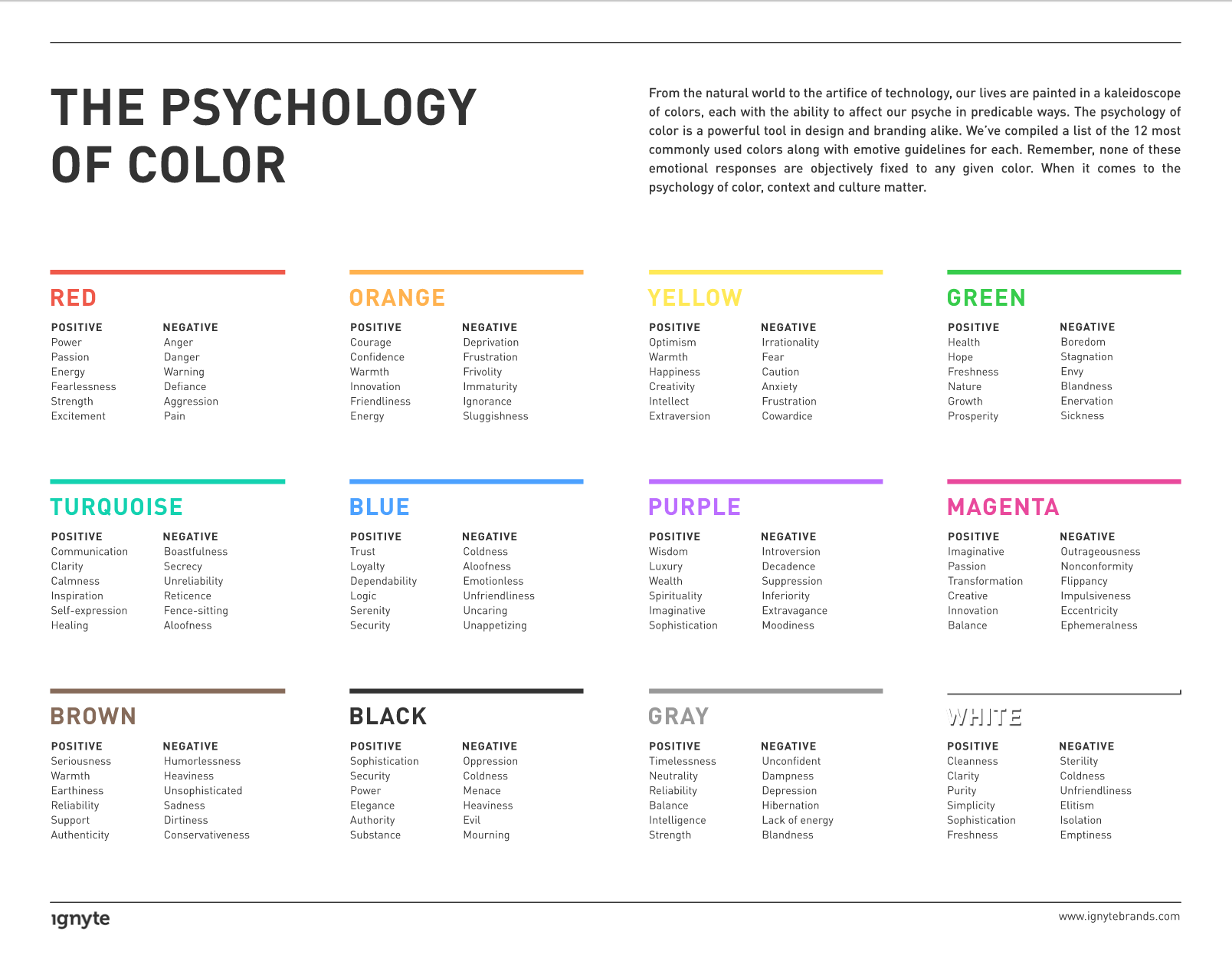 After you look through the infographic you can ask yourself some questions:
What color represents your brand's personality?
What emotions do I want to convey?
What color is relevant to my products/services?
Which colors are used by my competitors and within my industry?
Analyze competing brands
Every business plan should include a thorough competitor analysis. At this point you have most likely reviewed your niche and competitors to get a better understanding of what you are up against. I suggest that you also review their branding strategies in more detail. Seeing what the competition is doing will help you determine what works and how you can position your brand perfectly.
Many industries contain brands that have logo colors from similar palettes. This is often for a good reason, you want your brand colors to reflect what your company offers. What is important is that you can communicate that message without blending into the background. You don't want to copy your competitors, you want to stand out while staying relevant to your industry.
Experiment with color palettes
Once you've considered your options I would suggest picking 1-3 colors that are aesthetically pleasing, unique and suitable to your company's personality. You can then use a free logo maker to see how the colors look in action. Creating a logo with your colors will help you visualize and preview the design in real life settings such as social media and business cards.
If you are not happy with the way the colors look you can go back to the drawing board and generate more color palettes.
Test your new logo
Once you have settled on your brand colors and designed your logo, you need to test your new brand identity in real life. You can do this by asking friends and family for feedback and asking them specific questions about the logos colors. Here are a few questions that will provide you with insightful answers.
Do you like these brand colors? Why or why not?
How does this logo make you feel?
Does this logo remind you of anything?
If you are willing to spend $50-$100, you can also set up a Google Survey and get feedback from strangers. Simply set up a survey, set your budget, choose a demographic and ask people from around the world a series of questions to gather unbiased feedback.
Finalize your logo
Once you have a logo finalized you will need to ensure that all of your branding matches that tone and personality. It is important that you communicate your brands messaging consistently throughout all your channels including print, social media and advertising. This will help you build recognition through color and gain trust from your customers.
"A brand is the sum total of how someone perceives a particular organization. Branding is about shaping that perception" — Ashley Friedlein