Finding a unique, creative and affordable logo design just got easier. These days you can run a contest just for about anything, why not a Logo Design. LogoMyWay allows you to start a logo contest putting up your own prize money. The prize must be between $200 and $1000. Of course the higher the amount the more logo designers that will get involved with better quality designs being submitted.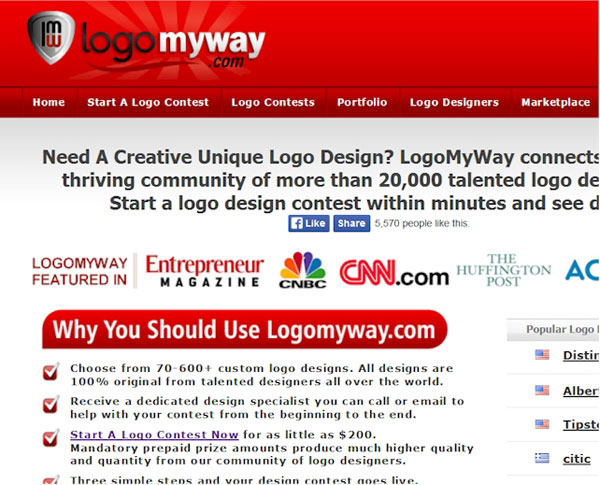 It's very simple and easy to get started. You fill out an online design brief describing your business and anything you want the logo designers to know about the logo you have in mind. If you want the designers to flow with their own creativity and come up with their ideas you can limit the amount of information and just ask them to submit ideas they think would be best for your business and brand.
LogoMyWay has over 20,000 logo designers from all over the world and has hosted over 25,000 logo contests from clients across the globe. From start-ups to multimillion dollar companies,LogoMyWay has helped many brands stand out from the competition. When you put thousands of creative minds together creating logo designs the outcome is incredible and unique.
Once your contest has ended and you have selected a winner you will receive the proper vector files needed for printing on promotional products and signage. You will also receive a free legal contract giving you 100% full legal ownership of your new design.
Below are some example logos created by the logo design community.









You can see more finished designs here. LogoMyWay has been featured in Entrepreneur Magazine, Columbus Dispatch, Website Magazine, Business First and many more.
If you are looking to improve your current logo design or need a new one, you will want to visit LogoMyWay.