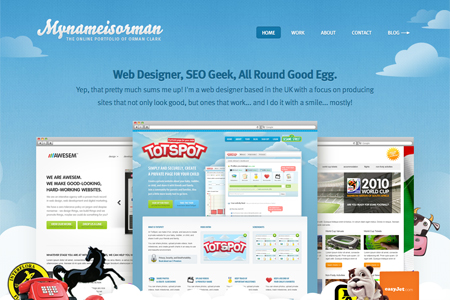 When you create your portfolio, you are your own client. It is much harder than what it sounds. The hard part is to combine a personal identity with usability and a good display of your work. The easy part is that you can do the work yourself, so you don't need to take a loan for it. In my opinion, the 15 websites in this list did a great job at creating a good portfolio website.
A portfolio website is a simple and quick way to showcase your work as a designer. However, if you're still new in the profession and want to practice designing your own website, then there are some things you should know. Working as a professional web designer entails creativity and expression, so you need to be willing to put in the work and practice. You should also remember the following tips:
Express yourself

: Avoid copying other designs, even those that you think looks great. In designing your website, it's crucial to showcase your personality and passion. Because people who wish to use your services will want to know you and your personal style, add your best headshot. This will help your potential clients feel an instant connection with you. Besides, some people are turned off by faceless websites.

Leave your contact information

: Ensure that you include a contact page where prospective clients can contact you. Provide various contact information, including your email, social media, and phone number, so they'll have different ways to get in touch with you.

Be aware of loading times

: Many people will leave a website if it takes forever to load. Thus, it's best to find an appropriate hosting package that will load your page fast.

Add unique content

: To improve your search ranking, add new content that's relevant to what you do.

Use the right hosting: not enough emphasis is put on using the right website hosting.
With that in mind, check out the following websites where you'll most likely find inspiration in creating your own portfolio: