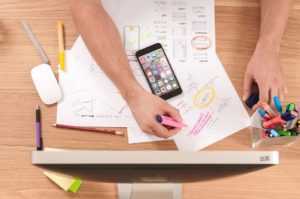 When your client needs to get support for a new product idea, they can't show up with printed designs. Today, stakeholders expect functional prototypes that let them experience how the product will work. Until investors and decision-makers approve a project, they will want to see the product in action to understand whether consumers will want to spend money on it.
Prototyping tools make it much easier for designers to help their clients get their projects approved. With so many software options, though, you don't want to waste your time on a basic tool that slows you down or gives you mediocre results.
Learn more about these four popular prototyping tools to determine which one sounds like the right choice for your design team.
Origami Studio
Facebook released Origami Studio as a free designing tool in 2013. The designers at Facebook built the software for company use, but it soon got a public release to anyone who wanted it.
Pros of Origami Studio
It's free, which is pretty hard to beat.
Helps you make prototypes of websites and mobile apps.
Comes with pre-built patches that makes prototying fast.
Lets you include animations, interactions, and behaviors in prototypes.
Cons of Origami Studio
Like many free tools, you can't expect much customer support from the team at Origami Studio.
It has a fairly steep learning curve that can make it difficult for beginners to use.
Fairly limited features compared to competitors.
The Verdict on Origami Studio
Origami Studio makes it possible for you to create web and app prototypes without spending money on software. Although it has the basic features that you need to build a functional prototype, you won't find many advanced features that take your ideas to the next level.
Marvel
The Marvel tool gives you a no-code tool for building website and app prototypes. Many designers like the tool because it offers a low-cost prototyping tool that doesn't require much training.
Pros of Marvel
Can turn your designs into CSS.
Drag-and-drop, no-code environment makes it easy for beginners to get started.
Lets users collaborate with each other.
Interactive elements make some prototypes feel fully functional.
Cons of Marvel
Marvel doesn't offer a free trial version, so you have to pay before you can even try it.
You can't use the app while offline, so you need a reliable internet connection at all times.
Lacks animation and other advanced features that you will need for professional prototypes.
Bugs can interfere with basic tasks such as creating sections and naming project copies.
The Verdict on Marvel
Marvel works best for beginners who don't need to create complex prototypes and can tolerate a few bugs. If you run a professional agency, the occasional issues that arise will eventually frustrate your designers so much that you will probably move to another prototyping tool.
UXPin
UXPin does more than create prototypes that feel realistic. You can use the tool to build fully functional prototypes that use real data. You will have a hard time finding a more intuitive tool with so many advanced features.
Pros of UXPin
UXPin's prototyping tools let designers work in a real-time shared environment.
People without UXPin accounts can view your prototype after you send them a link to the projects.
Gives you a vector drawing tool that works just as well as stand-alone software.
Lets users interact with completely functional text fields, radio buttons, and checkboxes.
Libraries and design systems make it easy to reuse elements across projects.
Cons of UXPin
Occasionally slows down when testing prototypes with a lot of interactions.
Some designers experience a learning curve when mastering advanced features.
The Verdict on UXPin
UXPin works best for serious designers who want to impress clients with fully functional prototypes that use real data and interactions. Anyone unsure about whether they want to commit to UXPin can start a free trial to explore the prototyping tool's features.
Framer
Framer bucks the no-code and low-code trend by introducing the coffeeScript language. Designers willing to learn the language can create high-fidelity prototypes with exceptional functionality.
Pros of Framer
Integrates well with several design apps.
The free version gives designers access to basic tools that they can use on up to three projects.
Makes prototypes that almost feel like the real thing.
Cons of Framer
Designers must learn the coffeeScript coding language to create prototypes (a significant time investment).
User-designed plugins can add functionality, but they often break after software updates.
Slightly high price for a prototyping tool that asks so much from its users
The Verdict on Framer
If you don't want to learn a new coding language, you should stay away from Framer. If you don't mind spending hours learning the basics and looking up more advanced code, you can use Framer to create very realistic prototypes.
Conclusion
Get used to making prototypes, because more of your clients will start asking for them. You won't need to worry about the extra work as long as you choose a prototyping tool that lets your design team build interactive elements and design libraries in real-time.