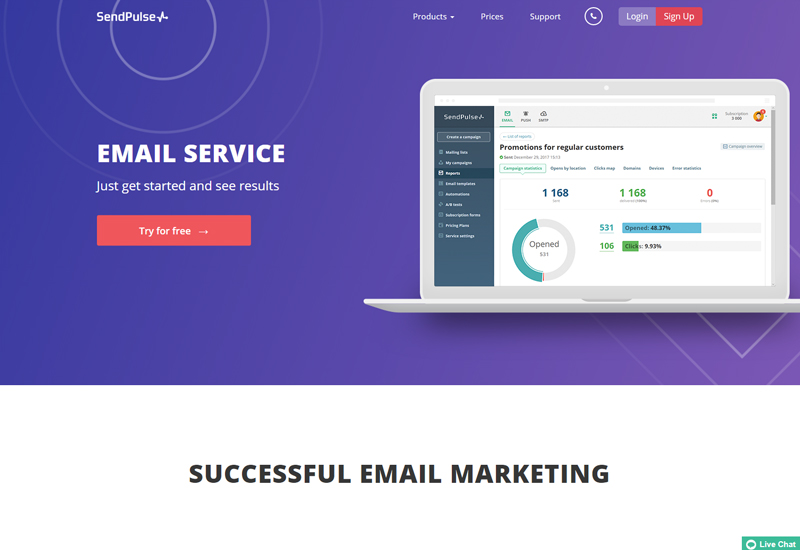 At one point, a few years ago, some Internet marketers predicted that blogs and emails would die. Neither did die, blogs are a well-established communication tool for companies, there are more professional bloggers than ever, it even became a normal job, and email marketing has never been as important as it is now.
It has become so important to communicate by email that everybody is doing it now, which means that it's getting harder to make your way into your subscriber's inbox. Sending mass emails from your inbox is a thing of the past, and using an open-source tool to send the emails is also on its way out. In fact, if you are sending many emails from the same server, you are likely to be marked as suspicious.
SendPulse is one of the most professional solutions available nowadays for marketers, bloggers, and online shop owners. The bulk email service gives you easy-to-use tools for efficient online marketing that lands in your subscribers' inbox.
More than email marketing
Although SendPulse better-known feature is email marketing, this powerful tool goes way beyond it. The technology uses SMTP to allow you to send emails from any application, you can even take more control over the tool by using the Rest API. Going with the Internet users' habits, SendPulse is also targetting mobile users by giving you web push tools and the possibility to send SMS messages.

On top of all this, this online service also makes you more successful by using artificial intelligence technology that increase the opening rate of emails by up to 50%. These impressive results are achieved by a combination of optimal personalization of the message, an optimization of the delivery time of messages according to the user's habits, and subject optimization that help you create more catchy messages.
Drag-and-drop template editor
If you are not a web developer, designing HTML emails can be tough. It requires skills that would take too long to learn, and you are primarily interested in marketing anyway. SendPulse makes email design very easy, thanks to its drag-and-drop editor that gives you full control over what you are doing.
You start by choosing a template as basis for your email, then you customize it with the elements available. Probably the simplest tool for email design out there.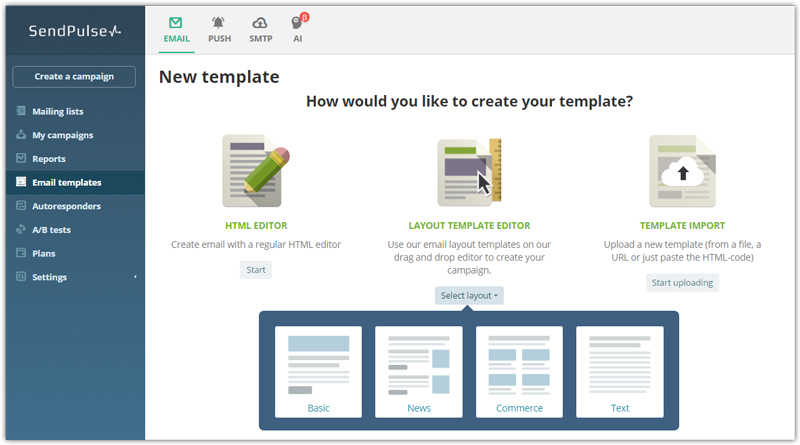 And much more features
Unless I missed something, SendPulse has all the necessary features for a professional marketer. They have made everything responsive and mobile-friendly, so you don't have to worry about that part. It comes with useful marketing automation tools, schedulers, in-depth analytics, and is easy to integrate, so what are you waiting to try it out?