Personalizing your business helps to set it apart from your competition. This requires a unique logo that will stand out and make your business instantly recognizable. Once you have designed the logo, you will also need to conduct a trademark search and register it.
Your business logo can be used to market it on social media, other advertising campaigns, and for all business branding materials.
How to set up a new brand?
A unique, creative, and easy logo is the best way to set up a new brand for your business. Excellent logo design requires that you follow a few simple steps.
Design a logo that best suits your business
You will need to initially brainstorm some ideas that will help you create a logo that will reveal to your clients the exact products and services you offer.
Branding through your logo design can convey your customer expectations and what you are selling. You may decide to use symbols, icons, or fonts to convey your brand or a combination of two of these.
Color importance in branding helps define the mood of your business. Inviting hues include beige, brown, pink, orange, and red – these are all warm colors. If you want to convey a calming or relaxing atmosphere, you can opt for cooler hues like blues and greens. Then again, you may opt for black and white – these two contrasting colors make for interesting branding that is also easy to see and read.
Font readability is an important part of your logo because it allows your customers to read it easily and is easy to recognize. In the logo, the font chosen must be practical for use on a variety of materials. Color contrast also plays an important role in how readable the font is, so ensure it's perfect.
How can you design your own logo?
You don't have to be a professional graphic designer to design your own logo. TRUiC's free logo maker provides you with all the tools required for your logo design.
Whether you are planning a text-based logo design, or a text and graphic logo design, you can follow the various steps to choose from a variety of shapes, icons, symbols, fonts, and color sets, and variations.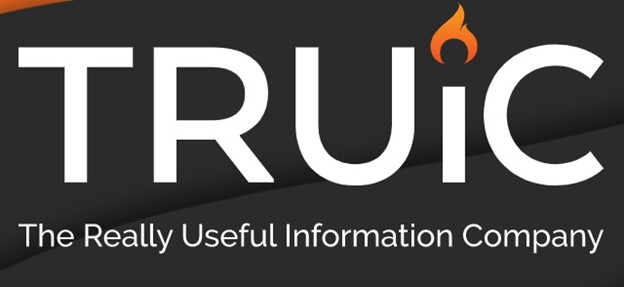 How to download your logo design?
Once the design is created, you can download it and save it for free. You can also create more designs to show friends for a second opinion.
The images are created in SVG format, so they can be resized without compromising on quality. TRUiC also offers PNG format so the image can be used wherever SVG files are not compatible.
Importance of conducting a trademark search
From the moment you decide which logo design you want to use for your business, you need to conduct a trademark search. The trademark search is done through the United States Patent and Trademark Office (USPTO). This ensures that your logo design, or something like it, is not being used by any other business across the U.S.
This is an important step because logo designers, whether they are private or online, cannot possibly keep a record of all the designs they have generated for businesses. They also don't know which ones were eventually used.
A reverse image search on Google can also help you ensure you have a unique logo design.
How to register your trademark?
Once you are sure that the logo is not used by any other business, you will want to legally protect it by trademarking it and any other identifying features. This ensures that no other business ever uses the same name and symbol. Trademark registration is done through USPTO and hiring a professional lawyer to help you with the process is recommended, though optional.
Your logo design is ready to use
Once you have downloaded your logo and completed the trademark check and registration, you are ready to start using it to brand your business. Your logo can be used to brand your business premises, emails, social media, and print a variety of promotional materials (flyers, pamphlets, etc.) It can be added to letterheads, business cards, employee apparel, and business packaging.