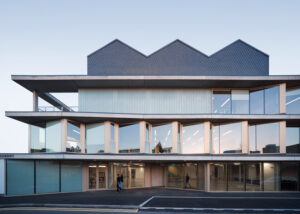 Commercial architects are in high demand for their excellent creativity, design and project management skills. It's a challenging role but the process is essential to ensure new commercial buildings stand the test of time and pass the aesthetic test for clients and other local stakeholders.
What is commercial architecture?
Commercial architecture is the technical process of designing and overseeing the construction of buildings, structures and spaces for commercial purposes, usually on behalf of a company or organisation as the client. It's a sub-industry and different to residential, industrial and landscape architecture which involve designing and building different types of structure.
What is the commercial architecture process?
The process of creating a commercial structure starts with the planning phase during which the architect will receive a brief for the project or consult the client on what they're hoping for. Once an idea is formulated, the architect can get to work drawing up designs.
The next phase largely relies on schematic design to create initial sketches and diagrams to show the fundamental layout of the structure. If the client is happy, design development can ensue leading to more comprehensive designs in 3D modelling software, factoring in finer details such as materials used, floor plans and finishing touches like paving stones outside. This digital software allows for greater collaboration between parties and transparency of project designs.
Once final designs have been approved, the architect will create construction plans and information to relay to contractors who will carry out the building work. Effective communication is crucial to ensure the vision becomes a reality.
An architect's final role in the project cycle is to oversee the construction process and assist with planning and project management to ensure the build is completed on time and within budget.
What's the difference between commercial and residential architecture?
Commercial architecture is typically concerned with the creation of buildings and structures used by organisations and companies for commercial purposes. These can include offices, retail stores, factories, warehouses, restaurants and almost any building where business is done.
On the other hand, residential architecture deals with the construction of houses, apartment blocks and other living spaces. Architects can be contracted by an individual or a residential-building company which develops many properties.
Both types of architecture have their benefits and challenges. Residential projects tend to be smaller scale, while commercial constructions can be a lot more extensive.
Key considerations for commercial architects
Commercial architecture needs to strike a balance between functionality and aesthetics for the benefit of its owners or tenants. Additionally, designs are increasingly required to factor in sustainability and energy-efficiency principles to meet organisational, national and global climate goals.
Working with commercial clients can be challenging for architects, but the rewards of project completion are incredibly fulfilling. Managing stakeholder demands, including project costs, timelines, contractor requirements and supplier relations is a lot to contend with. The role of a commercial architect continues to be ever-challenging.