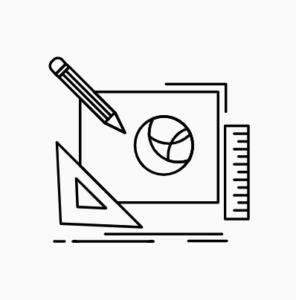 If you're launching a business or revamping your branding, you'll benefit from free logo design tools. It won't take you long to create a professional design, plus, you can save some money in the process. 
A logo is the "face" of not only your brand but also the mission and vision of your company. It's not just an image but a visual association with your business. That's why you should approach its creation with the utmost seriousness.
Creating a Logo. The Process
To create an effective and powerful logo, we recommend following these next 6 steps: 
Brainstorm. With or without a team, it's a great idea to sit down and discuss a few ideas for your professional logo. This part of the process can include sketches that will identify some of the potential design elements of your future logo. Create several variations, try different fonts, sizes, colors, arrangement of elements, etc.;
Mind your customers. What are you trying to say with your logo? What's your message? Make sure your logo conveys the main idea to your potential customers. It should reflect your service/product, reflect the core aspects of your business, and express your company's vision;
Research your competitors. Analyze which techniques work and which don't;
Get inspired by successful companies. Research other organizations in your industry and pay attention to hot trends;
Get feedback from trusted sources. Ask what others think. Your logo will potentially be seen by thousands (if not millions) of visitors to your site. Thus, it's always a good idea to show the logo to your trusted sources and find out what they think of it before the launch of your logo. Consider constructive criticism;
Create a design using one of the tools listed below.
Fonts are an essential part of designing logos. Say, you are designing a vintage style logo then you would need tattoo fonts for giving your logo an artistic touch.
A logo is the visual presentation of your business. Think about how to deliver the message that everyone will understand after looking at your logo. Keep this in your mind when creating your design and allow it the time, efforts, and marketing budget it deserves. .
Top 10 Logo Design Software 
Tailor Brands
Using AI to power your logo designs, Tailor Brands is the ultimate branding platform. Millions of users have already used their service to kick start their business with a shiny logo, thanks to their logo maker.
Creating a logo with their tool is not only simple, but it also becomes fun and guarantees a high-quality, unique online brand identity in minutes, even if you don't have any design experience.
Wepik is an online platform that provides users with powerful tools to create stunning graphic designs for both personal and commercial use. It offers a wide variety of design elements, such as illustrations, fonts, photos, AI-Generated content, and of course, all things logos!
Along with a drag-and-drop interface that makes it easy to customize your designs, Wepik provides blog posts and tutorials, so you can quickly get started on creating great content. With their huge library of elements, it's easy to find the perfect design! Whether you're looking for something basic or maybe a bit more complex, Wepik has the logo you need.
Aside from providing users with an array of tools and features to help them create beautiful visuals, Wepik also ensures that their designs are always up-to-date with the latest trends in design. This means users don't have to worry about outdated designs or being stuck with something they don't like – they can just update their visual styles whenever they want. And because the platform is cloud-based, users can access their designs from anywhere without worrying about losing any data or having compatibility issues between different computers or phones if you're using the Wepik App. This means you can create, customize and download your logo anywhere! Include it in any templates thanks to the Brand Kit tool and take your branding to the next level.
But what really sets Wepik apart from other platforms is its affordability – instead of paying for expensive subscriptions each month, it's 100% free! This allows people on all budgets to enjoy great graphics for their business while investing the money in printing, social media managers or any duty related to their company. Wepik is here to make design easy for your business.
Wix Logo Maker
Many of you have probably already heard of the Wix platform. It's better known as a web project builder, helping to create websites quickly and easily. Not everyone knows, however, that Wix has released its own logo utility recently.
The process of creating a logo with Wix is quite straightforward – you don't have to worry about any practical skills or knowledge. All you have to do to get started is answer a few basic questions about your brand and, depending on the answers, the app will suggest suitable logo templates. You can then tweak them the way you like, based on your desires and business processes. 
The logo editor provides you complete freedom for creativity – you can choose your own colors/fonts and add different elements as you like. Since the tool itself is completely free to use, you can create an unlimited number of logos, without having to pay a fee if you're not satisfied with the result. You can download your logo for free in PNG format for personal use on your blog, social networks, or YouTube channel.
Logo Design Studio Pro
Many users don't know which program will be better and easier for them to create their own logos. After all, the creation process here can be aimed at different purposes – some create logos for their personal use, while others make money on them.
Logo Design Studio Pro is one of the priority options for many users. This powerful and reliable app allows you to easily and quickly create logos for your company or sports team in a simple and fun way. The app also comes with a set of advanced tools and logo templates to make your work easier and guarantee the quality of your logos. 
Logo Design Studio Pro is a specialized editor that is specifically tailored for making logos. It allows you to create any kind of shape and has a solid amount of objects – over 6,000 images and graphic objects are at your service.
For many users, this editor is also superior to similar apps due to a large number of templates – the app comes with more than 2,000 templates to help you in your work. You can customize them with your own text and colors to suit your company's standards. Create your own logo from scratch, work with layers, and explore the versatility of Logo Design Studio Pro.
The app also includes a set of advanced and useful Bezier editor tools that provide full control over your logo's design. The program makes it easy to change curves and edit shapes, change text size/shape, add various creative effects, and much more.
Logo Design Studio Pro also offers a set of vector tools that allow you to easily resize your logo without losing quality. In addition, it allows you to import and export SVG files that can be used to create logos. You can save newly created ones in different file formats, including BMP, JPEG, TIFF, PDF, EMF, PNG, SVG, and others.
To unlock the full potential of the software, you'll have to buy a paid version. Yes, there's a 15-day trial version with limited functionality, but it's definitely not enough to create something serious.
If you intend to use the editor to make money, then buying it will be fully justified. Platforms: Windows 10, 8.1, 8, 7, Vista, XP.
Canva
Canva is a well-known design program that allows you to create all kinds of graphics for online and offline use, from presentations to posters/posters and logos.
It's up to you how you want to use it – create an identity from scratch or use pre-made templates. Besides thousands of different icons to work with, you can also collaborate on a project with other users. 
One of the most useful features of Canva is that you can use your own graphics in the process. This means that if you have design skills or have a graphic designer at hand, you can still use the logo creator.
Canva allows you to create high-quality logos in a variety of file types (SVG, PNG, JPEG, TIFF, GIF, etc.). In fact, you can even create logos in PDF. 
When you use Canva's free logo templates, all high-resolution images are included, which is a great way to save money. Also, if you want to put your logo on business cards, t-shirts, coffee mugs, smartphones, or any other branded merchandise– you can because all images are in high resolution.
Logo Makr
Logo Makr is a do-it-yourself platform that is unlike any other solution – it's essentially a full-fledged graphic editor for creating logos that offers you to make a logo from scratch, using the tools provided. No worries though – the dev team made it all clear and intuitive.
After getting to the workspace, you will see the functions for the insertion of different clipart elements, shapes, text, and colors. There's also a color/fill option, layer management, and even a couple of templates. For some of the features, you will find complete video tutorials. Thus, even a non-professional can learn how to create beautiful graphics in Logo Makr. 
Logo Makr offers a huge number of unique icons to choose from to create one-of-a-kind designs. This is primarily because the company provides access to the largest database of free vector icons that you can find at Flat Icon. In addition to the icons, you'll also be given access to several icon shapes and fonts that allow you to fully customize your logo to perfectly match your design goals. You can export your high-resolution logo in a variety of formats from JPEG to PNG.
In fact, the fonts in this professional logo creator are organized in such a way that they are quite easy to pick up for your intended design. For example, instead of a Microsoft-Word-like list of fonts, Logo Makr actually "names" its fonts unambiguously, based on a certain theme. So if you're looking for something noticeable, you might want to choose, say, the "Fun & Funky" style.
Logaster
With Logaster, you can create a logo in 4 easy steps, which is very useful for entrepreneurs and business owners. The reason for this is the fact that they are often trying to launch their eCommerce page in a short period of time. This simplicity makes Logaster one of the most well-known solutions for creating stunning logos in the market.
Like other similar logo makers, the dev team behind Logaster does its best to provide you with logos that can best meet your design preferences. To create a logo, first, enter your company name and specify the industry. Then choose a design that you like, edit its colors, text, or icon, and save the resulting logo. Once the logo is created, you can click the heart icon to let the team know that you like that particular logo style.
The small size picture is free to download, a high-resolution image will cost $17.99 (XS).
Designhill
With Designhill, you can create a professional business logo for free. This crowdsourcing platform is used by thousands of companies and designers every day. 
Choose the right logo and customize the colors, fonts, and text to your liking. The main advantage of designhill.com is that this is where you can organize a competition to create a logo for your company. This is how you can collect unique works of professionals.
DesignHill is one of the best platforms for graphic design. With the custom design marketplace, you have your own logos and designs created for all your needs, whether it's a website, blog, social profiles, or even print.
Compared to other design markets (like 99Designs), you'll find that DesignHill is quite competitive in both quality and price. The business model has two aspects: it provides the perfect collaborative environment to independent designers and online marketers. The platform allows both parties to comfortably cooperate with each other and make sure they are happy with their transactions and work.
Inkscape
This top of the best tools, designed to create all sorts of logos, just couldn't do without Inkscape.
The dev team behind the tool has developed an interesting and useful solution to distribute it completely free of charge. It has all kinds of features and effects for creating a truly unique logo.
Enthusiasts from different parts of the world are constantly working on Inkscape to make some changes and additions to it. Therefore, there's no problem with updates. Moreover, it has the ability to convert bitmap images to vector images, create variable-width strokes, and support Illustrator files.
If you don't know what program would be better and more convenient for creating high-quality logos, you should definitely take a look at Inkscape. Despite being completely free, this editor is suitable even for professional artists and designers. Many leading professionals successfully use the capabilities of this software tool and sell their projects for solid money. Inkscape is versatile – you can connect different plugins and libraries to it and export processed images without distortion. 
However, despite being multi-platform, Inkscape is still a fairly serious editor so don't expect to understand it in 10 minutes or so. You can use a desktop version or install it on a laptop with macOS, Linux, and Windows.
Adobe Illustrator
Adobe Illustrator is a graphic vector editor that can be used to create illustrations, cartoon graphics, diagrams, web pages, and, of course, logos. The first part of Illustrator is a free vector-based drawing tool for professional designers, interactive project developers, and specialists in video production.
The first thing about Adobe Illustrator is that it's designed for students of all design disciplines to work with vector graphics. Art students who have mastered this app can make money by selling their vector drawings. Students of fashion design are actively using the tool as well since you can connect special apps to facilitate clothing design.
Even if you're far from design, you can use Adobe Illustrator to create effective visual material for your thesis or dissertation. Can't draw at all? No worries, you can do without the skill when it comes to vector graphics. Images here consist of disparate objects: lines and figures filled with solid or patterned fillings. The vector editor is easy to work with simple graphical objects but there's so much more to it than that.
In more detail, here's what you can create in Adobe Illustrator:
Infographics icons;
Logos;
Drawings, diagrams, and charts;
Illustrations;
Print products: flyers, brochures, posters, postcards, etc.
We hope you'll love it too and can appreciate it. As we mentioned above, the tool is used mainly by graphic design experts, so if you don't understand the difference between the JPEG and PNG format, you'd better get to the next tool on the list… See what we did there?
AAA Logo
A program with which you can quickly and easily create a variety of logos. It provides an impressive list of basic templates and an elaborate style editor. This makes it possible to work through a template and make it really unique.
The main advantages of AAA Logo include ease of use, a clear interface, and a solid number of built-in tools.
The main problem here is that the functionality of the free version is quite limited. So if you want to perform high-quality and complex work, it's best to buy the paid version of the app.
Platforms: Windows OS.
Gravit Designer
Gravit Designer, AKA Gravit, is a full-featured vector editor, suitable for any task, from interface design and icons to presentations, illustrations, and animations.
The neat and intuitive interface of Gravit Designer can be customized. The editor contains a lot of tools for creating beautifully detailed vector images. Among them, there are non-destructive (their action can be undone) functions for working with Boolean operations, "Knife" and "Path Graph" tools, plus, many filling/blending modes and a powerful text engine.
In addition, Gravit Designer has a built-in library of user-created vector objects. You can freely use them in your own works. Another cool feature of the app is that you can run it without the installation, directly in the browser, through the native Gravit web service.
If you need to access your work on the go, the Gravit Cloud service allows you to return to the project on any device.
Platforms: web, Windows, macOS, Linux.
Conclusion
Each tool on the list is totally worth your attention. Which logo editor to choose is up to you. Think in advance about what you can do, what you want to learn, and whether you are ready to spend time understanding the features of a particular logo maker.
There are options where, in 10-20 minutes after installation, you can securely save your newly created unique logo. However, there are other solutions, more complicated to understand but eventually providing better quality results.
In any case, these 10 online tools should be enough for you to create your own unique logo. Choose a solution depending on which works best for you: developing from scratch, templates, or artificial intelligence. 
If you know of any other quality apps/services, feel free to share your experience in the comment section.