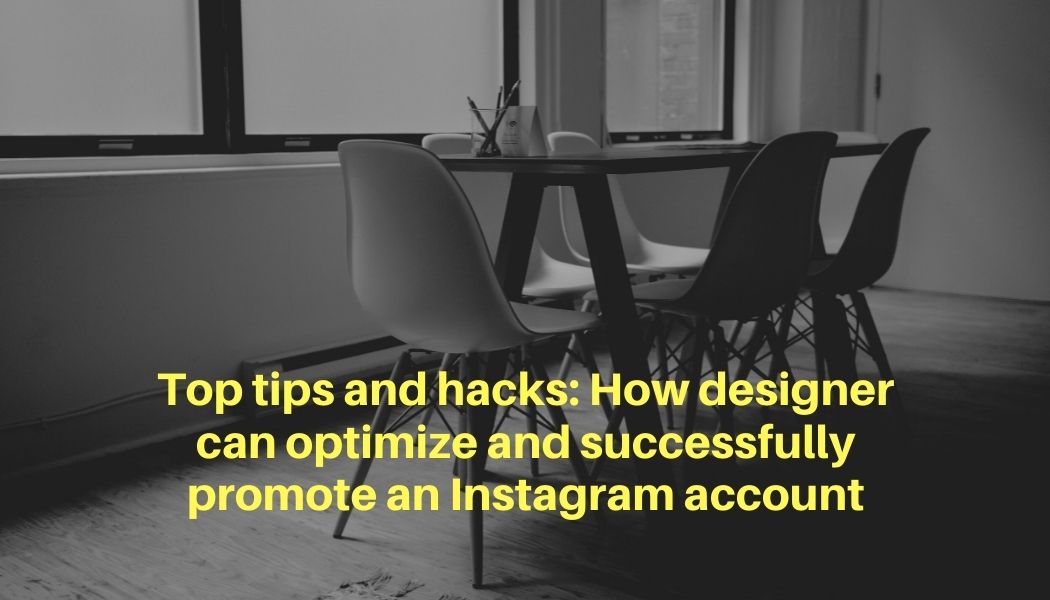 Where a designer can expose their works and get as much attention as it is at all possible? Of course, Instagram is the first social platform that comes to mind – here people can sell and buy arts and designer pieces, gain Instagram likes, views and followers and grow their business straight from 20 clients to 120. But how does one squeeze in this incredibly popular social media? Here are some effective tips and hacks for designers that will assist in successful growth on Instagram. 
Form A Personal Brand
Instagram is a platform where you can not only present well your works in the sphere of design, but find like-minded people, who will be gladly collaborating with you. To impress the right audience and explain the value and uniqueness of your pieces, you have to develop a personal brand on your Instagram profile. By exposing your character and associating it with the work you do, you will form in your potential buyers a wish to purchase your services and products, as you would seem one professional and devoted. These qualities are highly appreciated in all industries, and in design especially, where a name gains an unbreakable bond with the items you sell. Increased loyalty comes with personal branding too, so such an approach is great for your online growth.
Examine The Audience
For effective progress on social media and Instagram in particular, you must understand what you should deliver to your audience. Instagram itself is a good place to do research and find out the preferences of people who are to become your clients. Look through the most popular bloggers of your niche and see the reactions of their followers to the content. Read comments and analyze what people say about anything that concerns and not concerns the subject. By constantly monitoring the way other bloggers communicate you can develop your model of behavior that will define you and at the same time keep your audience happy and motivated.
Use Hashtags
Another way to reach the audience and get more attention to your products and services is to use proper hashtags that reflect your business. See what's the most actively used terms in the industry and dilute them with some more concrete words, which will help users to identify your account among others. Hashtags on Instagram are an important instrument for promotion, because they assist Instagram algorithms to categorize content according to the preferences of users. On Instagram, people can subscribe to hashtags, and this function allows them to discover new creators for the topics they like. For you as a designer this is the chance to show yourself to new clientele, expanding your reach.
Try Showing How Unique You Are
On social media, you have lots of opportunities to show your work from various sides. And your main goal is to make your business more valuable by exposing its uniqueness. Some say that there is nothing completely unique in this world anymore, however, you have a chance to prove this statement wrong. Partly this task concerns your personality, because in design this is a key factor that makes your works valuable for clients. Revealing the process of creation is also a good method to expose the uniqueness – let your followers sneak peek how you produce one of a kind item, so they would want another one done for them! Such practice also helps to improve the process of communication as you will have visual arguments that can control the negotiation.
Create A Stable Visual
Humans mostly collect information about the world around them with their vision. Other senses became secondary to it. And this evolutionary feature comes in great assistance when we speak about promotion and social media. Instagram is all about pretty pictures – impress your followers with the impeccable content! And, to create an association, which will lead your viewers to becoming buyers, you have to develop a recognizable visual construction.
Your account has to have consistent branding elements, like logo, typical fonts, color scheme for infographics, etc.
Unite your posts into collections, categorizing them with the help of color, form, and stylistic details
Use various types of content to expose your work: videos, stories, photos.
Aim for the best possible picture quality, and always improve it if you can.
Grab The Initiative
Don't wait while your followers think of a question. Ask them yourself! The best way to increase engagement and activity on your account is to intimidate the conversation. Besides, taking the process in your hands, you get more control over it and can regulate it as you need it to. For instance, you can push the topics that were not too popular lately and give them a second chance to win the interest of your audience. Or you can tell users more about your personality, creating long-reads or setting a live session to connect with your followers. Sharing your experience also works well – drop something valuable and educational to increase loyalty to your brand and improve user activities.
Be Present Online
On Instagram you must be proactive if you want to reach success. Quick replies and reactions to your followers activity on your profile will secure you a reputation worth noticing. On social media people like the most that they can communicate with anyone they want very fast, and if you will prove their expectations – the reward is the attention and popularity.
Develop a schedule that will help you to upload content regularly – being accurate at your deadlines is another proof of your professional qualities, and is simply pleasant for your audience. The frequency depends on the type of content, but the average number would be 3-5 times a week. Stories and Reels should be posted daily, and things like live sessions and igtv – once a week for starters.
Conclusion
Becoming a popular designer with the help of Instagram – can't be easy, but with knowing basic tips and techniques you can nail it even if you have never been active on Instagram before. Here are the key facts that you should learn:
Seek for a unique detail that will make your account interesting to the potential clients
Treat your followers with respect, and aim for bringing them positive emotions
Mix entertaining and educational content
Keep in touch with the news from your industry and top blogged in it
Communicate actively, and stick by a schedule for better result
Use all the options that Instagram gives you
The main thing that you must remember is that on social media, personality comes first – without personal flair it will be hard for you to connect with your followers and turn them into loyal can't and clientele.