Nowadays social networks have become an integral part of our lives. Some people can't imagine their lives without them at all. Social networks are created for different purposes. The times when every webmaster wanted to make his or her own large-scale social network resources are long gone.
Today social networks are created to appeal to a specific audience. For example, a corporate network, a closed network of a company, and so on. If you're a webmaster and you have received an order for the design of a private social network, it would be appropriate to look at modern trends. And thereby get inspired. The most commonly known social networks today can provide not so many design options. You'll have to spend a decent amount of time searching for inspiring and high-quality designs.
So, I've made a collection of the most beautiful social networks design ideas and decided to post it here. So that it would serve as a source of inspiration for beginning web designers.
As you can see below, the direction of the design of social networks nowadays is committed mostly to the Windows Metro style. And the style of Apple Mac OS X. Everything must be flat and bright, but at the same time very attractive.
Also, among freelance designers these days there's a tendency to make redesign concepts of popular social networks. This way they can show their fresh view on the design of a commonly known social networking resource. To make life easier for novice web designers and to inspire them, I decided to make this collection.
These examples can be applied to any project. In this post, I decided to focus on graphic design, since this is the most important and significant part of a social network project. So, to your attention, there is a selection of these inspiring social media templates.
1. Pastel – Instagram Stories & Posts Social Media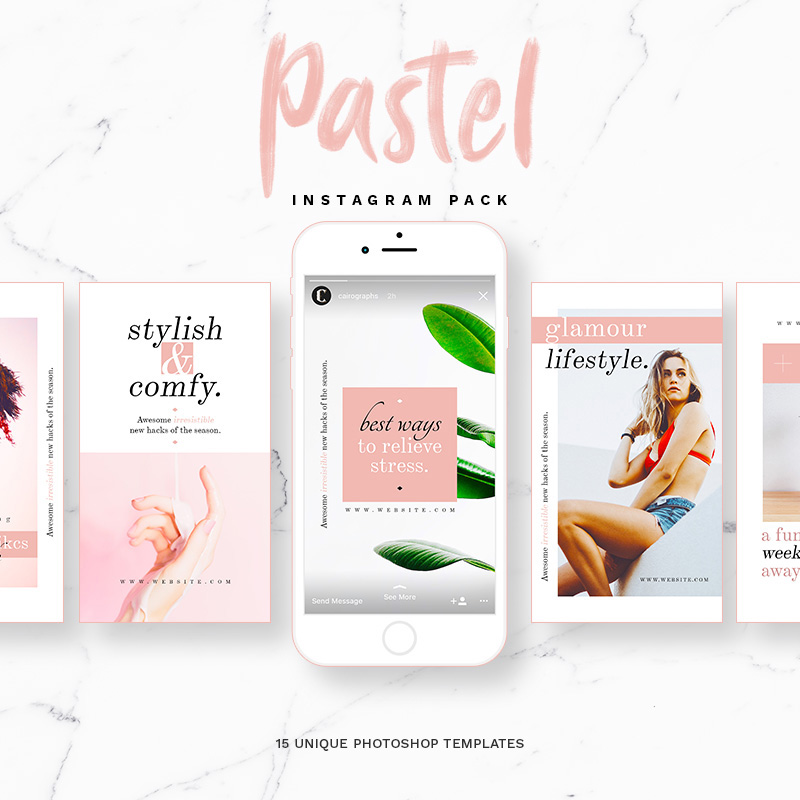 This is a premium Photoshop graphics collection for creating a single-style account design for Instagram. By using ready-made design options from this template, you can create a stylish account that can be viewed on any PC or smartphone running iOS or Android. It has a large selection of pre-made mockups for creating covers for posts on Instagram and other social networks. In addition, there is a selection of options for developing business cards and presentations. It is very convenient to use.
2. 10 Cover Photos For Facebook Timeline Bundle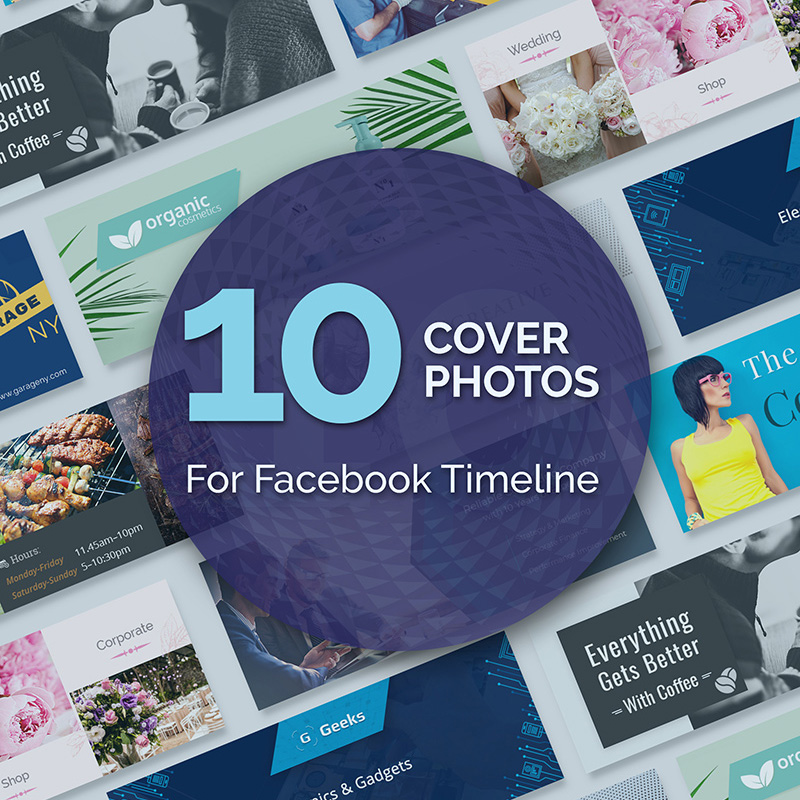 This is a collection of graphics mockups for Facebook. To get started you must just open this collection and select the design layout that you like the most. As a background image, you can use any photo that is in the collection. Pictures can be edited while working on the creation of your brand new design. Any of the available design options are also fully editable. You can select and customize the font face, font color, image saturation, and so on. You can use this template to create the design of your post and other additional interface elements.
3. Instagram Colorful Banner Social Media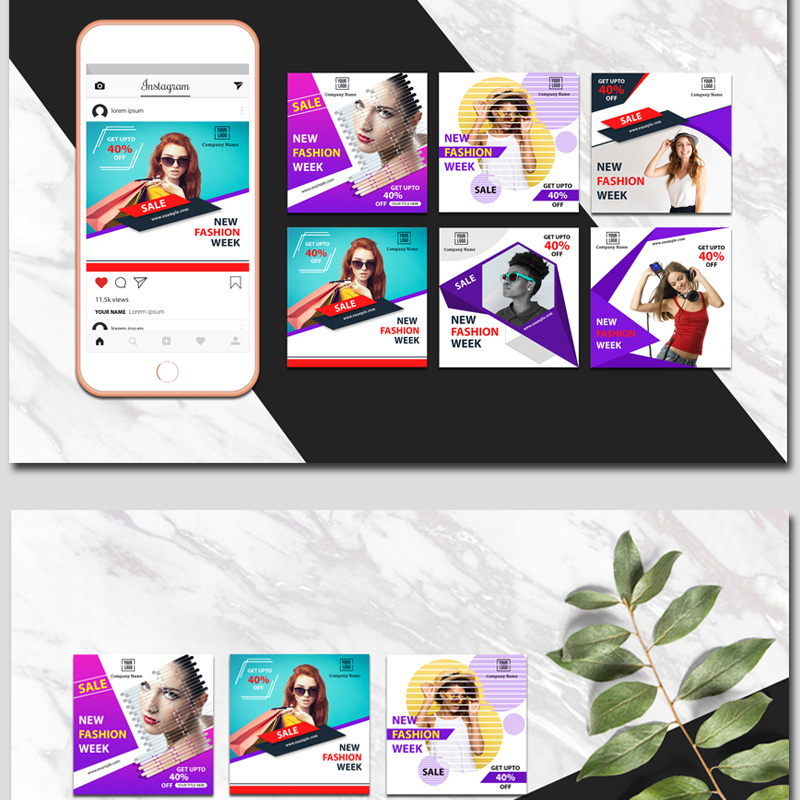 This is a banner collection with which you can create stylish banners for Instagram. To create a needed banner for Instagram, you can use any of the templates that are in the collection. The advantage of the product is a large number of available options for editing images. In this collection, there's also a large selection of fonts. You can easily change the font size, color, saturation, and other parameters. There's also a large number of additional options such as working with masks and layers, the ability to adjust the transparency of the images, and many more.
4. 200 Ready-To-Use Entrepreneurial Quotes Social Media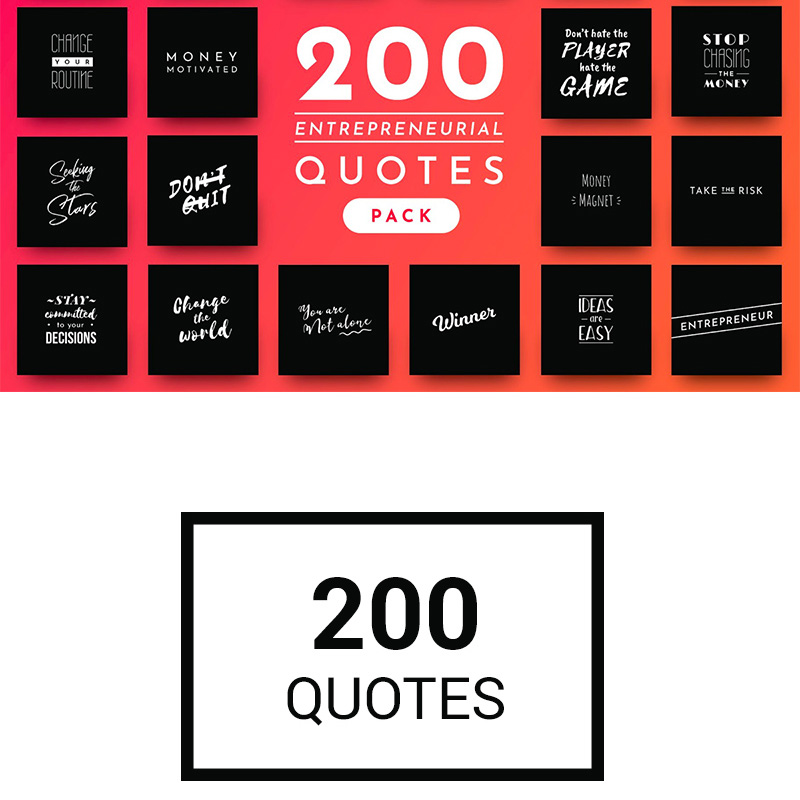 In this collection, there are images with which you can create stylish quotes for your social media posts. This is a simple and convenient tool for those who need to quickly and efficiently create a quote for a social network post. With this collection, you can work on creating a quote template for Instagram or for any other social media resource by yourself or while working in a team.
5. Fashion Promotional Instagram Social Media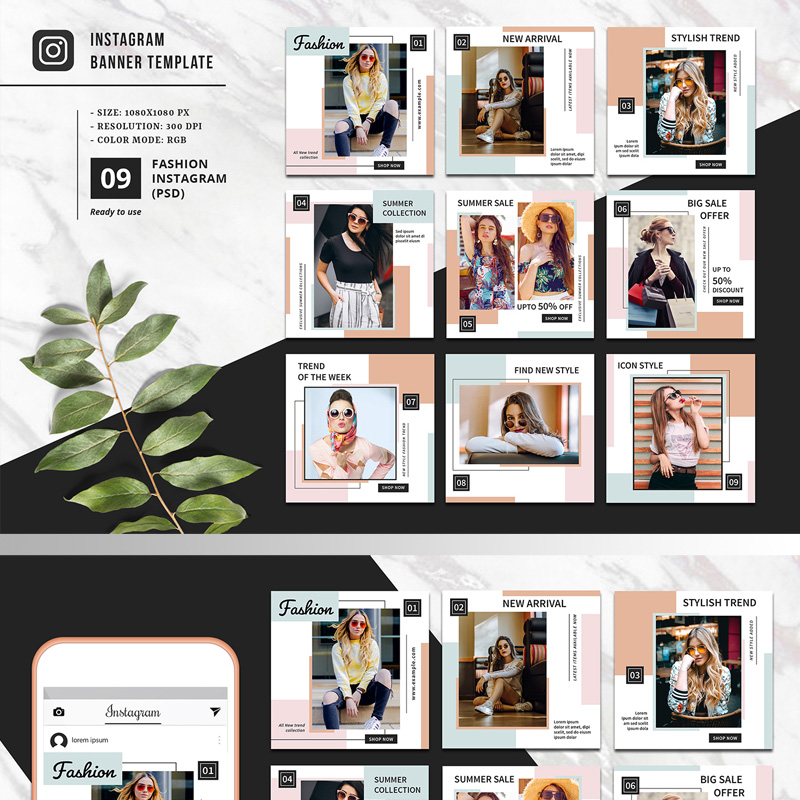 The kit consists of different design ideas for fashion-related posts for Instagram. There are lots of creative mockups of stylish graphics for various post concepts, what will look great with your web designer WordPress themes. In all, there are dozens of editable PSD templates that meet all the modern requirements and are adapted for use on Instagram, a blog, and much more. This package is the perfect kit for modernizing your social networks in a modern and professional way.
6. YouTube Cover Template For Fashion Store Social Media
With this collection of banners for YouTube, you'll get high-quality graphics projects created by the professionals. It will also help you to create posters and flyers. There are easily editable PSD files for Mac and Windows. They are easy to use and provide customizable layouts of original artwork, logos, and backgrounds. All that will be necessary for customizing the look of your YouTube channel is included. All the mockups are accurately designed and are perfectly suitable for digital output.
7. Colorful Instagram Banner Pack Social Media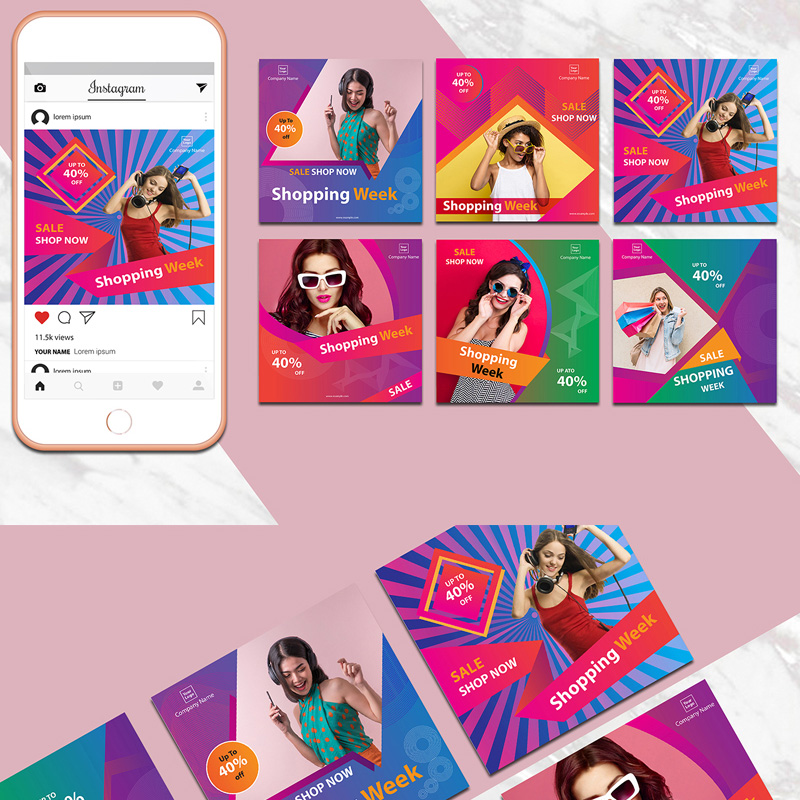 A selection of Instagram banners for every taste and for different purposes. The number of mockups in the collection will satisfy any user. Available formats include PSD. This is a fully editable template collection. It's really easy to change colors, fonts, and images. The images can be combined with any color accent. It's a premium banner collection with an emphasis on easily editable images. It's also suitable for the presentation of some products including everything where visualization is important. You'll really like the style of these banners. The collection is definitely recommended.
8. Electronics Cover Photo For Facebook Timeline Social Media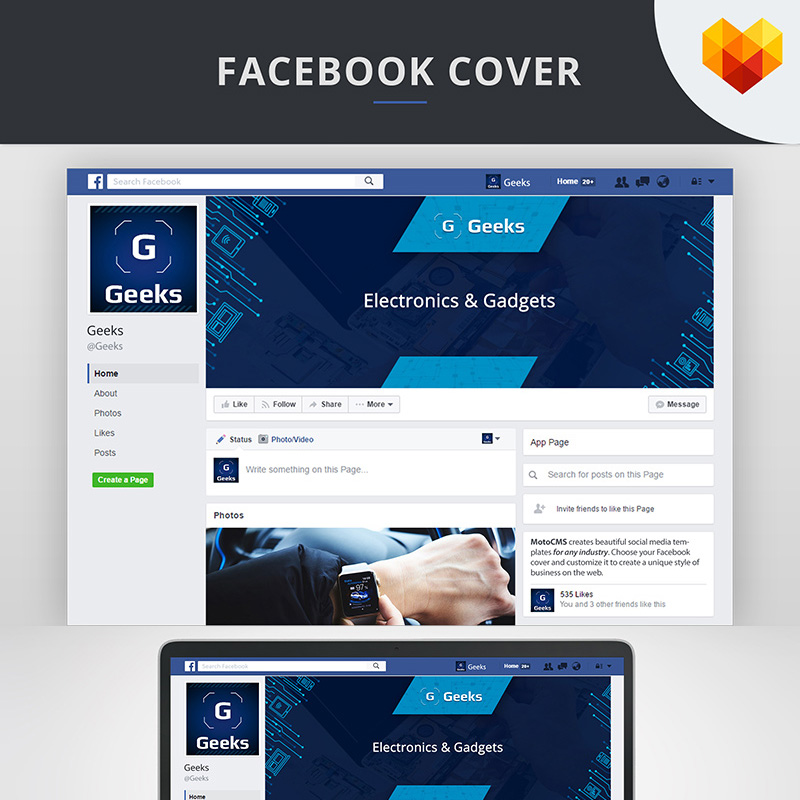 Bright PSD images with stylish textures won't leave anyone indifferent. Suitable for creative Facebook covers in any field. Bright cover art template collection with stylish editable headers. The colors of the elements can be changed to make a cover in a corporate style or in your favorite shades. Also, there are strict styles for the project, research, financial report, and everything where the business atmosphere is really needed.
9. Clean Style Instagram Story Package Social Media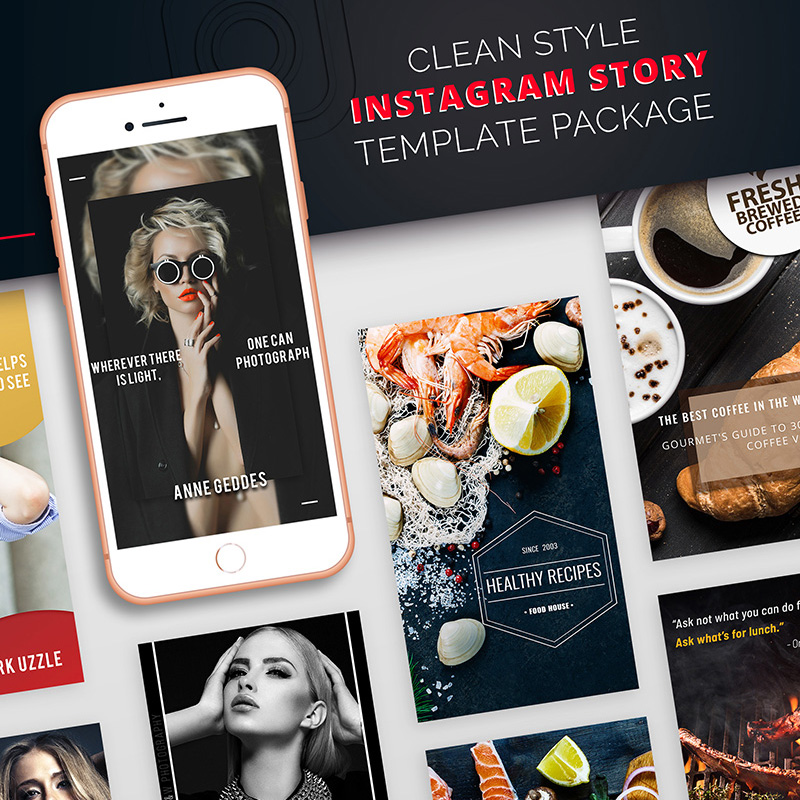 A collection that will help to turn your Instagram page into a coherent story and back it up with beautiful pictures. Minimalistic design for those who like to be short and to the point. It will help to place accents and draw the attention of visitors to the main thing. Beautiful images with plenty of space for text and large items. Just enter the main title in the frame and in the free space, you can put a text, a photo, or a small logo.
10. Plus – Pack Social Media
A good choice for creating business pages in social media. This is a collection that changes to suit your needs. To change the design, it's enough to change the background image under the content of your page and you have an individual design with cool elements. Beautiful pattern with stylish elements will be difficult to ignore. The color of the elements can be also changed. With this collection, you can make social media pages about anything. Like IT-sphere or advertising.
11. YouTube Channel Art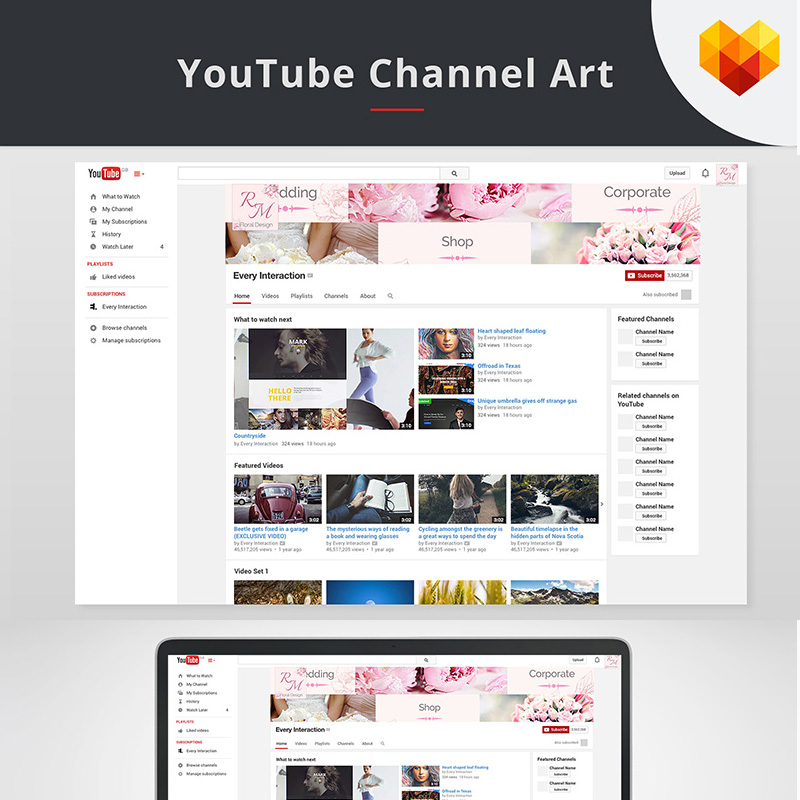 The creative and lively collection will suit the YouTube channel owners who want to place accents and use stylish backgrounds. Many flowers will display the main idea of the channel. A bright combination of pink and white will not leave anyone indifferent. You can also insert your own photos and graphics. Minimum text, large fonts, and objects. It will help to focus on the main thing of your channel and you won't have to do lots of manipulations with the text.
12. 1,000 Unique and Elegant Quotes Social Media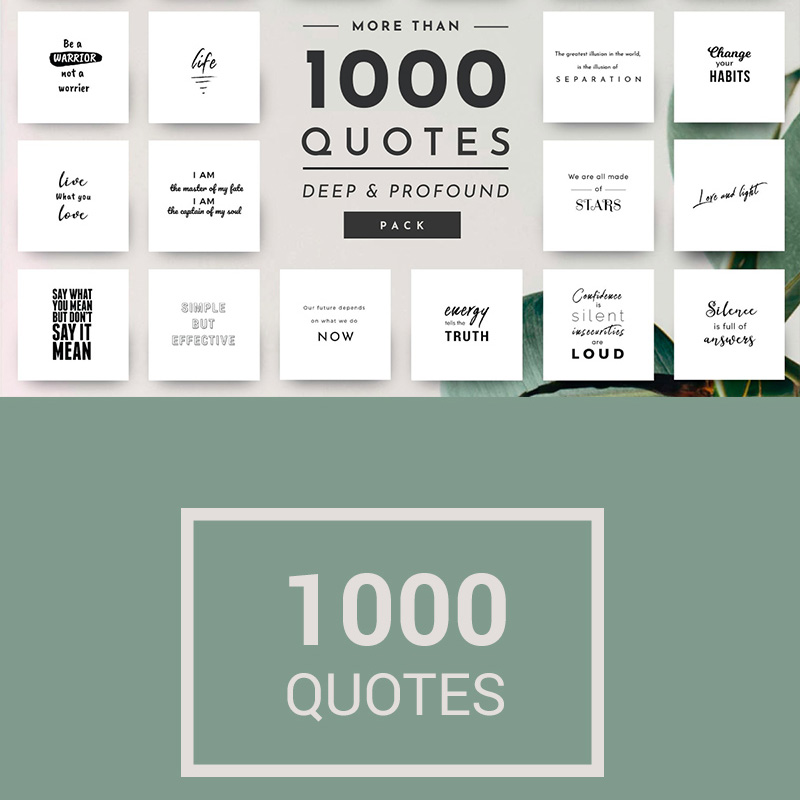 Another minimalistic collection with beautiful quotes templates to talk about the most important things. Strict but positive. It's suitable for any social media and there are premium images in which you can talk about anything you like. This is the quotes template collection in which you can put everything you want. Colors can also be customized to your taste.
13. Hello Pack Social Media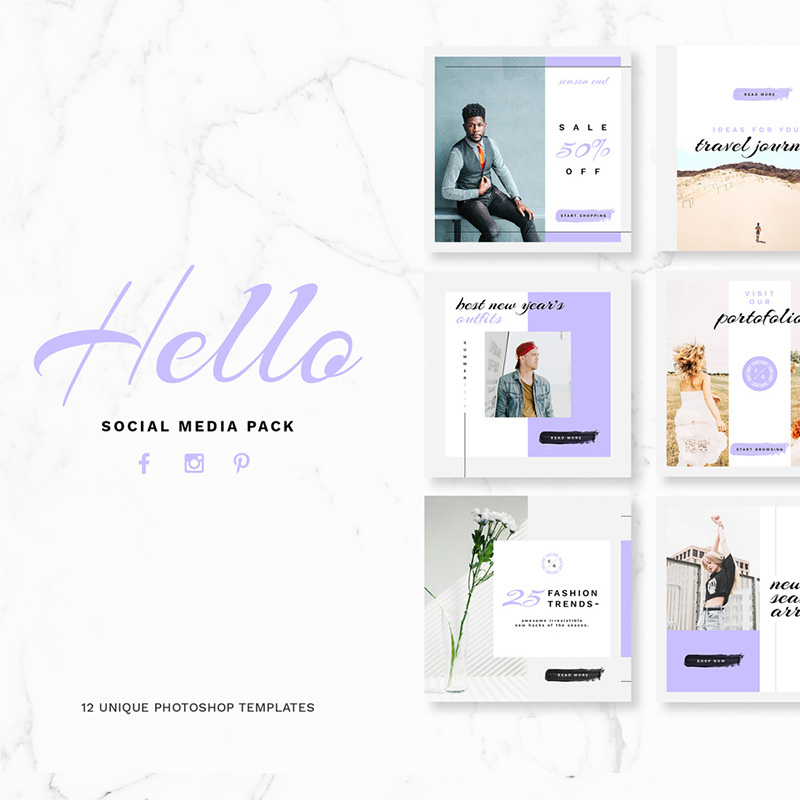 A simple design and customizable template color will allow you to present the company's brand. A large selection of icons and beautiful images is impressive. Nicely highlighted headlines look really cool. The layout can be changed as you like, so the design is in your hands. Simple templates for lovers of minimalism. The collection will help to highlight the main thing. Suitable for presenting any products when it's important to promote the brand.
14. Facebook Cover Photo Design Social Media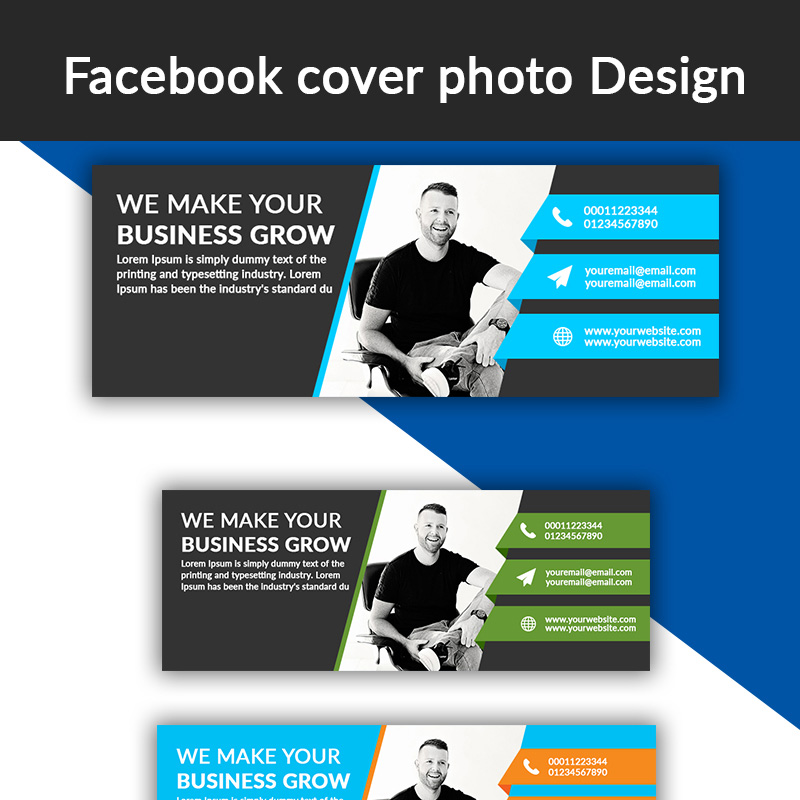 An inspiring collection of Facebook backgrounds, suitable for creative people. Design is easy to adapt for creative or business pages. Everything is in your hands. The combination of colors will please visitors. It will help to talk about the products and benefits of your brand. Images with a dark background and colored elements on all images. Suitable for a business page or for creative use.
15. Animated – Instagram Video Templates for Photoshop Social Media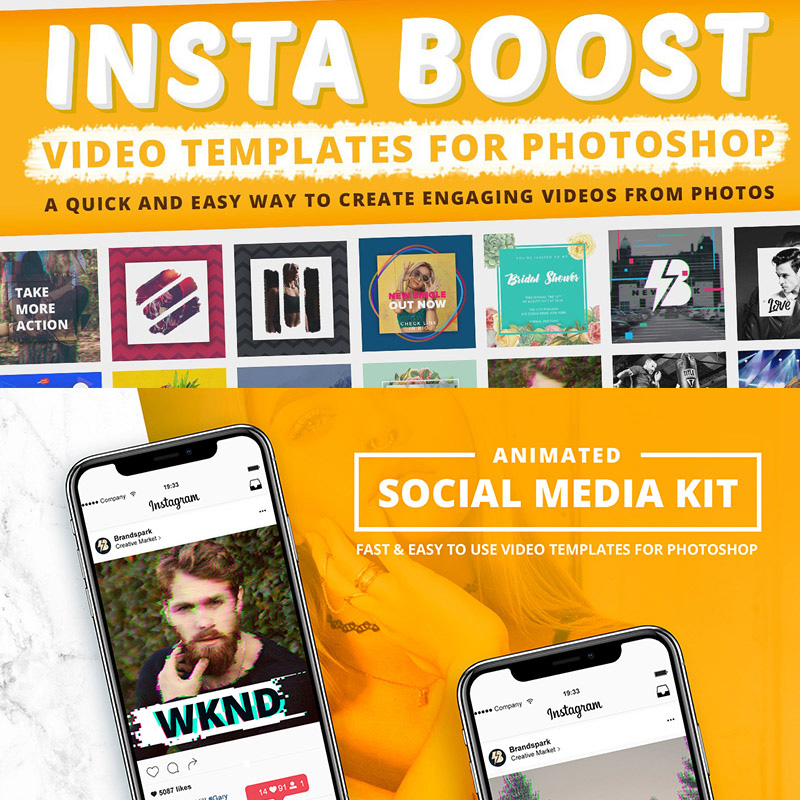 With this collection, it's possible to create a high-quality video post on Instagram or Facebook by using special Photoshop templates. There are various templates for creating videos here. Like self-presentation, a story about the brand, etc. You can compose different images and connect them together and add any text. You can create a video in a way so that it's designed in one theme and has a specific format. You can also create a squared video for Instagram. There are also various individual elements to help determine the duration of each individual piece of the video.
16. Modern Social Media Kit (Vol. 6) Social Media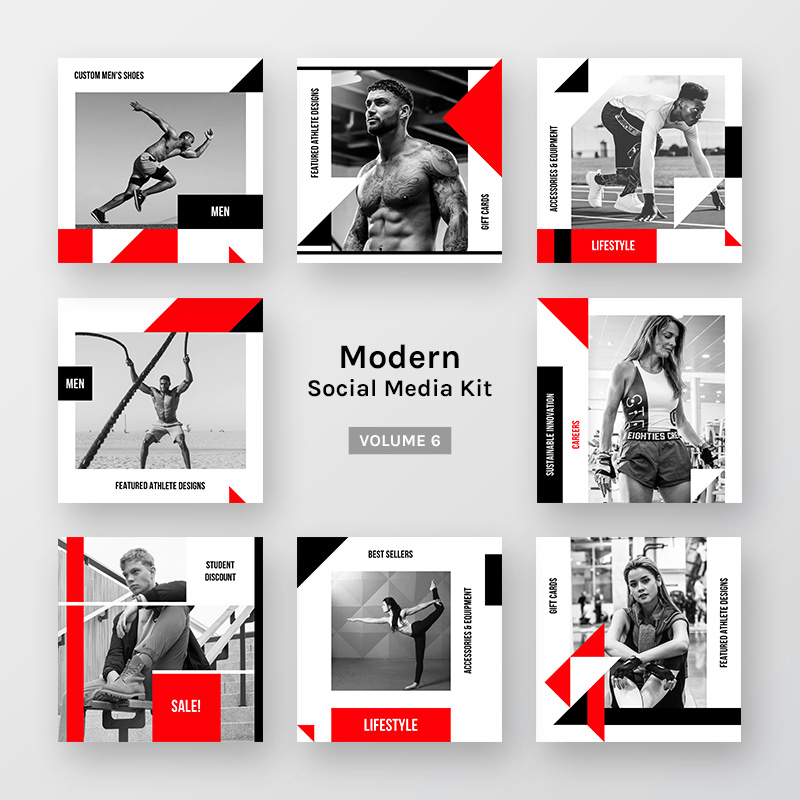 Thinking about creating a stylish graphics for a social network page but don't know how to begin? Start by choosing this social media design templates for your future project. The collection is the best choice for most projects. The graphic elements look very attractive. The appearance of elements when is very pleasing to the eye. You can immediately see the professionalism of the authors of the kit. Thanks to this the graphic elements look quite ergonomic.
17. SINBAD Social Media Pack Social Media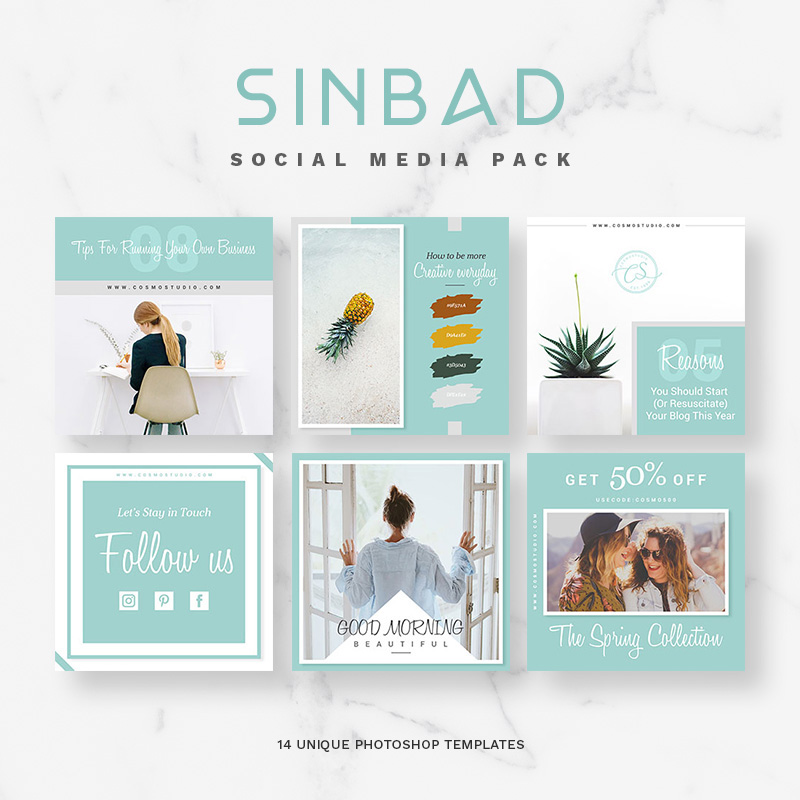 This collection contains an archive with a huge number of different social media design elements in the Flat style. In it, you can find everything you need. It's an impressive collection of various elements to fill any social media page. There are some nice little things in the form of buttons, business cards, etc. And you'll have an opportunity to change any design element. The images themselves look quite nice. Many users can successfully apply included logos to save time on their creation.
18. Minimal Instagram Puzzle Grid Social Media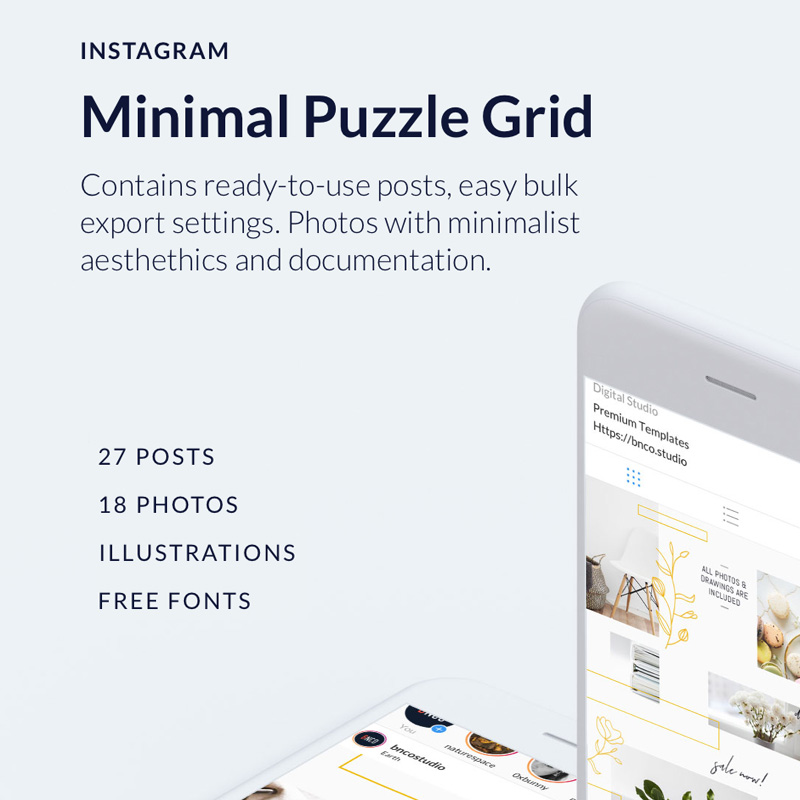 Sometimes the idea to create an Instagram page is caused by a favorite hobby and sometimes by commercial interest. But whatever the reason, nobody wants to develop the graphic elements from scratch. It takes a lot of time, not to mention the complex issues that have to be addressed. Fortunately, there is a way to avoid all this headache and get the finished result in just a few minutes. For this, you just need to use this Instagram graphical design templates collection.
19. Business Facebook Cover Social Media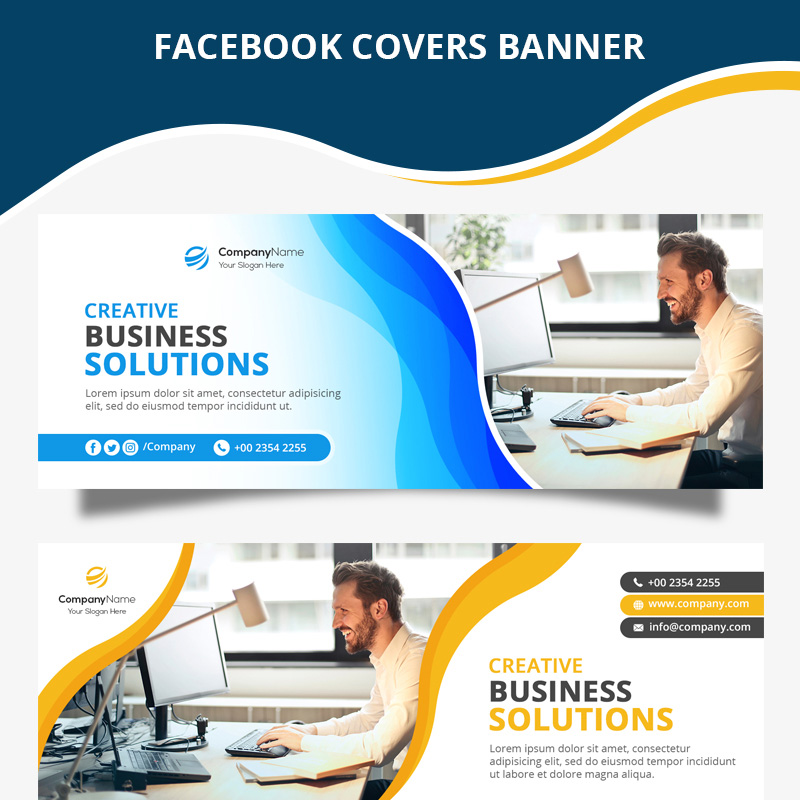 The social media sphere has always been one of the most interesting areas of the Internet. In order to create a stylish page on which people could get familiar with your brand, you usually need to work hard. But if you use this Facebook cover art templates collection as the basis for your graphic design, everything will become much easier. You will only need to choose on the main topic and adjust these templates in accordance with your preferences.
20. 10 Fashion Instagram Template PSD Designs Social Media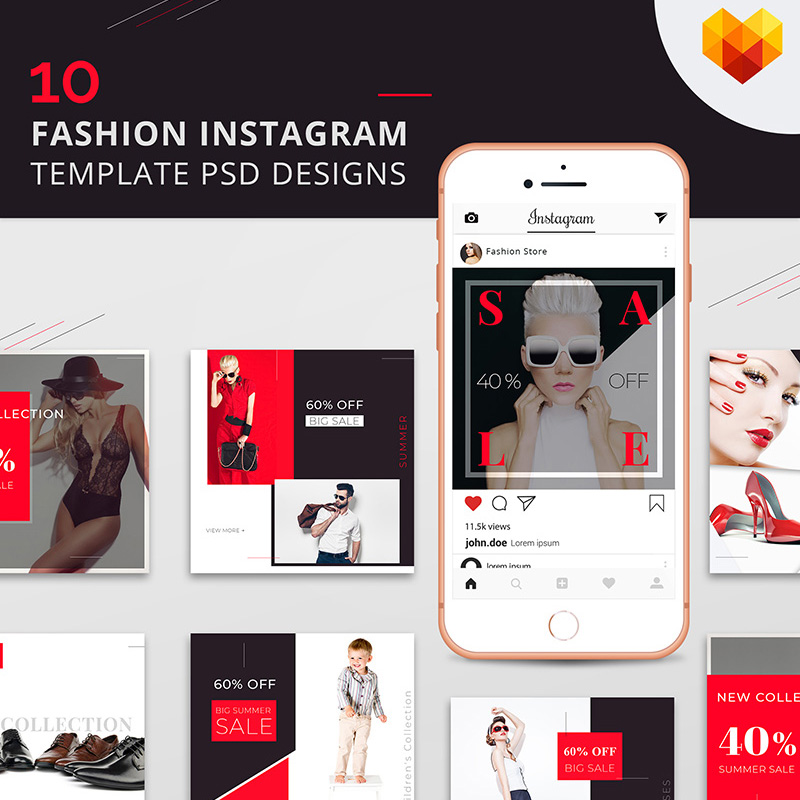 This is a fashion Instagram page design elements collection that has enough options to be used for a wide variety of fashion pages, be it an online store or a personal fashion blog. Variants of the design elements are significantly different in appearance and content while maintaining a common approach to design and atmosphere. This template collection has all the qualities for the successful promotion of your fashion business. It has an adaptation to mobile devices and tablets and high-quality images.
Conclusion
Social networks are among the most popular website projects created by beginning webmasters in the world. They are ideal for those who like to experiment with style and graphics. And it doesn't matter who you are, a blogger or a corporate web designer. All have equal opportunities in this field of web development. And they are boundless. If you have to publish any kind of content often, you must be tired of having to come up with a new design each time. When creativity turns into a routine the result suffers. But there is salvation. The above social media templates. All that remains to be done is to add frames and backgrounds, replace fonts and filters, and a beautiful post is ready.