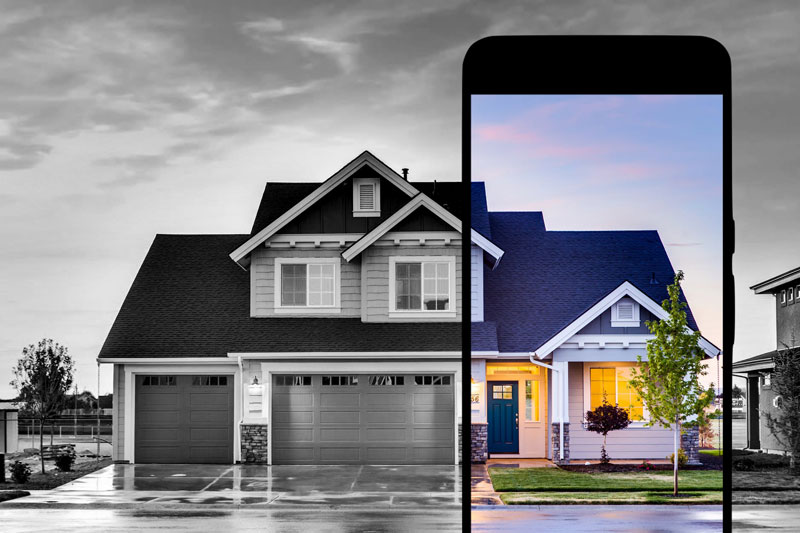 When it comes to real estate marketing, no other social platform shines quite like Instagram.
Instagram's visual format is ideal for showcasing eye-catching property photos and videos, and its platform easily incorporates geo-targeting and location-based data. So, how can a real estate marketer use Instagram's powerful tools to the fullest? Which approaches capture audiences' attention and encourage closings?
Here are 10 effective tactics from MDG Advertising that will help real estate marketers make a splash on Instagram:
1. Showcase new developments and properties
When crafting real estate Instagram posts, showing the latest listings are often what come to mind. This is good news, since the platform is ideal for featuring new properties and neighborhoods.
Investing in high-quality images will pay off when it comes to Instagram. As an Instagram viewer people want to see quality content. Instead of posting a digital adaptation of an existing print flyer, spend some time developing creative that's geared toward Instagram. Remember that it doesn't have to be just one image—the platform allows for slideshows, Stories, carousel ads, and videos.
2. Spotlight future developments and properties
Even if a property isn't on the market yet, it doesn't mean it can't be showcased on social media. Instagram offers real estate firms a great opportunity to offer a "sneak peek" into upcoming properties. This also applies to properties that aren't yet ready to go on the market—renderings can be posted to spark interest in future developments.
3. Inspire with aspirational listings
People browse real estate listings even though they may not be actively searching for a home—this explains the fascination with house-hunting shows on TV. Luxury dwellings and beach properties are especially popular among these aspirational shoppers.
Take advantage of this curiosity by using Instagram to show amazing properties. It's a great way to grow your audience and increase engagement. Experiment with different formats, including Stories, videos and slide shows, to promote these dream homes.
4. Keep audiences in the loop about your success
People often choose firms and individuals they view as successful, so don't be afraid to show off a bit on Instagram. Highlight some of your best achievements, which will show audiences how you could be a better choice than the competition to help them with their real estate search.
5. Feature open houses and special pricing
Time-sensitive content is ideal for Instagram, where feeds quickly turn over. Add a few posts about future open houses and current price deals, and remember to keep the tone fun and light. Using humor in your posts is a great way to fit Instagram's casual vibe.
6. Introduce your team
Instagram isn't only for showcasing awe-worthy properties—it can also be used to highlight yourself or your team. You don't have to simply talk about your real estate skills; instead, create content about any nonprofit work your firm does or even fun team-building exercises at the office. These personal posts allow audiences to learn more about you.
7. Offer thought leadership and insights
Buying or selling a home can be intimidating, especially for those who haven't been through the process before. Fortunately, real estate marketing professionals can help potential clients understand this process by demonstrating thought leadership and offering insights. Post these regularly to create interest and keep your audience captivated no matter where they are in the sales journey.
8. Show off amenities and interesting features
Through compelling photos, videos, and Stories, you can spotlight what makes a particular property special. This could be a unique architectural detail, an unusual feature, or a thoughtfully designed space within the home.
9. Show why the neighborhood is great
House hunters are looking for great properties, but they're also searching for the right neighborhood to call home. Instagram posts can help you highlight desirable features of a particular community, including weekend farmer's markets, nearby parks, or great local schools.
10. Encourage consumers to take action
Even the best-crafted Instagram posts are meaningless if they don't inspire audiences to do something that boosts your business. Sometimes, however, audiences need to be encouraged to take action, and real estate firms can do this by posting inspiring content that will prompt action.
No matter where the real estate shopper is in their journey, real estate marketers can use Instagram to help guide buyers as they explore their options. Essentially, you can capture audiences' interest by using Instagram's tools to the fullest, engaging directly with consumers in a creative, lighthearted way.
Real estate marketers should consider all these tools as they build a strategy that will inspire buyers to purchase the home of their dreams.