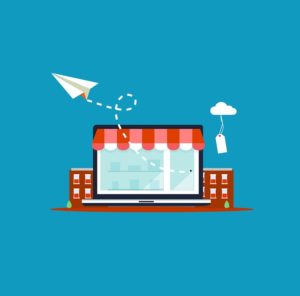 E-commerce is one of the fastest growing industries in the world, with more and more companies and businesses opening up to the huge potential of selling their products and services online.
When you think of e-commerce, most people will think of something like Amazon, which is packed full of every product you can imagine. However, it wasn't always like that. Originally, Amazon was selling books and CDs, but gradually, over the years started adding a range of other items from household furniture to kids toys. Today, it's one of the most powerful and richest companies in the world.
Small companies and E-commerce
Just because everything anyone will ever want to buy is most likely available on Amazon, it doesn't mean that other businesses should simply give up on e-commerce. There is enough room for everyone, and though some companies are obviously going to do a lot better than others, there are still ways in which your company can benefit from e-commerce and having your products and services readily available online 24/7.
Not everyone wants to buy from Amazon all the time. There are some very small and unique businesses who offer products that no one else does, which make them an attractive alternative for a lot of people. What these businesses need to do is to properly market the e-commerce side of their business.
Having a functional website
The first thing a company is going to need if they want to get started with e-commerce is a fully functional website. There are a huge number of website solutions out there, some better than others. There are lots of online platforms that will allow you to make your own website, such as WordPress or Wix, but not all of these are going to be the best option when it comes to e-commerce.
You'll need to have either your own e-store set up, or you'll need to use an e-commerce platform such as Shopify, and sell your products from there. There are pros and cons of both options, but with your own website, you will be in full control and won't have to pay any commissions or monthly payments. Of course, the initial cost will be larger in getting your e-store developed, but in the long term, your costs will be minimal.
A good example of a great looking and easy to use online store is Preeco, which has easy to follow navigation, and a simple but effective way to showcase each different product.
Be active on Social Media
Every business should have profile pages set up on the most popular social media platforms such as Facebook, Twitter and Instagram. These business accounts are a great way to get connected with potential customers, as well as to show your range of products or services to a wider audience.
When posting on social media for your business, you don't want to make every single post one about your company and your products. This gets a little boring and spammy after a while. Try adding some posts about the industry you operate in, or about what's happening in the general market place. People are more likely to follow you on social media if you are providing helpful and useful information, not just purely promoting your business.
Run ads on social media
A very powerful marketing tool are Facebook ads. Nearly everyone in the world is on Facebook, and it's a very good way to build up an audience for your business. You can create advertising campaigns that are focused on a specific group of people.
For example, if you operate a make-up e-shop, then you can create advertising campaigns that target women between the ages of 18-25 who have an interest in fashion and beauty and who live in a certain geographical location. This is useful if you also have a physical store where you sell your products, and want to target people around that neighbourhood.
You can create different styles of ads for your campaign, including video adverts, which are a great way to grab people's attention. There are a number of free online tools that you can use to make some basic video clips, so you don't need to worry about hiring a professional.
If you aren't too tech savvy though, it's probably a good idea to get in contact with a local firm that can manage your Facebook and other advertising for you. These agencies will be much more experienced when it comes to marketing, and will likely have a number of suggestions for your campaigns. You'll have to pay extra for this, but in the long run, it's more likely that your marketing campaigns will be much more effective.
Run online deals
A great way to get people talking about your business if by running flash online sales. You can create discount codes that people can use to either get a flat 10% discount off all offers, or maybe one that takes $5 off the total cost at check out. These discounts and deals are perfect for creating a buzz about your business and are very easy to set up and run.
Other times of the year where it's a good idea to have some special offers and discounts running is for Black Friday/Cyber Monday, and around Christmas and New Years.
Set up a newsletter
Having a mailing list on your website is a very important part of any online business, and provides you with a way to effectively communicate with existing as well as potentially new customers. You can send them information about the new line of products you are soon going to offer, or simply to wish them a Happy New Year. Not all emails you send should be self-promotion ones, and as mentioned above with social media posts, it's a good idea to mix in some industry news once in a while.
You can encourage people to sign up for your newsletter by offering them a discount code in return which they can use at your e-shop. If people are interested in purchasing your products, then they will be very happy to sign up to your newsletter in order to get a discount on their order.
Mailing lists are pretty straightforward to set up, and there are a number of companies that even offer free accounts if you have less than 1000 subscribers. For small businesses, this is the best option as it cuts down on an additional monthly cost, and leaves you with more money in your pocket.