Talented people create unique items. It does not matter whether it is music, gifts, or other handmade products. Artists need an appropriate place to showcase their masterpieces and promote them properly. One of the most effective ways is to set up an online store using WooCommerce themes for creatives.
Having a useful website is probably the most significant point for any business. So, woocommerce wordpress themes are an excellent opportunity to save your time and money and create a functional website. Moreover, eCommerce themes for artists have a similar design that will underline the peculiarities of your products.
There is an excellent variety of WooCommerce themes developed for the masters of their craft. Let us consider some of them in more detail.
Logoster
If you create logos of premium quality, Logoster will help you promote your services. It is a modern and unique Logo Design Shop WooCommerce theme. The design and functionality of the theme speak for themselves. The features include:
the Elementor Page Builder. Together with the WooCommerce plugin, it makes a great combination. You will be able to customize the WooCommerce pages, using the Elementor functionality;
the Jet plugins, among which there are such popular ones, as Jet Elements, Jet WooBuilder, and others;
an installation wizard to let you install everything in one click.
The template is minimalistic but contains all the necessary pages to arrange the information. In particular, there is a Homepage, a Product page, and a Single product page.
WooStroid2
WooStroid2 is an awesome Elementor theme to build a creative WooCommerce store for any business niche. It is one of the best WooCommerce themes for a t-shirt product designer, a toymaker, or a handmade master. The theme comes with a variety of features to take advantage of and demonstrate your creativity.
You will find a wide choice of skins perfectly designed for any exclusive niche you may think of. Do you want to showcase lingerie or a jewelry collection? Do you want to advertise your own cosmetics line? The relevant skins are waiting for you in the package.
Due to the Magic Button functionality, you will be able to edit the page templates or some particular elements.
There are different plugins and widgets to add the necessary elements to the store to make it more functional.
Craftekko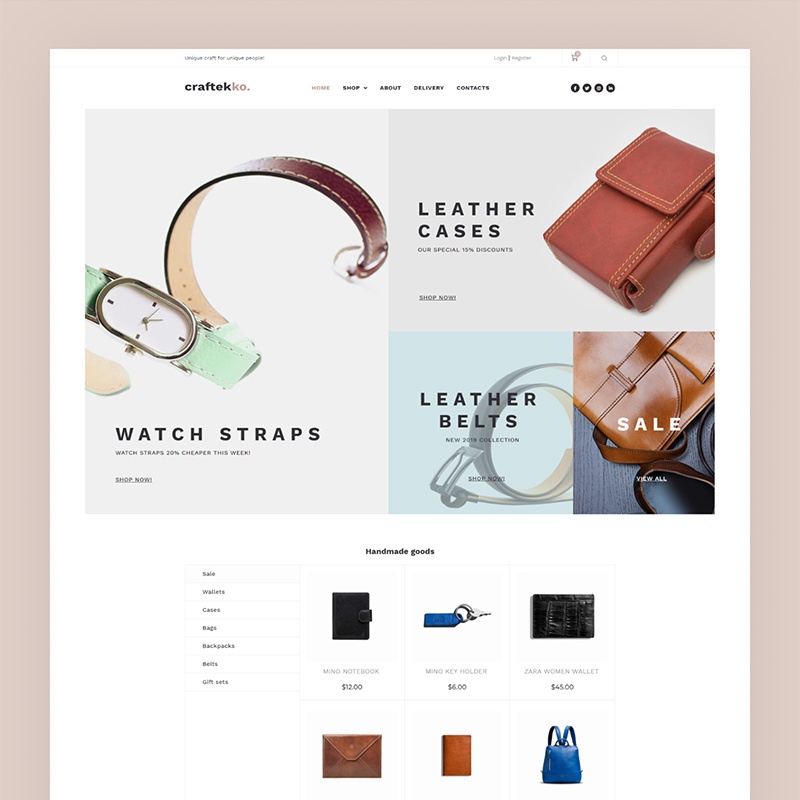 Do you make original handmade items for unique people? Then you need an online store with a relevant design to match the goods you produce. Craftekko is a clean Elementor WooCommerce theme developed precisely for this purpose. Besides the superb design, it includes the following features:
ready-made pages to add the appropriate information about your products, including the delivery terms and privacy policy;
the revolutionary JetElements plugin that contains a complete pack of modules, such as Advanced Carousel, Countdown Timer, Featured Products, etc.;
the JetThemeCore plugin to create new theme parts, for example, headers, footers, or some other sections;
the Newsletter subscription form for your clients to subscribe and receive emails with the special offers;
mobile-first philosophy to ensure fast and flawless performance of your online store when accessed from a smartphone.
Artcraft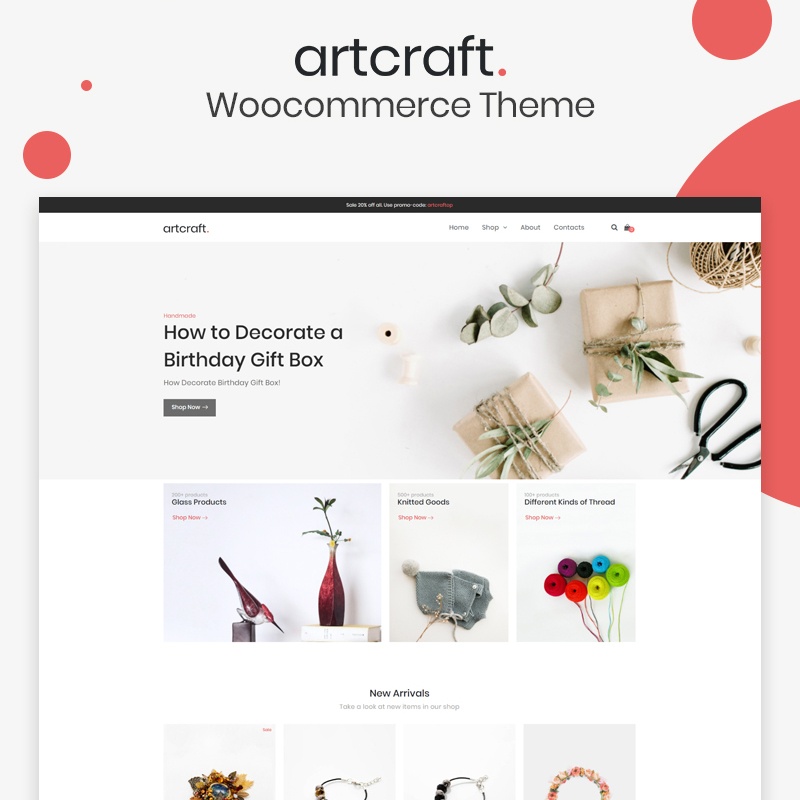 There are different marketplaces to sell handmade goods. Still, your unique website designed especially for this purpose is much better in all aspects. Artcraft is a handmade WooCommerce theme that is suitable for this very niche. Using it, you will build an attractive online shop to advertise your products.
You will appreciate the design of the ready-made pages.
There is the Elementor Page Builder to add either the necessary pages or sections to the store.
You don't have to search for the relevant images for your store. You will receive a lot of them as a bonus.
It is easy to install the theme and customize it. However, if you come across some issues to solve, efficient customer support is always ready to help you.
Verdango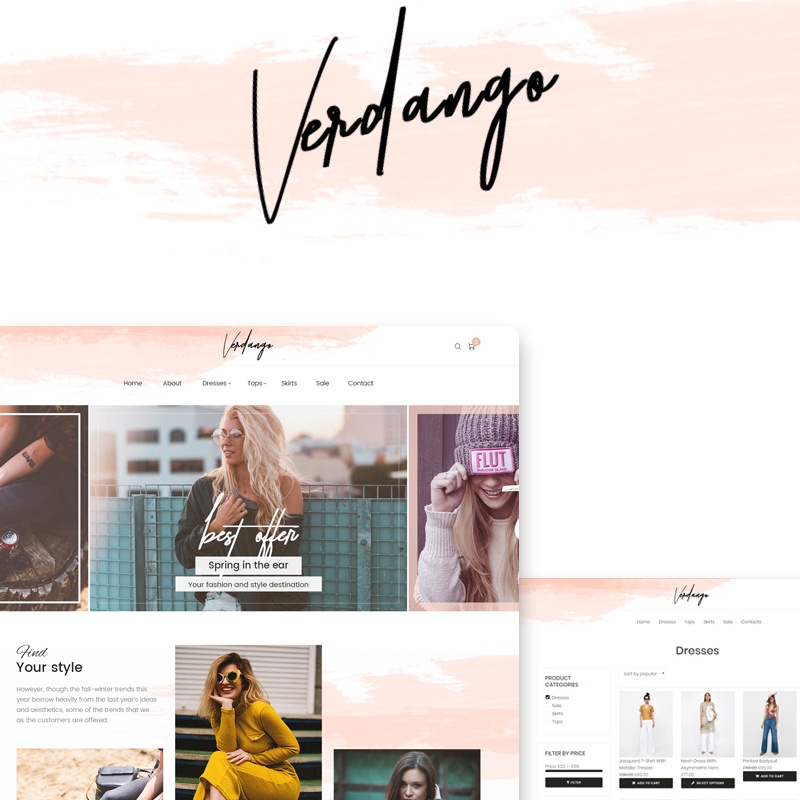 Build your online store with Verdango to hit the target audience. This responsive The WooCommerce theme is ideal for various fashion stores.
It comes with pre-made pages that are ready to use and easy to customize. For instance, there are pages to include information about your company, services, showcase the collection items, etc.
Due to the Elementor Page Builder, you may create additional sections.
Moreover, there is a great set of plugins to enhance the functionality of the store. Use the advantages of JetElements, JetMenu, JetBlocks, and other ones.
You may add a blog to the online store, writing articles about modern fashion trends. Such posts will encourage your clients to make the right choice.
Arts-n-crafts
Art-n-crafts is a great solution to create an online store and announce a new collection of your handmade items. It is one of the most impressive craft shop woocommerce themes. Being made with the Elementor Page Builder, it opens a variety of opportunities for customizing it to meet your requirements. Besides the Elementor, the theme offers:
stylish pre-built pages to demonstrate the products from different perspectives;
the JetElements plugin to add various functional elements to the pages. For example, it can be a price list, scroll navigation, or testimonials;
integrated Google Fonts to work with typography in case of necessity.
The theme is also responsive, SEO-optimized, and retina-ready.
Gift Box
Do you want to set up an eye-catching handmade gifts store? Opt for the Gift Box, and you will not regret your decision. This WooCommerce theme includes the following features:
a pack of pre-made pages to use at once. There is a Homepage, several variants of the pages for the shop, the blog. All of them contain all the details and sections necessary to promote the goods;
the Newsletter subscription popup that increases the chance of reaching the target audience;
mobile-first option to guarantee access to your store, using various devices;
a special giveaway that offers the relevant images of high quality.
Besides the images that are available within the package, it is worth thinking about the images of your items. If you want to know how to make them look beautiful, here you will find some pieces of advice on how to create visual content for your website.
Craftorious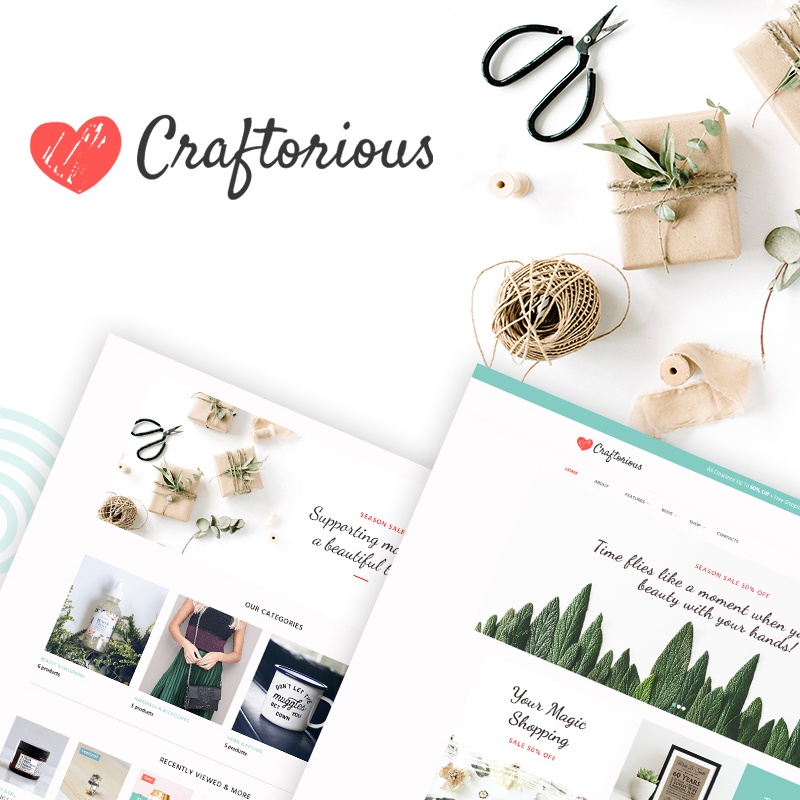 Do you want people to see the magic you do by offering them your handmade gifts? Then use Craftorious to build an effective online store that will let them feel the atmosphere. This Handmade Gift Store WooCommerce theme is a magic wand that will help you create a great store for your business.
Craftorious has a user-friendly design that is attractive at the same time.
It is possible to set up the proper website structure due to the Elementor Page Builder and WordPress Live Customizer.
There are seven headers and three footers to choose from. Moreover, you may also customize them to fit the general design of the store.
The theme includes the Instagram Feed feature to link your account to the store. Thus, you will have one more means of promoting your products.
FermataLife
Creativity goes hand in hand with music. That is why it is worth thinking about a unique design when setting up a musical instrument online store. The one that FermataLife offers to you. This WooCommerce theme has much more in store for you, in particular:
astonishing ready-made pages to present your business and products;
boost the functionality of the store;
useful plugins, such as JetBlocks, JetTabs, etc.;
effective support in case you have some issues to solve.
Moreover, FermataLife is cross-browser compatible and fully responsive.
Exclusive Audio Collection WooCommerce Theme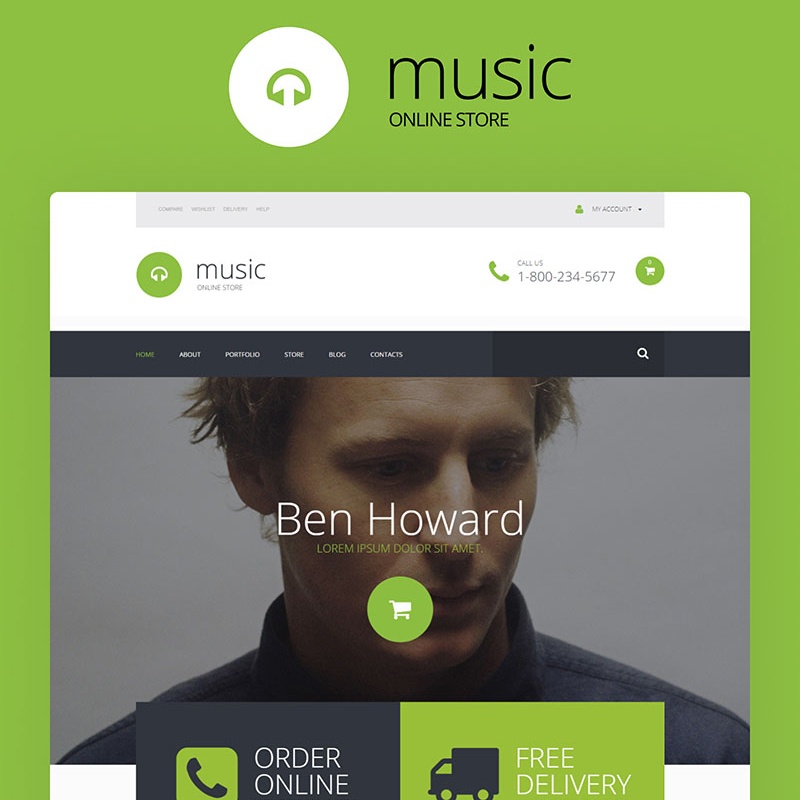 Start a successful music shop with a stylish Music Store Elementor WooCommerce theme. It is easy to install, fill with your content, and customize. Moreover, there is a bunch of useful features to make your store user-friendly.
The theme offers the following demo pages: Home, Shop, About, Blog, Contacts. Thus, people will be able to get the necessary information while browsing the relevant pages.
The package includes various Jet plugins, such as JetElements, JetSmartfilters,
JetProductgallery, JetComparewishlist. So, you may add different elements to your store to ensure a pleasant shopping experience for your customers.
The Contact Form widget makes it possible to ask a question or leave a particular order.
There is the Search Form for clients to find the music they are looking for.
Using the Google map widget, you will show the location of your store.
Wrapping Up
As you can see, WooCommerce compatible themes are an excellent solution when you need an online store to present your unique products. They are easy to install and customize according to your requirements. Moreover, you will have all the necessary instruments to promote your goods and start developing your brand. If you want to know what else you need for brand building, take the advice of the experts.